Back in 2011 when I was working on a master's degree in instructional design, I was asked to define my educational philosophy — a statement that summarizes the approach I would take when designing training for adult learners.
By the end of my assignment, I had developed three guiding principles to help workers and professionals learn more effectively, and address the common challenges many companies face today when designing training, regardless of industry:
How do you help employees to learn without disrupting their productivity?
How do you shorten the instruction time to learn a new job or task?
How do you increase information retention and knowledge transfer?
How do you motivate employees to continuously learn and develop new or mastery level skills?
In short, how do you quickly turn learning into knowledge and performance?

Fast-forward to today and I am now working with Poka, a company that has developed a manufacturing training app that incorporates many learning best practices that addresses these key questions and more.

In this article, I explain why the following three guiding principles are critical for ensuring effective manufacturing training, and how Poka supports them.
Provide "just-in-time" training while on the job
Reinforce self-paced, autonomous learning with peer support
Accelerate comprehension by creating micro-lessons and supporting a variety of formats
1. Provide "Just-in-Time" Manufacturing Training
While on-the-floor shadowing is the preferred form of training among 71% of manufacturers, thirty nine percent (39%) still rely on classroom training to develop worker skills, according to a 2018 survey by Industry Week.1
One of the many problems with this form of manufacturing training, as we've all experienced, is that workers are taken away from their jobs and information is quickly forgotten. In fact, people only retain 5% of the information that is presented to them as part of a lecture 24 hours earlier.2
"Immediate, active use of learning is clearly the best means of retaining information", according to David A. Sousa, an educational researcher, consultant and author of dozens of books on how the brain works.

On-the-floor shadowing clearly supports this learning best practice, but so do other approaches, such as self-paced, autonomous learning that occurs "in the flow" at the precise moment and location that a worker needs to develop the new skill.

This type of learning, often referred to as "just-in-time learning", "situated learning" and "authentic learning" has many other benefits beyond just information retention. When learning is embedded in doing, it's more timely, contextual, and rewarding, leading to more effective manufacturing training.
More timely: Learning is integrated into the worker's daily routine to deliver training and instructions when and where workers need it, thereby minimizing disruption and increasing productivity.
More contextual: Learning takes place in context in the worker's environment, making the information easier to understand and apply, thereby accelerating the time to turn information into actual knowledge.
More rewarding: Because workers are completing real tasks and accomplishing specific goals, they see the immediate impact of their efforts, leading to a more meaningful and rewarding experience.
Together, these contribute to transforming learning into productivity and boosting the worker's confidence in their abilities, which then motivates them to continue learning because they believe they will succeed.
How Poka supports "just-in-time" manufacturing training
Each workstation is equipped with an tablet containing Poka . When a new worker needs to be trained or needs a refresher on how to perform a task, or if an existing operator needs to master a new skill, they use Poka to access all available manuals, work instructions, videos, photos and other information directly at their workstation.

Workers can then follow a comprehensive training program built around a skill, or quickly find detailed step by step instructions for a specific task.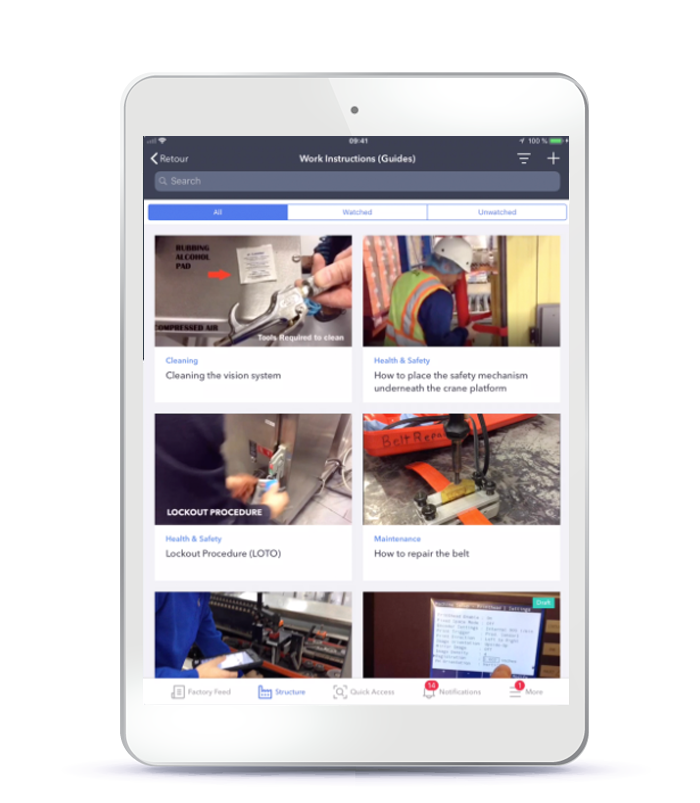 2. Reinforce Autonomous Learning with Peer Support
There's a well-known expression in the training industry coined by Harold D. Stolovitch, university professor and expert in workplace learning, and it goes like this: "Training Ain't performance".3
In his book by the same name, Stolovitch cites research showing that only 10% of the money that companies spend towards training has an impact, and that's because 80% of what people learn is never actually applied by employees on the job. He then goes on to offer the following compelling evidence for following up training with ongoing post-training support:
"Companies that have transformed their training departments into learning and performance support organizations have had the greatest success in obtaining outstanding results from employees."
One of the most effective ways to transform your manufacturing operations into a learning and support organization is to create an online community of practice where workers can share knowledge, experiences and solutions with one another in real time.
How Poka helps to support knowledge sharing and collective problem solving:
Poka goes beyond just delivering manufacturing training. Its  live "factory feed" keeps operators connected with supervisors, maintenance, peers and other departments at all times, while serving as a "digital logbook" and permanent system of record.

If a worker has a question about how to operate their equipment or complete a task, or is experiencing a problem with their equipment, they can easily search the knowledge base to see how others resolved a problem.

If operators can't find the information they are looking for, they can use the factory feed to put out a call for help. This enables designated equipment experts across the manufacturer's global operations to respond at any time of the day and from any location, whether at the plant or at home.

The factory feed also inspires workers to contribute their ideas for continuous improvement because their suggestions are captured and displayed for everyone to see and enables a mechanism for instant feedback.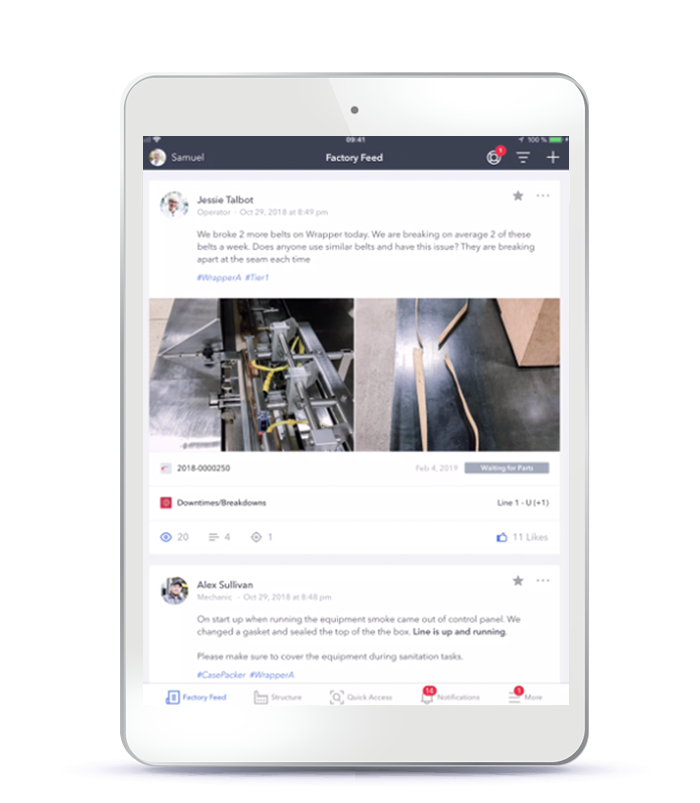 3. Accelerate Comprehension by Creating Multimedia Micro-Lessons
The next important consideration to ensure effective manufacturing training is how to best present information so that it helps facilitate mental processing and comprehension.
The problem with traditional manufacturing training, whether it be in the classroom or on-the-floor shadowing, is that it overloads workers with information. After all, if we are going to take workers or supervisors away from their jobs, we better make sure that training is comprehensive and worth disrupting everyone's productivity, right?
Wrong! Regardless of whether you are new to a subject or task, or an expert, we all experience information overload. And, according to Sousa's research, "too much information at one time hinders cognitive processing and emotions take over." Instead, it's better to provide "just enough information to meet a specific need and ignore the rest." 4
Breaking up learning into micro-lessons where tasks are presented as manageable steps helps workers to focus their attention and complete each task, while reducing performance anxiety and boosting confidence.

The second important consideration for facilitating cognitive processing and comprehension is the learning style of individual workers and content format needed to support each style. Some people learn better or have a preference how instructions and information are presented:
Visually: using pictures, images, and video
Aurally: using sound and music
Verbally: using words, both in writing and speech - Physically: using their bodies, hands and touch
Socially: using discussion with an individual or group
Solitarily: using self-paced instruction
Understandably, manufacturers don't have the time and resources to develop training to support each learning style. But going beyond text-based training manuals and work instructions are a must considering the following research:
How Poka supports micro-learning and visual learning styles
Poka enables workers to access training manuals and instructions in text, video and image formats. Training manuals can be broken down into multiple topics to create one-point lessons and support micro-learning. Workers can then access the micro-lessons in chronological order, or quickly jump to the exact lesson they need.

Another side benefit of using photos and video to train is that it is easier to produce. One Poka customer has reported that producing training content now takes half the time of traditional written instructions. In a digital Poka factory, supervisors and workers can use tablets to take a photo or record a video when a problem arises. Then, when a resolution is found, the content is available to become a troubleshooting solution or a new standard work procedure.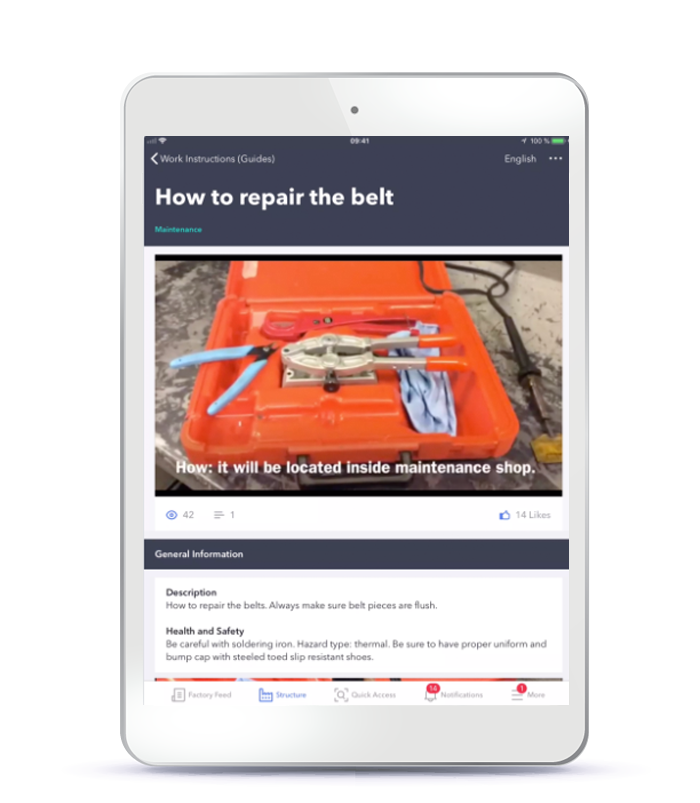 Manufacturing Training Can Equal Performance, If Done Right!
Never before have manufacturers had so many options available to them to effectively train workers, while creating a learning organization that supports on-going skills development, collaborative knowledge building and continuous improvement.

Technologies, like Poka, incorporate best practices in learning and online communities of practice directly into the application, so all that manufacturers have to do is upload their existing training content and work instructions, and then easily add new content in a variety of formats when available.

So whether manufacturers are looking to support on-the-floor shadowing, or enable workers to learn completely autonomously at their own pace, workers no longer have to leave their stations. They can learn on the job when and where they need to for a more timely, contextual and rewarding experience that accelerates comprehension, information retention and knowledge transfer, and drives higher performance.
---
1 Industry Week's Workforce Training Online Survey, May 2018
2 How the Brain Learns, David Sousa
3 Training Ain't Performance, Howard D. Stolovitch
4 How the Brain Learns: New and Exciting Findings, 2014 ASAIHL Conference, David Sousa