We've learned a thing or two in our day, helping those in the packaging industry get positive results in saving time, reducing waste, and improving worker productivity.
The packaging industry, like many others, is being confronted with growing cost pressures that demand greater efficiency and productivity. There's no room for waste or quality issues if packaging manufacturers want to remain competitive. Meanwhile, changing consumer trends and their increased sensitivity to environmental issues are causing side effects like innovation disruption, SKU proliferation and rapidly shifting consumer demands.
In our experience, the answer to these challenges doesn't necessarily lie in new equipment or even hiring more operators. It's often about being able to get a fresh perspective on a problem, adapting processes based on factory-specific issues, and just generally improving plant communication with the help of digital tools.
We're Poka, an award-winning connected worker platform made for manufacturing, offering a user-friendly application seamlessly combining communication, issues management, knowledge retention and skill development.
Let's look at a few specific examples of how Poka's connected worker solution has generated results for packaging manufacturers.
1. So Fast You Can't See It
Even though I've been in many plants, and seen many modern, high-speed processes, I'm still amazed at how fast products can fly through an automated operation.

In one cutting operation, sheets of printed material were auto-loaded to a specific count and then cut. It was set up per specification, that is, cutting dies were set correctly and the designated speed for this product was right but there were still consistent jams on the infeed.

Things were moving so fast, it was impossible to see exactly what was happening. Though it was possible to slow the process down, that wasn't the best option given production demands and the fact that it normally ran at the set rate with no issue.

In this case, the operator set up an issue notification in Poka highlighting the problem and created a short video. He filmed it using the slow motion feature and it was clear then that a roller on one side of the infeed was the sticking point.

Checking the tension, and with a small adjustment, he was quickly back up and running at full speed.

With this learning, and by creating an issue including the slo-mo video, the solution helped ensure that the roller checks were made on an ongoing basis prior to startup, saving time. This became a troubleshoot that was attached to the machine and easily accessible to all.

2. Change is Difficult – and Time-Consuming
Product changeover is complex and requires precision. Even for SKUs that are run fairly regularly, getting machines properly set up can take what seems like forever - up to a full shift in some instances.

It helps to have the most experienced operator do the setup. They know the product, the machines, and the tips and tricks learned through experience that help make a setup the most efficient possible. That individual cannot be there all the time though.

One company did the next best thing: they created a video work instruction, tagged to the SKU/product, that followed the expert through each step. By following the setup sequentially and in discrete steps, this information, including the tips and tricks used, made it easy for other operators to get to any part of the setup where they needed to reference the skilled operator's documented experience.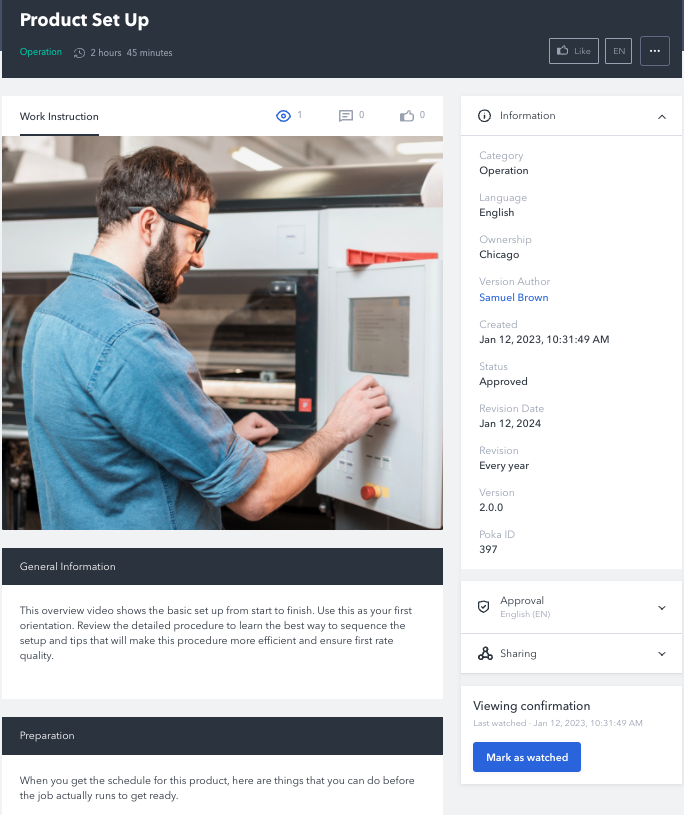 Using this methodology and starting with the most complex products, they accelerated the development of operators and cut waste by getting to First Time Right (FTR) more quickly.
3. Solve Problems at a Distance
An experienced operator in a die-cutting department, downstream and far away from the printing department, had a problem with print alignment for a job she was running. None of the large volume order was cutting correctly and normally she would reject the lot.

Instead, she made a quick news post that included a short description of the problem and a photo. The print operator two departments away immediately saw the post and after checking, found a suction plate that required replacement and resolved the issue, saving the batch. He replied in a comment, notifying the die-cutting operator that the fix was in place.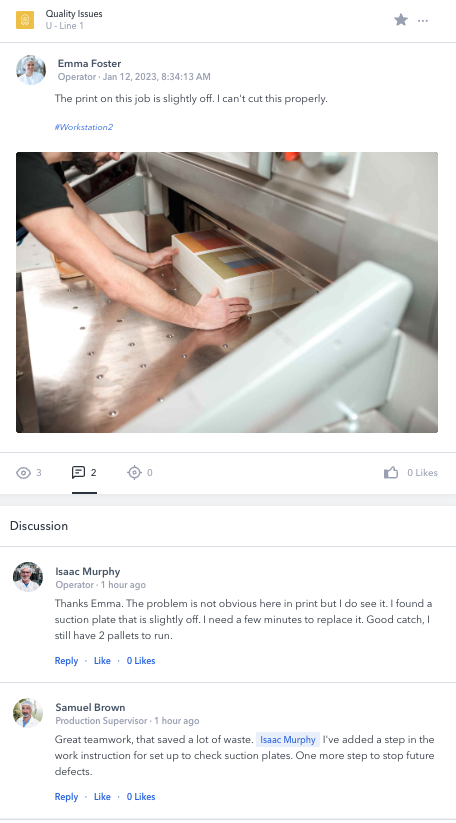 Given that this was a busy shop and with the distance involved, without a way to quickly and clearly communicate, much more product would have gone to waste, along with the time involved to remediate.

The result here was a saving in both time and material, but more importantly, it highlighted a checkpoint for print which helped prevent future issues.

As a further follow-up, the production supervisor ensured that the suction plate check was incorporated into the Standard Work instruction. The software alerted all print operators of the quick update so both the news post and the new standard process were visible to all shifts.
4. The Product is Perfect. So What Happened?
After a successful production process, your packaging materials are complete, perfect and ready to ship. Your precious cargo is then handed off to a third-party shipper, who may not provide as much care as you would.

It's fast and easy to document outbound shipments with a news post on Poka's factory feed, including photos of the shipment, shipping label and any other relevant information. The post can be tagged to the product for easy retrieval, and it automatically is date- and time-stamped so there is no question of when a follow-up claim might be required.

In one high-volume operation, this would occur up to three times per month, proving the value of the simple news post.
Wrapping Up
Making a connection between all the operators handling sophisticated equipment makes a difference in problem-solving. This in turn, saves time, reduces waste and improves quality. Retaining and transferring knowledge with detailed Work Instructions and troubleshooting levels up the skills of the workforce.

And that's the complete package.