Our engineering team is composed of 60 technology professionals, which equals 37% of Poka employees. As a SaaS company, we were curious to know how they think Poka offers an optimal working environment for tech specialists.
So we asked our developers about the reasons that really make them love Poka from their point of view as tech professionals. Here is what five of our colleagues had to say.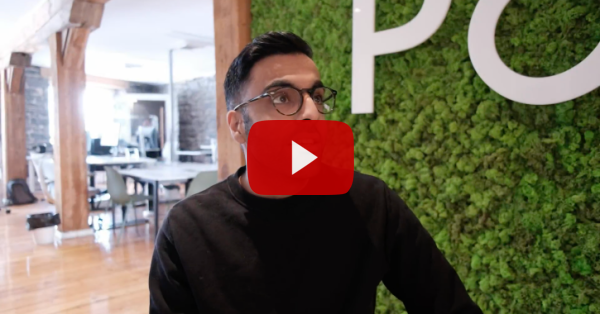 1. A Product Culture Where Quality Is Always Over Quantity
"On the technological side, what I particularly appreciate about Poka is the latitude we have when creating code. No one in an ivory tower will tell you what to do. Of course, we discuss together, but there is a lot of leeway, and for me, this is exciting—it speaks a lot to me."
- Alexandre Dufour, Back-End Developer
The annual Sprint Break is an excellent example of this culture.
The Sprint Break at Poka is a friendly internal competition in which the product, design and engineering teams compete to develop innovative products or features related to our field of expertise. Unlike a Hackathon, the Sprint Break lasts not just one day but two full weeks in which Poka employees are encouraged to push their creativity to the maximum.
2. An Innovative Tech Stack and the Best Practices in the Field
Best practices start with the best programming concepts, such as SOLID principles, unit testing or even a well-thought-out software architecture.
The technology industry is advancing so rapidly that following the best processes and applying the latest and most innovative technologies is essential to ensure a cutting-edge product. According to our team, this obsession for innovation that we all have at Poka is also to the advantage of employees—it's the most formative and favourable environment to evolve in as a developer.
"What really challenged me when I arrived at Poka was to discover a 100% Cloud product, a modern SaaS that brings technology and digitalization to the production floor. And, in fact, I didn't know of any product that did that until then."
- Alex Nastev, Back-End Developer
3. The Time and Resources Needed to Do Things Right
Have time to take time. It sounds trivial, but it's far from it. And when you think about it, it's irrational to expect quality results from your team when you don't give the space and the right tools to accomplish them.
Speaking with our engineering team, we quickly realized that a developer's reality in the job market is [too] often limited to having to accomplish a lot in a short time. The quality, therefore, takes a hit, and so does people's motivation. It is not rewarding for anyone to design a digital product and have to deliver it imperfectly or know that the result could have been better with a little more time or resources.
At Poka, we chose to bet from the start on the creation of a workplace conducive to creativity. This is achieved by consistently offering the necessary time and the appropriate resources.
In fact, the recipe is quite simple: time + resources = creativity = productivity = quality.
"Having worked for several years in an agency, I find that working at Poka, a product company, is more rewarding—we have more time to evolve in our professional career. When I arrived at Poka, I realized that I really had more time to familiarize myself with the product, to evolve and to be able to focus on quality."
- Véronique Trudel, Front-End Developer
4. A Truly Collaborative Environment
Collaboration: the cornerstone of our culture (in every way).
All the gears must work in symbiosis to design an optimal product. This is why collaboration between the different engineering teams and their product and design counterparts is essential. Everyone has a role to play in Poka's success and their colleague's small daily victories—that's how we evolve together.
"The work environment at Poka is very stimulating—it promotes ideas, a sense of initiative and teamwork. Seeing the ideas I propose come to fruition gives me a feeling of satisfaction and pushes me to move forward."
- Sara Boumehraz, Front-End Developer
That's why we've set up a "horizontal hierarchy" where collaboration is prioritized.
"We talked to each other as a team—it was collaborative work. We took all the important points for us and now rigorously apply the processes we defined. Whether by monitoring tools or quality peer review, we do this as a team, and it is truly collaborative."
- Alexandre Dufour, Back-End Developer
5. The Opportunity to Evolve Into Other Positions
The most authentic value proposition we want our employees to experience is the promise to take them where they want to go in their professional careers. And if it involves a change of position in the company, we will do everything in our power as an employer to make it happen.
A motivated employee who shows us an interest and curiosity to learn and try new things only fuels this vibe of ambition that unites us all at Poka.
"Recently, as a developer, I got to work with the infrastructure team on a new feature, and it was something that ignited something inside of me. I talked about it with my Team Lead to maybe transition to this team, and they strongly suggested that I try—it was nice to feel this level of support!"
- Deep Dhanak, Back-End Developer
Explore Thrilling Open Positions in Our Engineering Team
Do you want to work in a company where innovation is truly put forward? Discover our open positions in engineering right here: https://www.poka.io/en/careers#position