Since the Toyota Way philosophy made its debut on the world stage, manufacturers have eagerly embraced the idea of engaging their front-line workers to help drive continuous improvement in their daily operations.

But despite the will and attempt by many to put theory into practice, the return on CI investments has been lacklustre at best, largely due to a failure to provide front-line workers with the knowledge and tools they need to easily communicate, collaborate and contribute to continuous improvement while in the flow of their daily work.

The good news is that solutions exist, and many manufacturers have successfully transformed their operations by digitally connecting their factory workers to improve productivity, waste, quality and much more. For example, Duvaltex, the largest textile manufacturer in North America, reduced non-quality rates by 50%, while dairy giant, Danone, reduced the time and cost to train and on-board new workers by 40%!

This blog reveals the measurable impact an investment in worker performance support can have on your organization, and how to calculate your anticipated return on investment.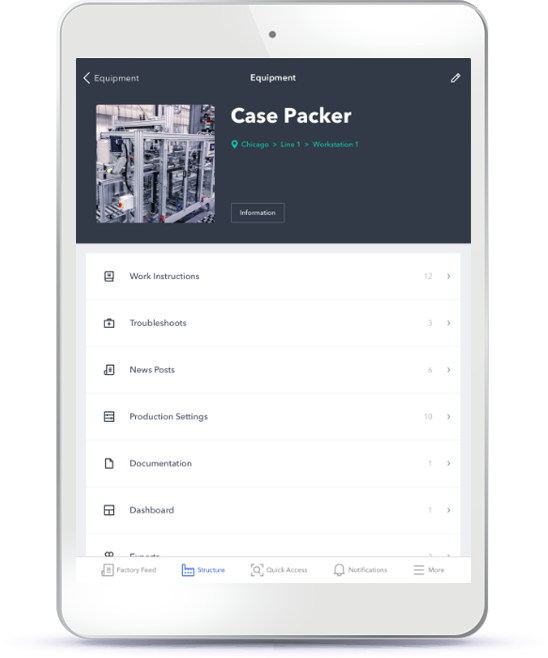 Closing the CI Loop with a Worker Performance Support App
The solution being used by these forward-thinking manufacturers is Poka, a comprehensive platform that combines a digital knowledge base with communication, issues management, and other critical capabilities so workers can learn new skills, trouble-shoot problems and share ideas directly from their workstations.
Building the Case for Change and Prioritizing Your KPIs
For some lucky plant managers, the value of investing in worker performance support was so obvious, they didn't have to create a formal business case to justify the investment.
This is something you see and you know it will give you value, says a Plant Manager at an electrical installation company. The way I present Poka is to think about how much the phone has changed in the last 15 years. If I try to take your smartphone away tomorrow and you don't have emails while walking around, you wouldn't be able to function. To me, Poka is the same thing but on the factory floor. It gives you the ability to leap forward.
Unfortunately for most, relying solely on instinctive confidence in the value of digital transformation is not enough to convince senior executives to make the leap. Competing priorities and projects, coupled with limited budget and resources, require most manufacturers to justify any new technology investment. To make this a less daunting effort, we recommend focusing on the KPIs that matter most to your operations.
For some Poka customers, the driver to look for a solution was a problem with waste, while others were primarily concerned with the amount of equipment downtime during product changeovers. Calculating the anticipated savings in just one or two areas is often more than enough to justify the project.
Here is a list of the top KPIs our customers use to justify their investment in Poka and measure the success of their digital transformation efforts:
Productivity
Investing in new equipment is an obvious way to drive improvements in productivity. But the true potential can only be reached when equipment operators are working to standard and contributing to improvements. When operators are given the tools and knowledge to do their jobs effectively, improvement can be made in these areas:
Production start time
Product changeover time
Overall equipment effectiveness
Unplanned stoppage
Mean time to repair
Overall Labour Effectiveness
In the current smart factory era, a lot of attention is understandably given to measuring Overall Equipment Effectiveness (OEE). But what about the effectiveness of operators, engineers, supervisors and management? Antiquated tools like whiteboards, binders, spreadsheets, classroom training and email are still the norm in most factories today, resulting in inefficient and disconnected processes. When you digitally connect all your employees, including frontline workers, in the way you have connected your machines, you can unlock improvement in these areas, and more:
Time spent shadowing
Time to competency – training time
Time to create training content
Time to create work instructions
Time to approve a work instruction
Time to resolve an improvement card
Time to find/access a work instruction
Knowledge retention
Safety
According to Training Magazine, manufacturers spend more on training employees than any other industry – an average of $1,217 per learner. But when it comes to workplace safety, traditional approaches to training fall short. Safety professionals cite keeping safety top of mind for workers as their biggest challenge (Safety & Health Magazine). By creating a continuous learning environment where workers consult short micro-lessons in the flow of work, you can drive improvements in these safety KPIs:
Recordable accidents
Near misses
Safety observations
Quality & Waste
In an ideal factory, frontline workers perform tasks to standard, and variability in quality rates between shifts and operators is minimized. Better yet is a factory that empowers workers to identify opportunities for improvement and troubleshoot problems that contribute to quality issues. To support this vision, workers must be trained consistently and effectively, and have the power to solve problems independently. By doing so, you can quickly address issues impacting quality and waste, and drive results in the following areas:
Product re-works
Scrap/Waste
Customer Returns
Non-quality rates
Benchmark Your KPIs Against Your Peers
When it comes to calculating anticipated return on investment, we understand that it's important to have real-world examples from manufacturers to use as a benchmark. That's why we are happy (and proud) to share a number of KPI improvements from Poka customers. Although results cannot be guaranteed, their stories are intended to help set expectations and benchmark your results:
34% decrease in near-misses (Masonite)
50% reduction in non-quality rates (Duvaltex)
10% reduction in production line set-up time (Leclerc)
9% reduction in waste (Riviera)
4% improvement in OEE (Barry Callebaut)
40% reduction in training costs and on-boarding time (Danone)
50% reduction in time to create new work instructions (WestRock)
Calculate Your Potential Savings with Poka
To kick-start your business case, we've developed a free online calculator to help you quickly estimate your potential savings with Poka in the following areas:
DOWNTIME REDUCTION: Reduce downtime by giving workers instant access to troubleshooting solutions and accelerating problem resolution
WASTE REDUCTION: Reduce waste by enabling workers to identify and share best practices and new opportunities for improvement more quickly
TRAINING: Accelerate time to productivity and reduce training costs by enabling workers to quickly learn new skills directly at their workstations
CONTENT CREATION: Reduce the time and cost of creating more effective training guides and work instructions by empowering subject matter experts with the right tools
Contact Us For Help
Our team of performance experts can help you to create a personalized business case for your organization. Contact us today.