A frequent question we hear from new factories considering or just getting started with Poka is, "What kind of usage can we expect and what can be done to drive adoption higher?" This is understandable since most factory floor workers have only been exposed to digital collaboration platforms like Facebook in their personal life, and many are resistant to trying new technology.
Luckily, our professional services team has witnessed firsthand, through dozens of engagements with clients, the best practices to follow and common pitfalls to avoid when rolling out a new digital production floor communication strategy.
Our top-performing customers consistently attain 70% adoption as measured by the percentage of workers using the application on a weekly basis. When we surveyed these successful customers, we found several key common elements that they all put into practice.
The following article shares how Poka top-performers use the Factory Feed to increase productivity and engagement while driving maximum value from the platform.
Types of Communication
Poka top performers post news in 3 general categories.
1. Critical updates from the factory floor
The Poka Factory Feed supports peer-to-peer real-time information sharing that fuels the daily management system and eases the transitions between shifts. Consequently, top-performing factories post all information that impacts or may impact production, quality or safety.
2. Worker suggestions for improvement
Most often news feed posts focus on production issues or deviations, but top performers also encourage the sharing of improvement idea posts. By providing a tool that supports Kaizen philosophy, shop floor employees can more easily socialize ideas with colleagues and managers.
3. Critical updates from administration
Top performers also routinely have management send out important notifications via Poka. The most frequent posts are related to quality procedure changes, new health & safety practices, accident/near-miss information, human resources announcements, updates on internal projects and general news, for example, dates for an upcoming audit. Since most shop floor employees don't have corporate email accounts, this becomes the most efficient and effective way to rapidly get information out to all employees, allowing for a quicker alignment across factories, departments, and shifts.
The Role of Management
Managers at Poka top performers follow these tips to attain a high level of engagement & collaboration.
1. Clearly share expectations
Create a reference card using a communication grid template. This 'cheat sheet' will help remind employees which posts they should publish, for example, downtimes of more than 15 minutes, safety observations, quality issues that they observe on the product, etc.
2. Commitment from Managers
Team leaders and supervisors need to actively support their employees in the weeks and months after implementation to help foster the cultural shift needed to sustain this new habit of sharing and posting on the factory feed. By spending time on the shop floor, acknowledging and commenting on recent posts managers can help drive adoption.
3. Make it a part of the daily routine
Top performers all use Poka as part of their shift transition for better alignment between shifts. This decreases the information gap that often exists between first, second and third shift team members.
4. Keep an eye on the numbers
Poka customers that enjoy the highest adoption are data-driven. These companies regularly track adoption KPIs and respond with action where necessary. The top KPIs to keep an eye on:
Connection rate by user
Activities by user
Viewing reports by user
Companywide news posts
Total training guides created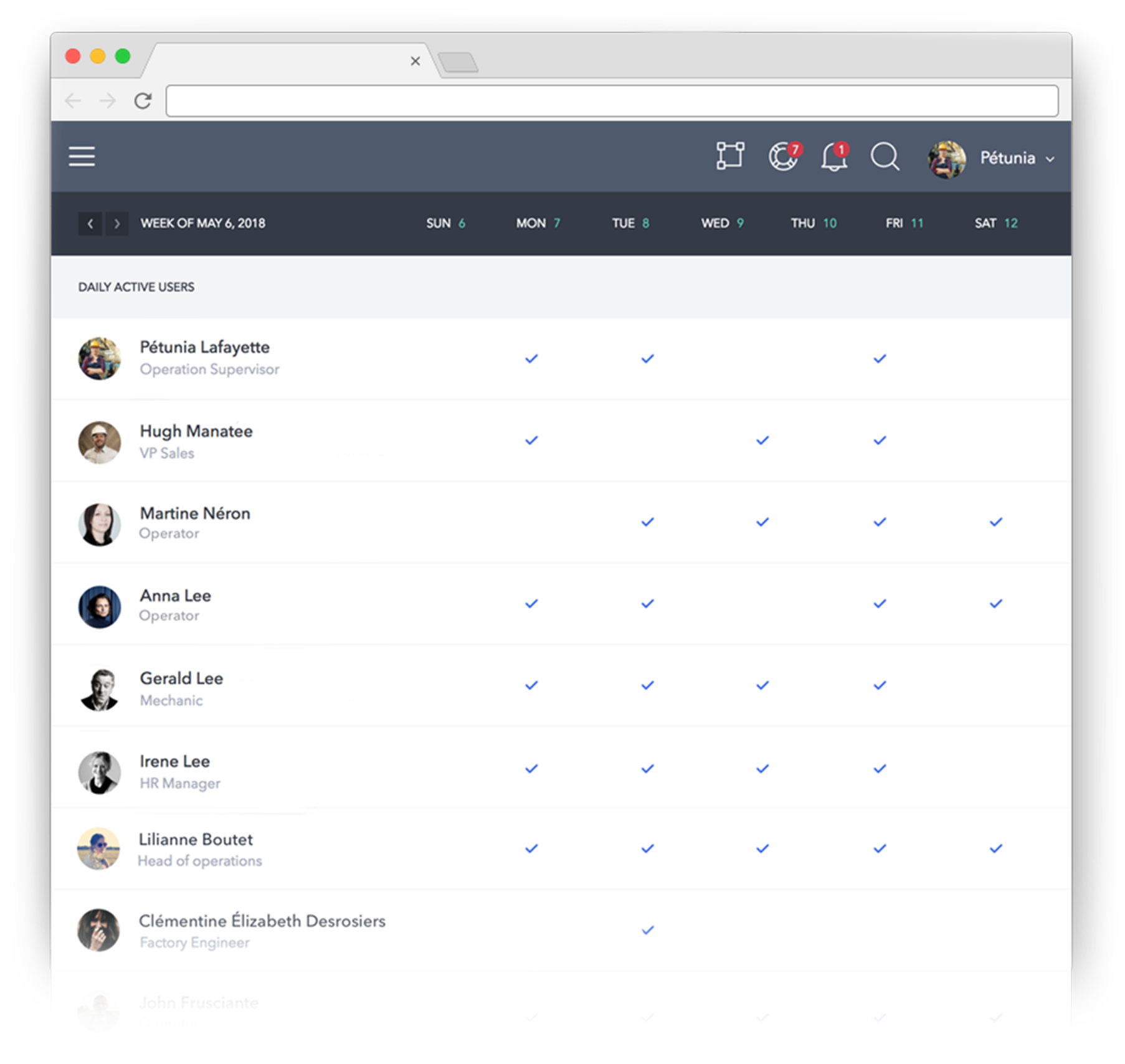 5. Enforce the new way of doing business
Top performers make a decisive transition to the new digital way of doing business by no longer offering an alternative. For example, once shift transition forms are set up in Poka, a paper version would not be allowed. Maintaining two ways of doing business is not efficient and leads to errors.
6. Communication goes both ways
Though not as frequently as operators, managers at top-performing Poka customers actively contribute to the lifecycle of a conversation by commenting and assigning posts, or by talking about employees' posts during Gemba walks or at tier meetings.
Transformative Factory Floor Communications
Using a tool like Poka to improve shop floor communications can be both transformative and disruptive. But with careful consideration to change management, a commitment from leadership and the simple tips shared in this article, the path to success will be shorter.

If you want to learn more about how Poka can help connect your workforce through smart communications, watch our product demo.