As the risk environment continues to evolve due to the pandemic, many manufacturers are facing a greater degree of complexity, change and uncertainty than ever before. To address these business challenges, organizations are doubling down on their commitment to industrial digital transformation (IX) according to an LNS Research report.

In fact, they found that 43% of companies have increased their commitment to IX programs since COVID-19. The report further notes that the priority focus for these initiatives as a result of the pandemic is the connected worker. For deeper insights, download the full LNS Research report.
Why are Manufacturers using Connected Worker Solutions?
Simply put, because of its business value. The benefits can expand in magnitude and scope from individual and team, to site, to enterprise, even potentially to the industry level.
"As the digital connectivity between people and their work environment increases, so too does the potential value to be gained."
To further illustrate this, LNS Research developed the Connected Worker Value Curve to compare six sources of value by the degree of workforce connectivity and potential business value.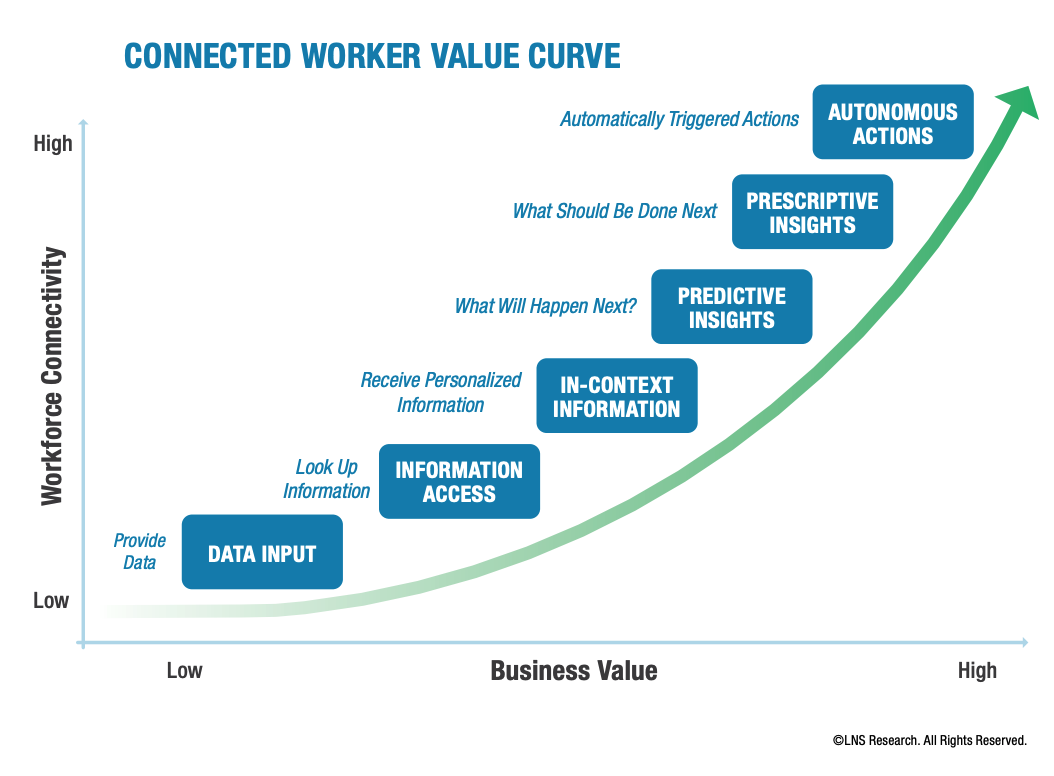 Their findings show an impressive impact on value including: 
Profitability
Manufacturers that adopt connected worker solutions as part of their enterprise solution portfolio tend to have more profitable plans than those that don't. Further, high-margin companies are 59% more likely to have implemented connected worker solutions. 
IX Success
For IX leaders who have achieved real success and business value from their digital transformation initiatives, they are more likely to have invested in developing and enabling a digitally connected frontline workforce. Also, IX Leaders more often deploy emerging technologies that enable a wide range of connected worker use cases.
Operational Performance
The positive partnership between EHS and connected worker solutions builds and fosters a safe, engaged workforce necessary to succeed in today's environment.
Achieving Success with Connected Worker Solutions
Connected worker solutions, like Poka, bring such enormous business value by helping manufacturers overcome the top challenges in the industry and focus on achieving operational excellence. Here's how Poka drives success in manufacturing organizations:
Enable continuous, on-the-job learning
With attracting and retaining a quality workforce being a top challenge, many leading manufacturers are turning to Poka to digitally transform learning and development. 
Instead of the traditional one-time training event, workers now have continuous access to digital training manuals, work instructions, SOPs, and exams directly at their workstations.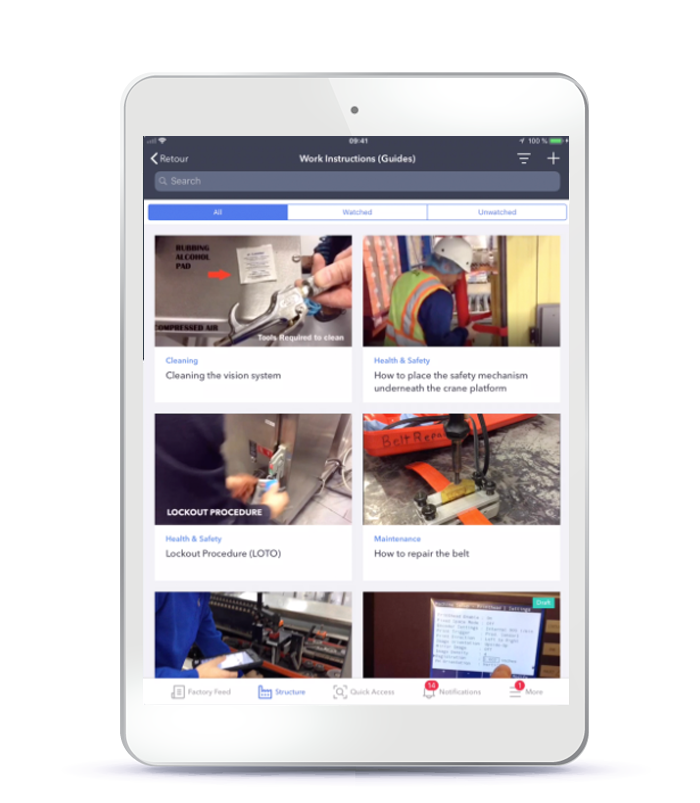 By providing workers with instant access to critical knowledge and information, they can use it at the moment they need to perform their job. This has resulted in improvements such as:
40% reduction in shadowing time and manpower-related costs at Danone 
90% faster access to critical information at a confectionery manufacturer 
Gain and share real-time visibility into production performance and skills
The LNS research reported a lack of visibility into production performance as a top challenge despite years of investment in connecting machines with sensors and IIoT technology. By digitally connecting the workers on the shop floor, you gain additional insight into production that machine data alone can not convey. This includes data on what was happening minutes before an unplanned stop in production or what a quality issue looks like. 
When workers have the ability to share photos and videos of issues in real-time, this can enhance the insight gained from machine data. Further, the ability to make quick informed decisions on the frontlines is dependent on having data in real-time and in context. Something that is simply not possible in most current smart factories.
Looking at workforce skills management, we see tracking skills manually with paper or Excel spreadsheets is time-consuming and difficult to update which results in unreliable records. With Poka, you can automate the tracking and management of factory skills with a digital skills matrix.
You'll gain real-time visibility into workforce competencies across teams including who has requested endorsements and which skills are due for renewal. The matrix is automatically updated and provides easy access to the content and exams used to train workers.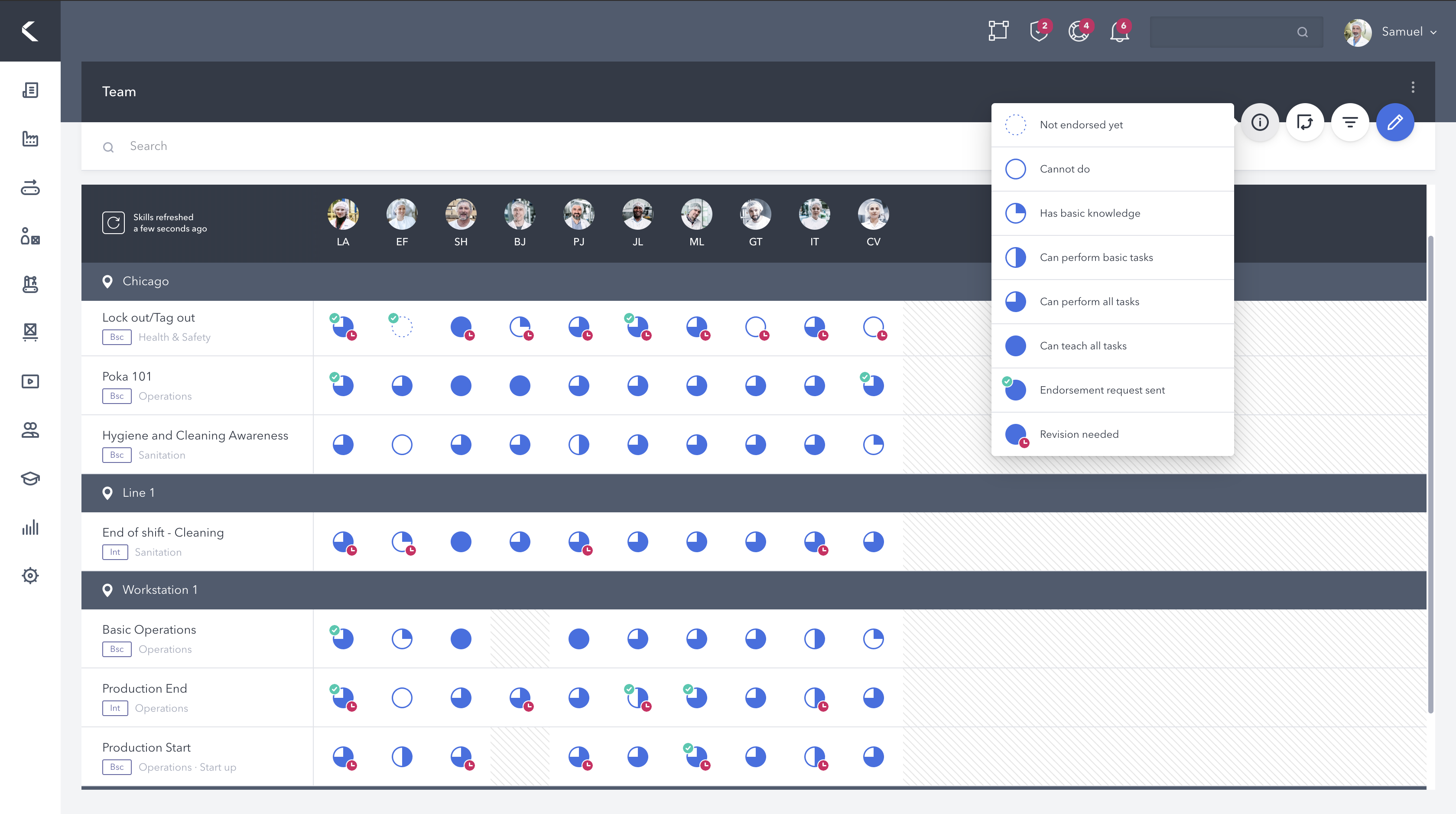 Keep workers and management digitally connected
The pandemic has highlighted the importance of keeping your organization digitally connected to ensure worker safety. Poka enables organizations to share immediate responses to the changing environment, build resilience to unpredictable events and ensure production continuity for the future. 
Through Poka's Factory Feed, you can instantly share company news, COVID-19 updates, and production updates. Workers can review those updates, post messages, ask questions and interact with one another from a distance. Enabling frequent communication from workers and management is important in boosting morale while many workers are at home.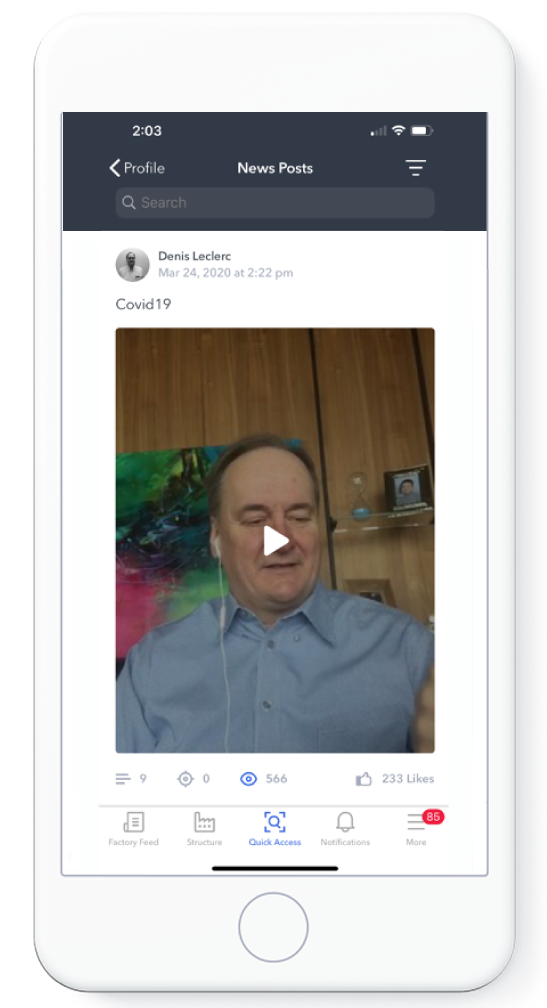 Workers also become more proactive in reporting and resolving issues through the factory feed. They can post calls for help and get instant input and involvement from any team member or an expert. 
By giving workers the ability to instantly communicate in real-time, manufacturers increase visibility into what's happening on its factory floor while increasing engagement and accountability. 
To read all of the recommendations and findings from LNS Research, you can access the full report here.