Workforce productivity tools, like those from Microsoft, transformed office work three decades ago. By contrast, digital transformation has been slow to reach 'deskless' workers like machine operators and engineers working in factories. Connected worker solutions like Poka are changing that.
Poka brings together communication, content, training and forms capabilities in a comprehensive and unified application built for factory workers. With Poka, workers share knowledge, learn continuously, and collaborate to solve problems in real-time, resulting in an empowered and autonomous workforce.  
The pandemic has emphasized the importance of replacing manual, paper-based and face-to-face processes. New constraints like social distancing, reduced on-site staff and workforce variability require new and better ways of supporting factory workers to become more autonomous and versatile. According to a recent Gartner report, they predict that this trend will continue and that by 2024, 50% of factory work will be done remotely.
Integrating Connected Workers with Your Digital Ecosystem
Manufacturing and operations technology leaders often ask, "How does a connected worker platform integrate with and complement our existing technology stack?" 
For those companies who leverage Microsoft, the answer to that question just became a lot easier.
Poka released a connector for Microsoft Power Automate - a service from Microsoft that enables users to easily create automated workflows between applications with no coding required. The Poka connector automates communication, content and data workflows between the production floor and the rest of the organization. This results in better visibility, standardization and efficiency.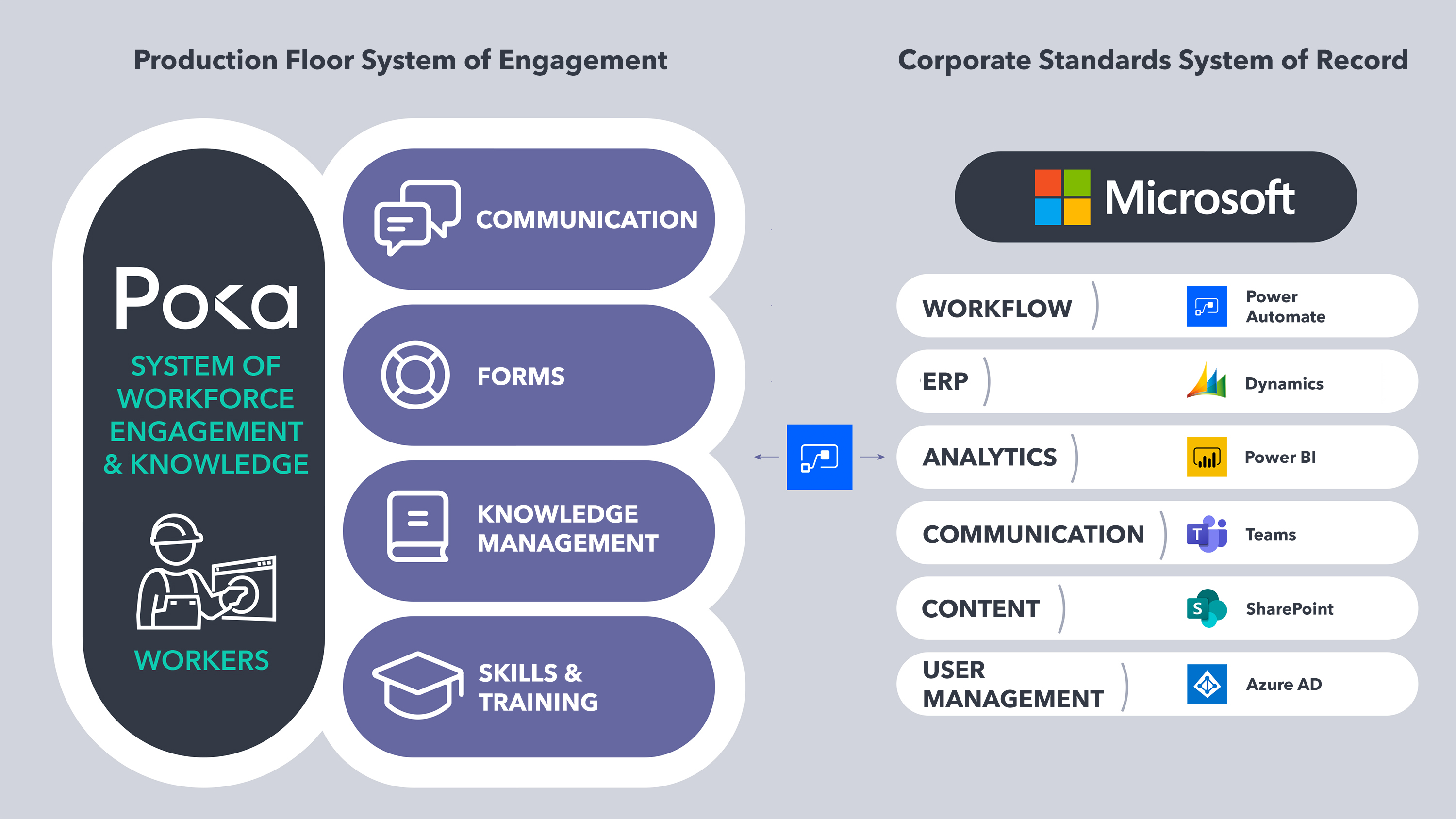 Poka's Power Automate Connector in Action
Poka's Power Automate connector opens countless automation possibilities between production and the Microsoft tools used by corporate stakeholders to run the business. Below are two of the top integration use cases that have emerged from the Poka user community.
1. Analytics & Reporting
The data and information captured in Poka is a goldmine of actionable insight. And to unleash the full power of that data and to gain maximum flexibility in reporting, Poka factories can leverage Microsoft Power BI.
By connecting Poka and Power BI, Quality, HR, EHS and Operations stakeholders are able to more easily build custom reports including:
Track compliance with training goals by department and factory-wide

Analyze skills coverage to help prioritize training planning and scheduling
Analyze the skills endorsement process to identify the ones waiting for endorsement and the skills to be renewed in the next month

Aggregate training records and training hours completed in a defined time period

Analyze work instructions that are blocked in the approval process or that are due for revision within the next 90 days

Audit viewing reports and statistics by department and production line

Identify trends in issues posted by line, workstation, or equipment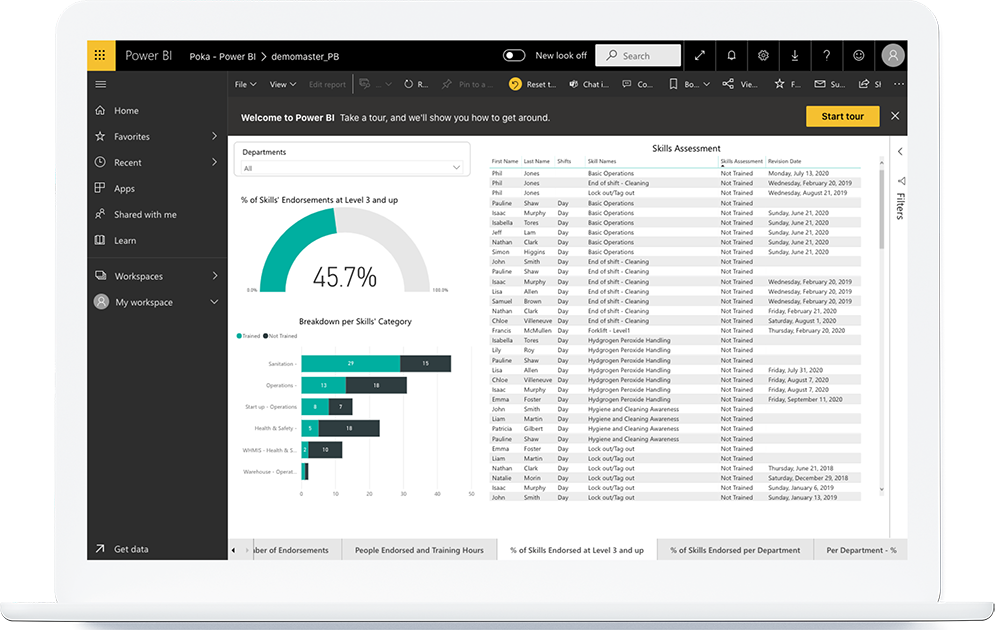 2. Automated Workflows
With Poka's Power Automate connector, workflows and actions can be triggered in Microsoft applications, making it easier to share and standardize data across systems and eliminating manual, time-consuming tasks. The Poka user community has quickly built these valuable integrations: 
Send a notification when a form is submitted
Create a post in Microsoft Teams when a post is made in Poka's Factory Feed 
Send a notification when a skill is deleted
Create a record in SharePoint when a safety incident or quality report form is submitted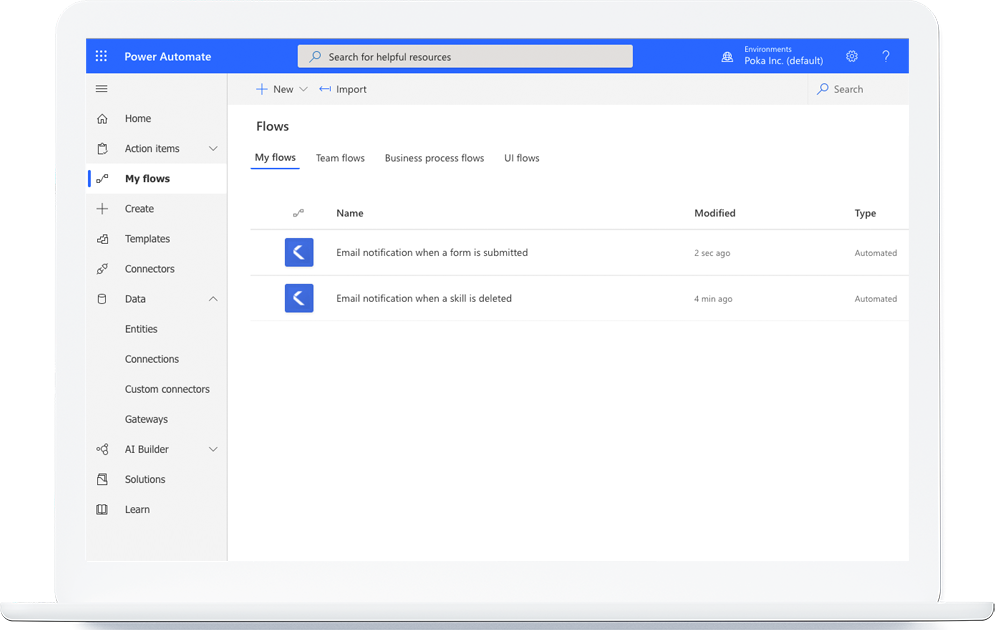 The Right Tool for the Job
Connecting and empowering frontline factory workers has become a priority for manufacturers committed to keeping workers safe and productive. Ease of use is key when considering the best tool for the job and will ultimately determine adoption and success.
Poka brings together digital work instructions, troubleshooting solutions, digital training, communication and more into a unified, mobile-first platform. It's designed to look and feel like the applications we use in our daily lives.   
The app was designed exclusively for a production environment with a built-in data structure that mirrors manufacturing operations at the plant, production line, workstation and equipment level. This intuitive organization of information ensures workers can quickly access the right information at the right time while delivering fast time to value.
And now with the release of Poka's Power Automate connector, factories can more easily integrate frontline workers into the existing processes and workflows built within their Microsoft ecosystem. Connecting Poka and Microsoft through Power Automate provides a scalable way to bridge the digital divide between frontline workers and the rest of the company.