From the steam-powered engines of industry 1.0 to the AI-enhanced assembly lines of industry 4.0, manufacturers have seen great progress and promise in their effort to improve quality, eliminate waste, and reduce production times and cost.
Seems like everybody in manufacturing wants to get on the Industry 4.0 bus. Needless to say, buying a ticket for that bus will take a considerable amount of money, time and effort. Still, 53% of manufacturers today have a digital strategy compared to 34% three years ago, and 67% of surveyed CxO's expect AI to play an important part in their organization's future.
53% of companies have a digital strategy – compared to 34% just 3 years ago. BDO, 2019 Digital Transformation Report
The desire to include artificial intelligence, machine learning, augmented reality and other Industry 4.0 technologies in the operation is clear, but there is still quite a way to go. According to recent research, less than 5% of manufacturers are at the implementation stage of their Industry 4.0 journey.
Before you jump on the Industry 4.0 bus, be sure you know where it will take your operation and that the timing is right. So, prior to writing the artificial intelligence check, consider harnessing the real intelligence of your front-line workers.
This article explains why your workers will still be a critical resource in Industry 4.0, and what you can do to leverage their knowledge to take your operations to the next level and continue your digital journey.
Your Front-Line Workers are Knowledge Workers
We're already making headway on our trip to Industry 4.0 by automating at portions of the production line, by removing tasks from workers and giving it to machines. For example, where workers once checked product specifications, now it's done by cameras and computers. Where repetitive machining used to be done by workers, now a robot scans the product code and executes the process with the proper tool.
But be careful not to overlook where front-line workers can add value in the production process and that machines will never be able to handle.
Keep in mind that the processes you've automated were once done by humans. And those humans likely had a pretty detailed and good understanding of how it worked (or didn't). More importantly though, are the "soft skills". You might check out this article in Forbes: "7 Skills of the Future (That AI and Robots Can't Do Better Than Humans)".  In it, the author identifies attributes that are uniquely human and that machines will never be able to do: empathy and communication, critical thinking, creativity, strategy, and vision.
You might overlook these in your operators, but you shouldn't. All are needed on the factory floor on a daily basis. Just think about these circumstances:
Quality is not always an A-B choice. In a production run, an experienced, trained operator can often spot issues before they cause a shutdown or create unusable product. An automated system may not trigger an alert until after marginal product has passed.
In an unplanned stop, an automated system can diagnose where the issue occurred but may not be able to identify the root cause which may lie upstream or as a result of a combination of variables. An experienced operator can creatively assess a situation based on experience and find solutions that are outside the box.
When a machine is scheduled for PM, an automated system would dictate the required actions for that particular machine at that time. An experience operator would be able to assess not only the PM as part of the task but see other issues that could be addressed saving future downtime events.
Don't let yourself forget that front-line workers are, in fact, knowledge workers. It's a mistake to see them as a low-skilled and interchangeable resource to complete a task, when the truth is they have direct experience and deep insights into what works - and doesn't - out on the factory floor. More importantly, they know the reasons WHY and how to resolve issues and work around problems.
This knowledge is stored in their heads and rarely shared because they are rarely consulted or asked. And because of the hype around IIoT and AI, we've failed to invest in technologies needed to improve how we support them.
The Missing Piece to Empower Workers
While other industries are empowering their knowledge workers with productivity and collaboration tools to help them make faster, better decisions, no new technology has been implemented on the factory floor to support worker's knowledge in decades.
Factory workers are still using the same manual processes to access the information and resources they need on a daily basis. They're still relying on printed documents and word-of-mouth conversations.
It's both ironic and sad to see workers next to these advanced, robot-controlled and AI-enhanced assembly lines, holding a binder with printed work instructions and trouble-shooting tips or taping a note to a 20M dollar machine in hopes the next shift sees it.
Face it, these problems are likely a bit too familiar:
Workers don't consult the documentation because it's out of date or too difficult to access, so they don't work to standard or they're working to whatever the person next to them tells them
Critical updates and trouble-shoots take too long to reach workers, resulting in longer than necessary downtime and productivity loss
Workers retire and take decades of tribal knowledge with them, so you lose both their insights and the millions that you've invested in developing their talent
You can add your own issues to the list. More importantly, let's find some answers.
Digitally Connecting Your Front-Line Workers
Of course, not all manufacturers see their front-line workers as a low-skilled and inter-changeable resource. In fact, some of the world's leading manufacturers, including Mars, Danone, and Bosch are empowering their workers with a digital performance support app called Poka to address these problems, and to help them in their digital transformation journey.
Workstations are equipped with tablets, enabling workers to digitally access all the information and communicate with the people they need to do their jobs. The app combines digital content, communications and collaboration into a single, easy-to-use, worker-centered interface to support the unique needs of the factory floor.
Workers just scan a QR code on their equipment or work order using their tablet to access the most up-to-date news, work instructions and more.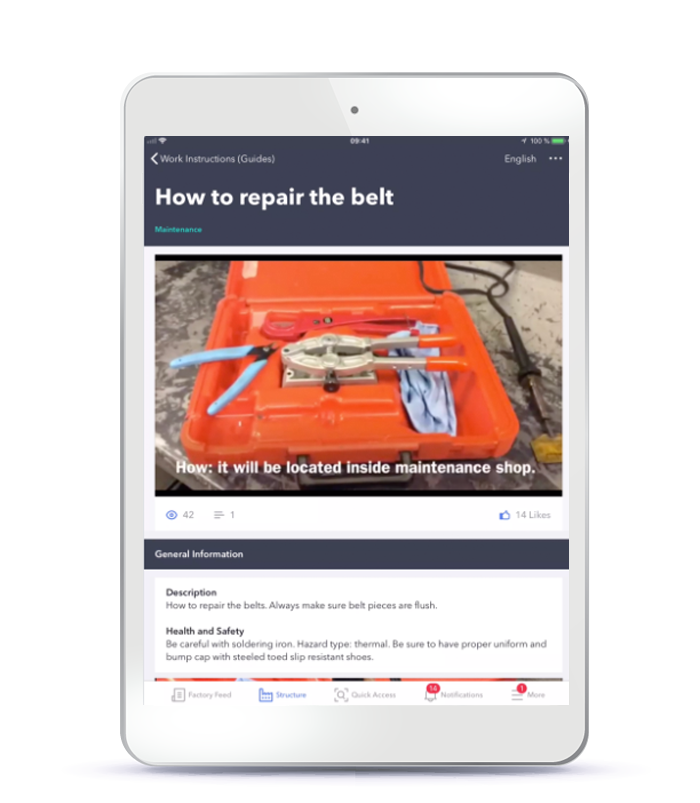 They also use the app to communicate with one another across production lines, shifts and even plants. This includes trouble-shooting problems, sharing their knowledge, and learning from one another.
Because information and communication is shared and accessible, this means that workers can level-up to standard, and that the standards can now come alive as a useful tool.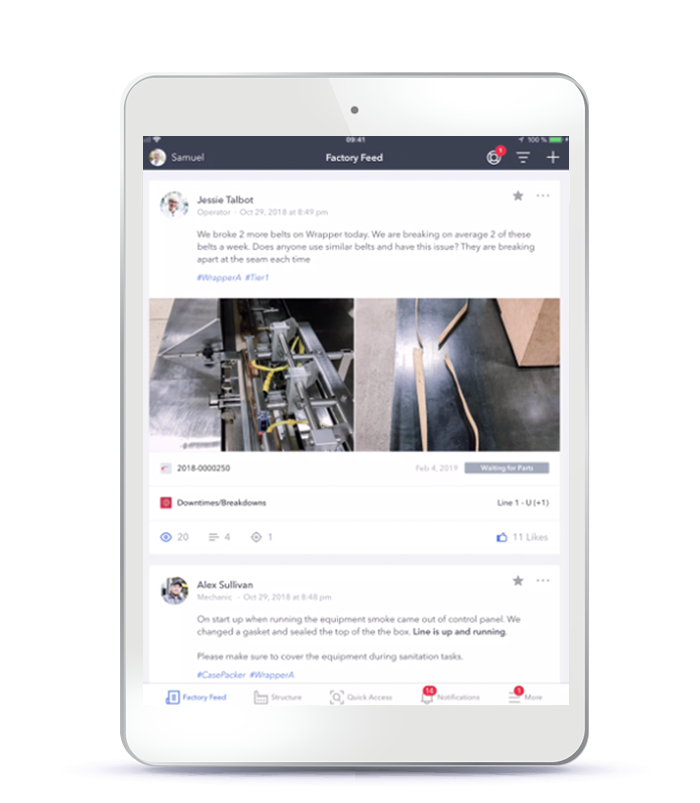 Proven Efficiency Gains
By digitally connecting their entire workforce and providing them with instant access to all the tools and resources they need directly at their workstations, manufacturers have seen some impressive efficiency gains.
For example, leading chocolate manufacturer Barry Callebaut has increased productivity by 4% at one of their Canadian plants, while reducing training time by 50
"Our expectations have been exceeded in every respect," says John Schouten, Director of Global Operational Excellence. "We will now progressively roll out the system worldwide."
Nutricia N.V., a division of Danone had reduced the time to set up new skills by 75% and shadowing time by 40% reduction. 
"Operators take the lead in their own learning. They learn when they need to, the right way, and without constantly taking other operators away from their work," explains Jorn Vroegh, Learning and Development Coordinator.
Get Started Today
So, the Industry 4.0 bus is ready to go, jump on board with not only the tools you need for the trip, but including the people who will make the journey fun and a success.
Visit our website to learn more about Poka and watch our 2-minute video to hear what Tyson Foods, Mars and others are saying about how Poka has digitally transformed their factory floor.