Stop wasting time. Stop making your employees read 20 page procedures. Stop trying to train employees the same way they did 20 years ago. Stop training just for the sake of it.
Here Is the Deal
The quest to become a learning organization is far from easy and will require somewhat of a cultural change. But what strategy do you use to build a learning culture within your company? Poka provides you with a tool, however, our clients need to have a clear strategy for how they want to improve their training in order to have the biggest impact on their factory's performance as well as how they want to improve collaboration on problem resolution in their daily operations.
Training and collaboration can be approached by the three pillars of learning in factories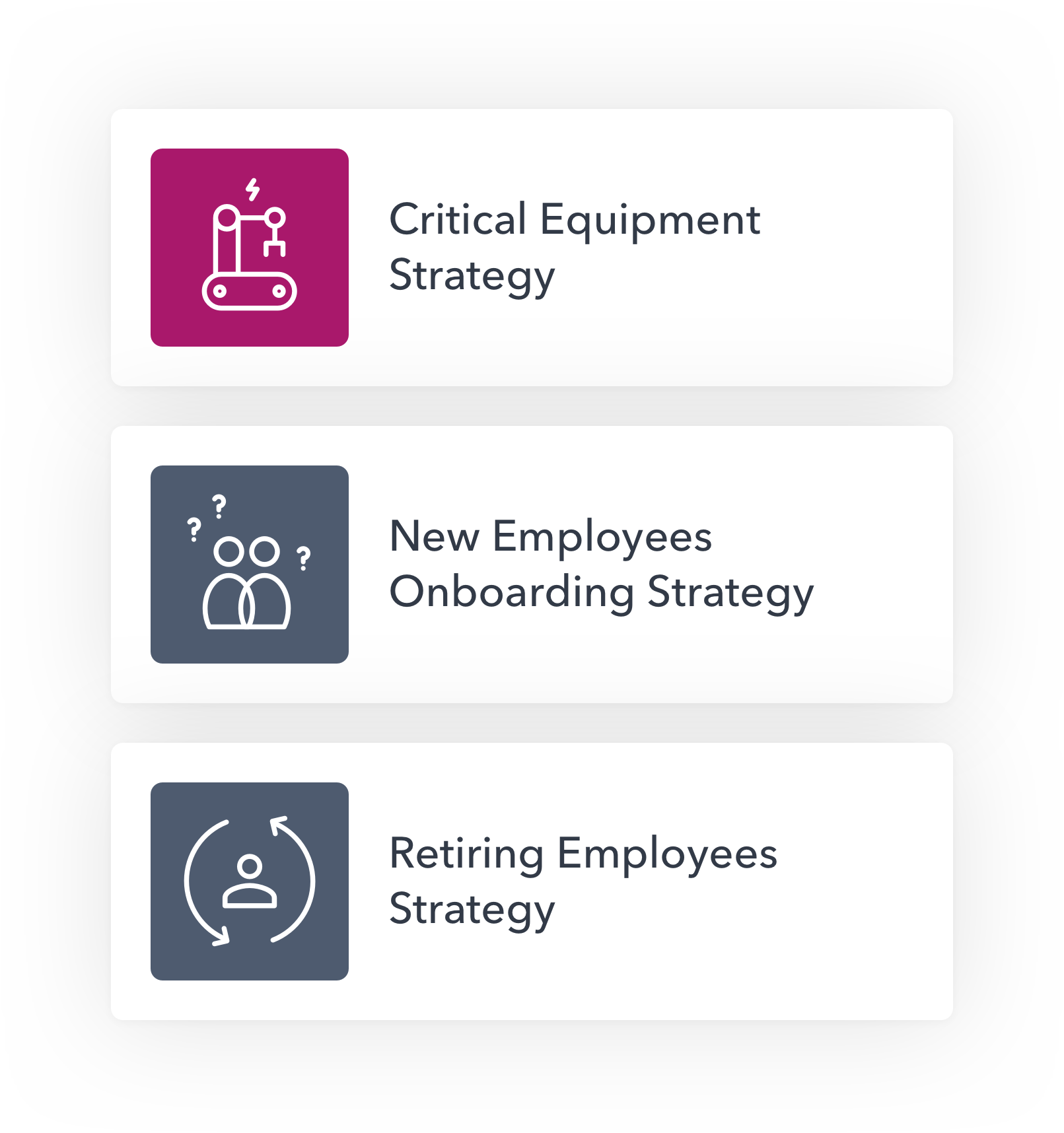 But let's just concentrate on the first one today.
The Critical Equipment Strategy
In our experience from working with customers in manufacturing, we've noticed that the top 5 most critical equipment in your factories represents up to 30% of downtime on a production line. So the idea is to focus on those 5 machines and document all expertise required to improve its performance with the help of a tool like Poka. Similar to a Kaizen, Poka will analyze all news related to each of these machines and implement corrective actions through learning. We will create videos guides with our client's internal experts and OEM technicians to cover all subjects, creating a world class equipment.
Typically, the users will create between 20 to 50 videos per critical equipment with Poka. With the quantity and quality level of the content, our customers are able to retrain their employees and measure their improvement based on the same skills level. Most likely, by focusing their efforts on a select number of equipment they can really build strong content.
P.S. We strongly recommend to start using Poka on creating videos of more elaborate procedures for multiple equipment so that your experienced employees don't find the content irrelevant.
Here are some examples for video creation
Machine Safety
Operator Control Screens
Standard Operating Procedures
Housekeeping and Cleaning Requirements
Operator and Daily Maintenance Requirements
Operator Troubleshooting
Maintenance and Diagnostic Screens
Preventative Maintenance Schedules
Lubrication Schedules
Calibration Procedures
Mechanical Setup and Troubleshooting Procedures
With Poka you are able to be up-to-date with how to solve issues within the factory. Now the only challenge is to build enough content to have an impact on your learning culture.
Here is a tip. Start now!