In fact, they are expected to spend $9.2 billion on industry cloud in 2021, according to an IDG survey. That's double their spend in 2017! And what's driving adoption according, to another IDG study, are applications delivered as a Software-as-a-Service (SaaS).

The reasons are easy to understand. Software-as-a-service enables manufacturers to quickly roll out ready-to-use applications with little to no IT resources and minimal up-front investment. What's more, it offloads IT departments from having to maintain the system, while providing equal, if not greater security, than a system maintained in-house.

Here at Poka, we're doing our part to digitally transform the factory floor. Our SaaS application is the first of its kind to digitally connect factory workers to facilitate skills development, knowledge sharing, and continuous improvement, and to provide greater visibility into what's happening on the factory floor at all times.
A Connected Workforce is a Smarter Workforce
Knowledge is power, and Poka puts it into the hands of individual workers. Literally.

A tablet with the Poka app enables workers to access training material, work instructions and trouble-shooting tips about their equipment directly at their workstations. A live news feed finally makes companywide updates available company wide – including those on the front line. Workers also use the news feed to post calls for help, share trouble-shooting tips, ideas for continuous improvement, and important updates about their shift or equipment.

At the same time, engineers, CI directors and management have real-time visibility into what is going on across shifts and factories and can respond at any time of the day and from any location – whether at the plant or at home. This leads to faster problem resolution, while creating a permanent record of all issues and effectively building a living, breathing knowledge base which can then be used to do root-cause analysis and so much more.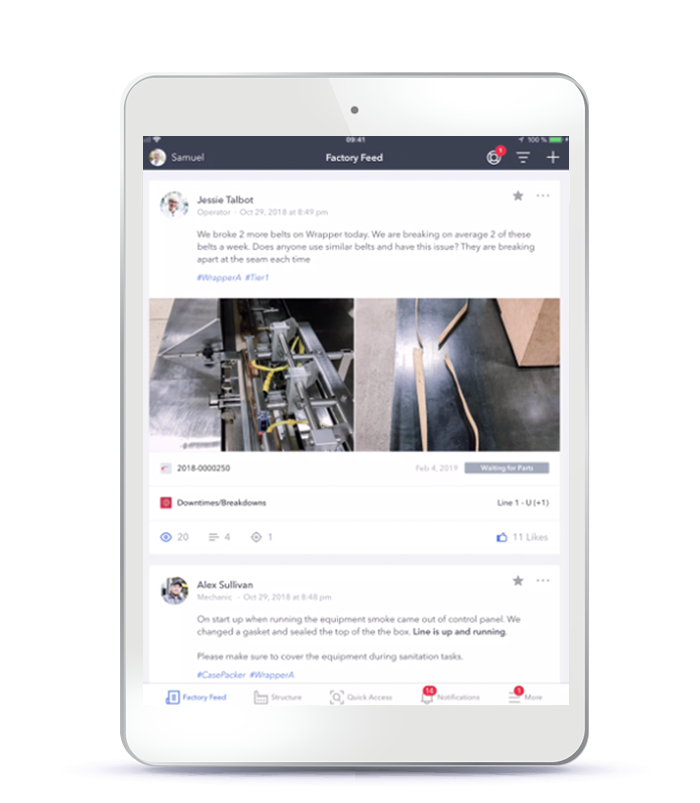 Reducing Your Time to Digital Transformation
The good news is Poka makes it easy for manufacturers to take incremental, yet impactful steps towards digital transformation, with less resources, effort and up-front investment than you might think.

As a software-as-a-service built specifically for manufacturers, Poka can be configured to map to your production environment at the plant, production line and equipment level. Manufacturers can quickly get started by using the live news feed to enable communications and knowledge sharing among workers, and then gradually add their existing and new training guides, videos and work instructions over time to facilitate training and skills development.

Because we host the application on our secure servers, manufacturers don't need to dedicate IT resources to maintain Poka. They can keep them focused on their mission-critical manufacturing systems, while we handle the implementation of Poka and on-going product development, maintenance, support and security updates.

Last, manufacturers can rest assured that their data is secure. Poka complies with SOC 2 Type 1, one of the most sought after security attestations for a Software as a Service provider. This means Poka follows strict information security policies and procedures to protect our customer's data. And because security is an ongoing effort, we continuously strive to improve Poka's information security to incorporate the latest best practices and SOC requirements. Read more about our SOC2 announcement here and request our SOC 2 Type 1 report here.