The will to support the Gemba is strong, but the how is weak. A poll at our most recent user conference revealed that 43% of Poka users do a Gemba walk weekly, 35% do it monthly and only 21% don't do it at all. Some of our best-attended conference sessions focused on the practical application: how do you do an effective Gemba walk?
In the following article, we rounded up the fundamental lessons of Gemba walks so you can discover how to implement this practice properly at your facility.
How the Lean Thinking Process Evolves
When implementing lean strategies, there are several steps to go through. Manufacturers should focus on establishing basic processes and standardization during the early stages of the improvement journey. Engaging and empowering employees to improve the status quo is also vital.
Once there is a stabilization in product variability, unplanned stops and other key metrics, the priority shifts toward improving the established processes. Manufacturers work to accelerate the development of new processes, products, services and experiences, and deliver user-centric solutions based on iterative learning cycles. At the end of this process is when Lean innovation truly begins and sinks its roots into your culture.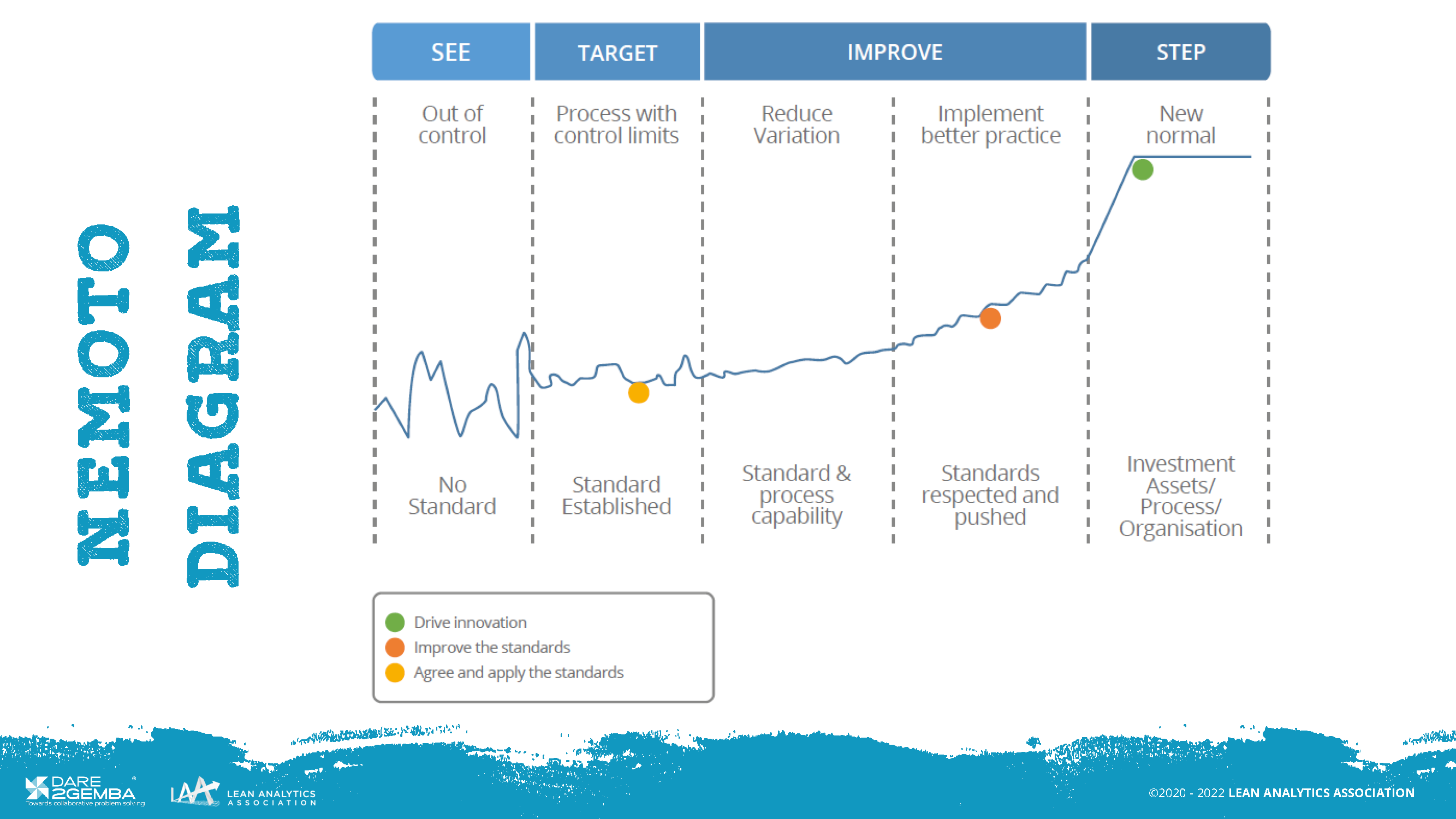 How Do Gemba Walks Fit Into This?
Gemba walks are an essential part of Leader Standard Work. They allow supervisors, team leads and executives to go to the factory floor to observe and listen to employees. Effective Gemba walks foster open sharing and engage employees in a collaborative and constructive problem-solving process.
They are an effective strategy for leaders to promote organizational alignment and for the leadership team to maintain a sense of reality. As previously mentioned, it allows one to see firsthand what is taking place on the shop floor. Understanding the truth of how a process actually operates, as opposed to preconceived notions, can provide new insights into how to enhance processes and help people grow.
Types of Gemba Walks
Dr. Myrna Flores, co-founder and president of the Lean Manufacturing association, outlines Gemba walks' multiple purposes.
Leadership Gemba Walks
Focuses on the culture. Aimed at developing trust, learning more about the operations, and finding ways to improve the working conditions of team members. Even within this type of Gemba walk, there are subtypes. In some cases, leaders simply observe, whereas, in others, they arrive with pre-prepared questions aimed at learning more from workers.
Leader Standard Work Gemba Walks
Regularly scheduled Gemba walks with an agenda or a theme. This is the most common type, where processes are thoroughly observed and analyzed with the goal of improving them. Progress is also analyzed to make sure improvements are followed through.
Problem-Solving Gemba Walks
This can be seen as a mini Kaizen. The purpose of a problem-solving Gemba visit is to see the source of a problem first-hand, talk to those closest to the issue, and determine if countermeasures are needed.
Benefits of Gemba Walks
So much good comes from simply opening up lines of communication with the factory floor. Here are the three key benefits Dr. Flores says to keep in mind.
Ensuring alignment between management's decisions and the value-creation processes on the shop floor. It's also a moment where leaders can share targets and objectives or even customer feedback.
Developing leadership's empathy regarding the problems that line employees experience in their daily work. It's all about listening to workers, asking questions and exploring ways to improve their daily lives. As a rule of thumb, leaders show be talking no more than 20% of the time.
Building relationships with those who do the work and create value in the organization. This allows leaders to be more accessible and employees to feel listened to and engaged in the process.
How to Properly Conduct a Gemba Walk
Preparation
The reason for your walk should be clear and written down. Once the reason is determined, it's important to understand where, how and why you are gathering information. This is crucial, especially when different people will be conducting the same Gemba walk. You can incorporate the purpose statement into your coaching and debriefing sessions.

The goal of a walk could be to check on the implementation of Standard Work procedures or to check for process irregularities, ensuring they are identified and that you have a strategy in place to rectify them.
Completion
As mentioned earlier, all walkers should practice active listening and respectfully ask probing questions based on three key guidelines: Observe, Ask Questions, and Develop Empathy and Respect.
Observe
When conducting a Gemba walk, managers learn that many things are not as they seem. A receptive walker can learn a lot of new skills. For example, a team lead could discover that certain work instructions are not being followed properly, which results in reoccurring downtime.
Ask Questions
The best way to get to the bottom of an issue is to start with "what" questions. Once a base understanding is established, it's time to dive into the "why." The truth, together with all the gaps, emerges when "why" is asked and there is a blame-free culture. Questions shouldn't be used to disprove others but rather to collaborate and support one another.
Develop Empathy and Respect
Leaders must establish a welcoming environment for discourse and treat everyone with respect. Or else the Gemba walk has no practical benefit. Why would someone openly disclose workplace difficulties and production issues if they will get blamed or disrespected? It also makes leaders appear unapproachable and encourages people to conceal their difficulties before attempting to portray them in the best possible light in order to avoid confrontation.

Respect can be demonstrated by developing workers' critical skills and establishing a strong management support system and culture. Doing so will motivate employees to embrace improvement-positive behaviors. Gemba walks should be employed to increase your associates' understanding of the process, their ability to observe it in action and comprehend it thoroughly, and increase overall autonomy.
Follow Up
Your post-walk actions should demonstrate that your management team is committed and involved.

Were the walk's objectives accomplished?
Were necessary or potential improvements discovered? If so,

Identify, group, and prioritize improvements that require further action,
Set task and project deadlines,
Have this information handy during the next walk,
Keep track of improvements and whether or not they're being sustained.
Using Poka for Effective Gemba Walks at Your Plant
From start to finish, Poka's Connected Worker app can be used to complete a Gemba walk.
Step 1 - Preparation
Management can quickly filter for current open issues, getting a complete list of all the applicable problems that need to be addressed during their walk.
Step 2 - Completion
Using a digital form like the one below, walkers can easily capture worker feedback and insights into a standard format while on the go. No more wasting time looking for the right form or filing away completed reports.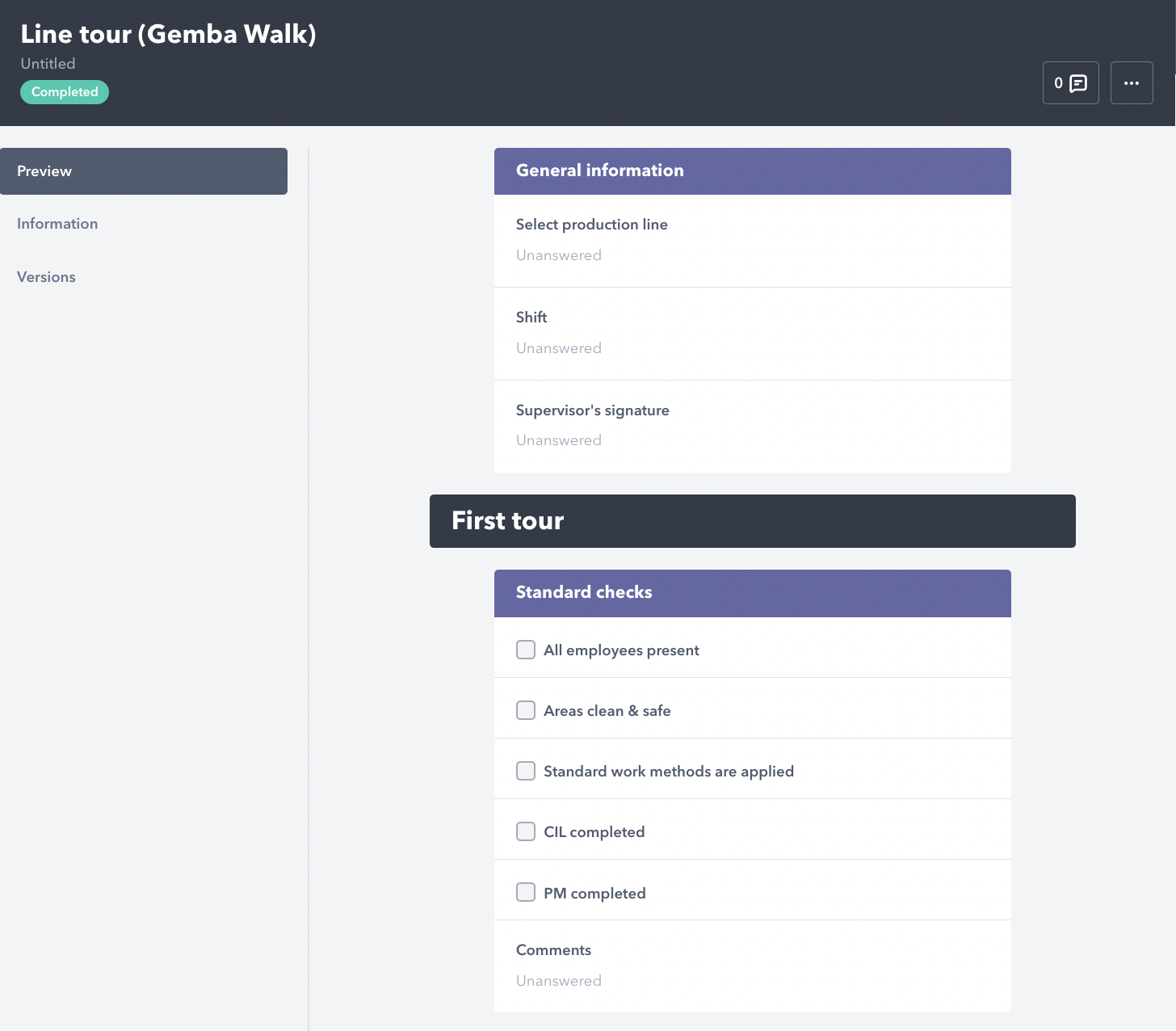 Step 3 - Follow-up
This is where Poka truly shines - alerting tagged or assigned users to follow up on action items found during the walk. Any problems captured in the electronic form can be automatically escalated, notifying the leadership team of anything that needs to be addressed. The Issues Management feature also groups problems in a Kanban board so they can be tracked from identification through to resolution, ensuring accountability. Mass reminders or updates are quickly sent out factory-wide in the news feed.
How Barry Callebaut Leverages Poka
Gemba walks, and team boards are central to Barry Callebaut's daily operations. They leverage modern solutions, including Poka, to connect their workforce and enable Gemba walks to be much more efficient and collaborative.

"We are adding more digital tools to the Gemba so that decision-making can be made directly on the shop floor and data is used to help workers rather than mining it far away. When there is a problem, we try to solve it then and there."
- John Schouten Global Operational Excellence at Barry Callebaut Group

Having powerful technology in the hands of workers gives them a direct support line to functional experts, management and maintenance whenever necessary. Any documented issues can easily be tracked so they don't slip through the cracks, and resolutions are documented and easily accessible to anyone. They even share any newly acquired knowledge across plants to ensure best practices are known company-wide. Read our complete customer story for more information on how Barry Callebaut leverages Poka in their Gemba walks.
Utilizing Gemba at Your Plants
Creating direct communication between workers and managers not only creates a culture of communication where voices are heard, but also provides better visibility to management. Establishing strong offline practices will set the tone for adopting a strong Gemba strategy at your plant. However, without the proper technology, it will be more difficult to scale and limit the problem-solving power of your team.