Growing up in a manufacturing family spanning five generations has taught me a critical lesson: always be prepared for a crisis. For as long as I can remember, my father has shared stories of the hardships that his father, grandfather and great grandfathers had to face during our family's 115 years of operations at Biscuits Leclerc. The Spanish Flu pandemic, two world wars, and several stock market crashes are the most notable, of course, but there were countless other unexpected issues along the way.
The thing that my family learned from each one of these crises that has helped shape our continuity strategy and contributed to our survival and longevity, is this: You can replace suppliers, machines and clients, but there is no substitute for the knowledge of your workers.
Many manufacturers today are facing this harsh reality due to the COVID-19 pandemic. First, they are realizing that knowledge isn't documented in a way that enables workers to quickly learn how to operate equipment when key operators or mechanics are at home sick or under quarantine. This, consequently, is becoming one of their greatest continuity risks. Training, they agree, is no longer a nice-to-have.
Second, many manufacturers today are struggling with how to keep information flowing and enable collaboration among frontline workers, especially when issues arise that require the knowledge and expertise of quarantined workers to resolve.
While there's little companies can do to stop the pandemic from impacting their business, there are concrete steps they can take, such as keeping everyone digitally connected,  to reduce the risk to frontline workers and operations. This is especially critical for food and CPG manufacturers who have the added responsibility of protecting our food supply chain.
Digitally connecting frontline workers so that they have instant access to all the knowledge and people they need is was what initially drove me to develop Poka, a performance support app for manufacturers.
Now faced with this crisis, I feel obligated to share how my family and global manufacturers are using Poka to now support production continuity, while reducing the risk to workers. This includes some unsolicited feedback that we have received from our customers since the COVID outbreak.
1) Keep Employees Informed at All Times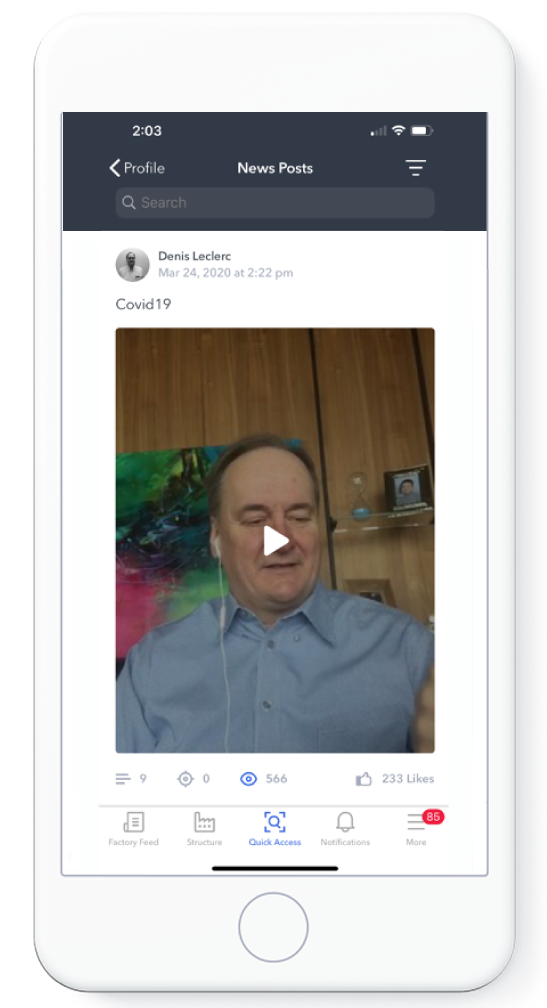 Communication from the leadership team is especially important during times of crisis. Not only do workers need to be updated on policy changes, safety and cleaning procedures, and what to do should they fall sick. Frequent communication is also important for boosting morale as more and more employees are being asked to maintain a physical distance from one another, quarantine themselves, and work or stay at home for an indefinite period of time.
At Leclerc, management uses a digital factory feed to post updates and COVID-19 best practices, share a video message from its CEO each day, and recognize the efforts of workers. Employees can view the news feed using a tablet at their workstation, smartphone or laptop computer. They can also post questions and comments to the news feed, thereby enabling a lively dialogue among workers across factories, production lines and shifts.
"Our President's daily videos are appreciated by the staff across our eight plants," says Johannie Bouffard, Social Media Manager at Leclerc. "They serve as a meeting point where all teams are updated about government announcements and the measures we are taking to ensure a safe and productive working environment."
2) Reduce In-Person Meetings
While maintaining a two-meter distance between workers on the factory floor is an absolute must, manufacturers can do more to ensure their safety by reducing, if not eliminating, in-person meetings altogether if possible. Information that is typically exchanged during shift change-overs, tiered meetings and daily huddles should be shared digitally whenever possible. 
At Leclerc and other manufacturing organizations, including Bosch and Danone, updates and issues are recorded and shared using their digital factory feed. Instead of verbally communicating the information in a meeting, workers use their tablets or smartphones to post the information. This can include photos and videos which help remote team members better understand the update. Not only is this a safer alternative to face to face meetings. It also enables anyone across shifts and plants to access and benefit from the information.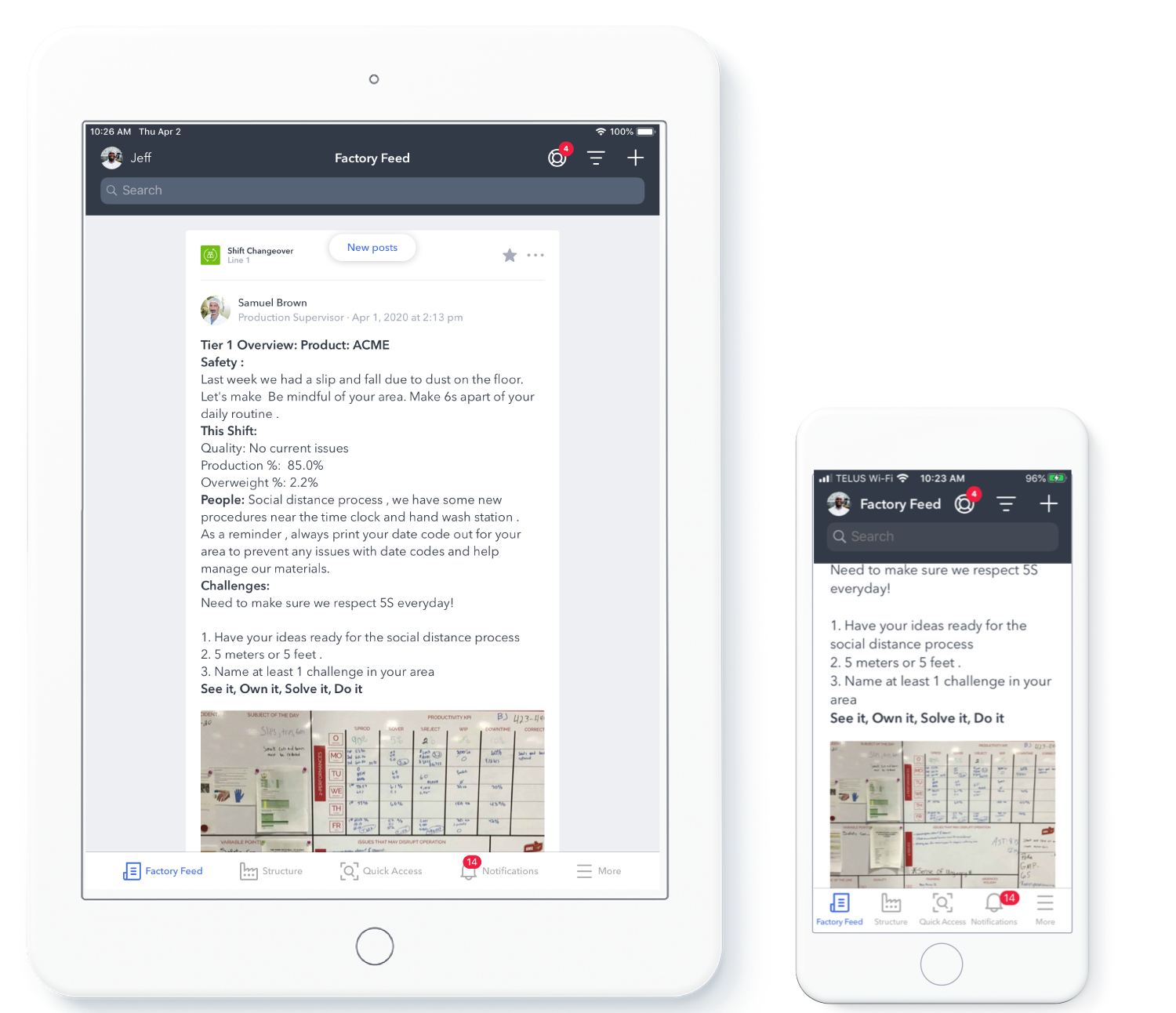 "Our employees can't even have contact between shifts," explains a coordinator at a global food company. "So, the digital factory feed is very helpful to support shift changeovers." The digitization lead at a health science plant explains how the digital factory feed is, "part of our plan to reduce meetings and increase social distancing."
3) Provide Remote Problem Solving and Support
Access to experts is now more critical than ever. As manufacturers shift their production strategies and quickly bring on new workers to replace those sick and in quarantine, the number of issues and calls for help are surely to rise. But with experts now being asked to avoid all non-essential travel or who are in self-quarantine themselves, manufacturers must equip them with the ability to share their knowledge and trouble-shoot problems remotely and in real-time.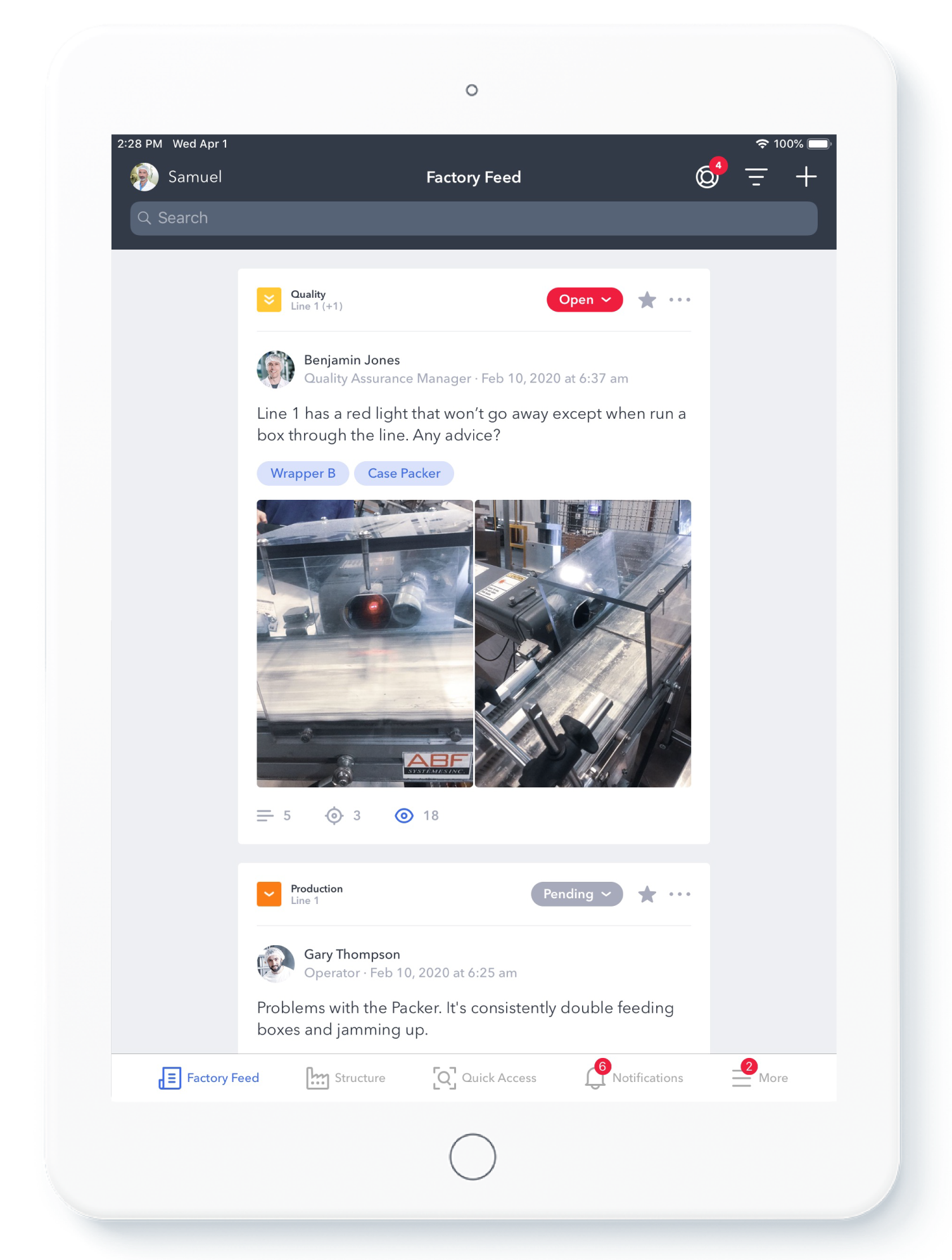 Poka's Factory Feed at Leclerc and other manufacturers is enabling frontline workers to communicate and collaborate at a distance. Workers use a tablet or smartphone to take a video or photo of the problem they are experiencing, and then post it to the factory feed to notify experts. 
All relevant equipment and workstations are tagged, automatically notifying the right team members of the issue. Experts can then post a reply, including a video of how to resolve the issue. The solution can then be easily converted into a trouble-shoot in the knowledge base for everyone to access when needed.
4) Maintain Real-Time Visibility at a Distance
Under normal circumstances, management and team leads circulate the factory floor to ensure production lines are running smoothly and identify what support is required. Today, this must be done remotely as much as possible.
As workers use the digital factory feed to post updates and calls for help, management gains real-time visibility of what is happening on the factory floor at all times. This both eliminates the need for physical GEMBA walks, and it creates a permanent digital logbook that management can easily consult when doing root cause analysis.
5) Identify Critical Equipment and Document Knowledge
As workers fall sick and are sent home to self-quarantine, they will need to be quickly replaced by current employees or new-hires. Manufacturers looking to minimize production disruptions should urgently identify critical equipment needed to maintain operations and ensure that digital work instructions are available to train operators and eliminate the need for shadowing.
To achieve this goal, some of our manufacturing customers are now tasking their most experienced and qualified workers to document their knowledge and create video instructions. Workers use a tablet to record a demonstration of how to safely operate and properly clean and maintain the equipment.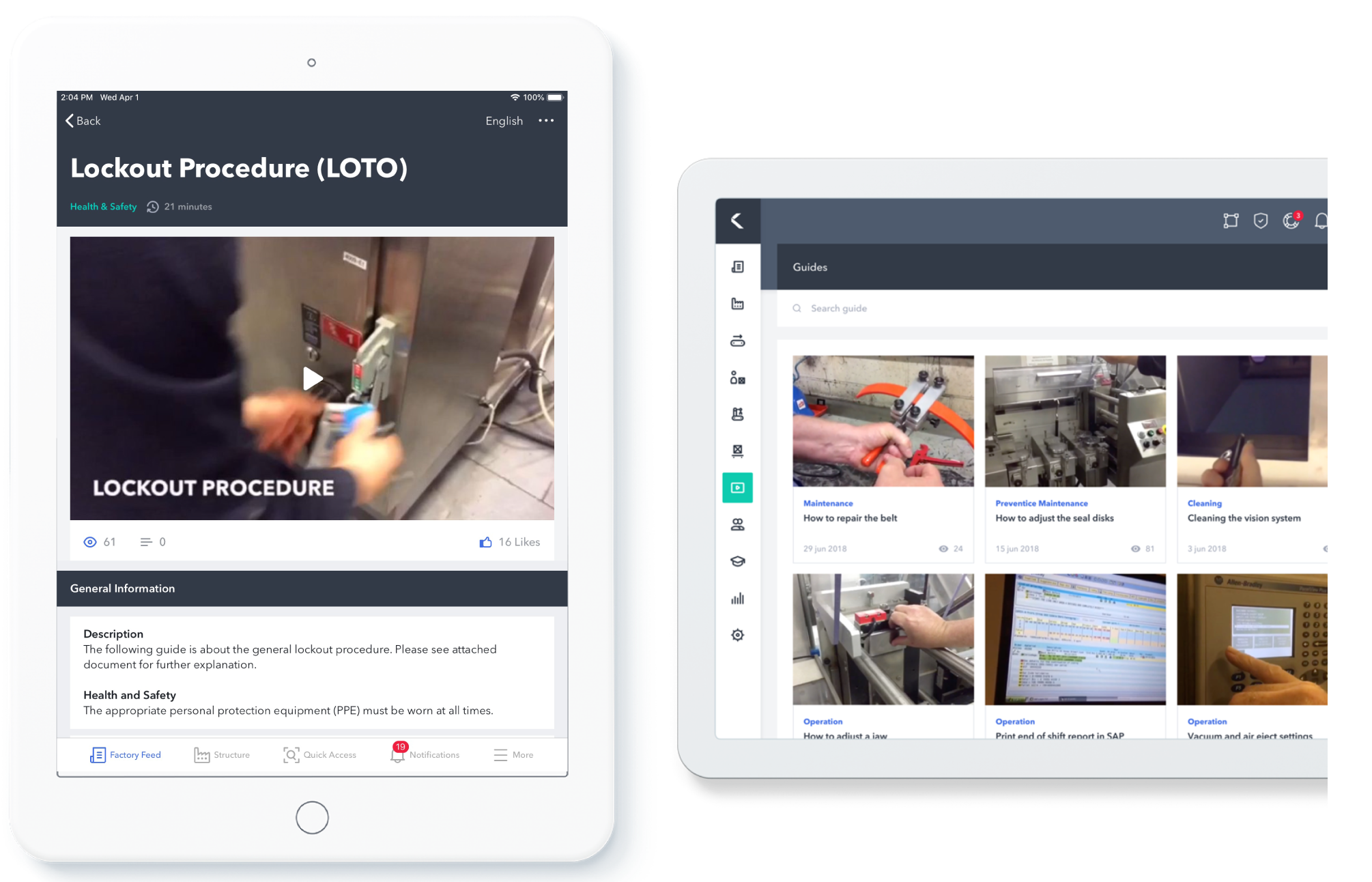 Given the current urgency of the growing crisis, they are not striving for perfection when creating the video. The goal is to capture the essential instructions as quickly as possible in the form of video micro-lessons, so that replacements can learn on their own directly at their workstation. They can set expiry dates on the instructions as reminders to revise the video instructions once operations have normalized and bandwidth is available.
 "Most of our process specialists have been quarantined, which means no one is available to train new hires coming in to replace them," explains a continuous improvement manager at a food manufacturing plant in China. "But new employees have had no trouble learning the operations using videos. We're now committed to digitizing all of our work instructions by the end of the year."
6) Make Existing Work Instructions Digitally Available
After manufacturers address training for their most critical equipment and skills gaps, the next step is to adopt a long term and permanent strategy. We don't know how long this pandemic will last and when a new crisis will occur. So, all work instructions and SOPs should be accessible in digital format directly at workers' individual stations in order to prevent workers from having to consult and handle printed documents, and so that new-hires can learn independently while on the job.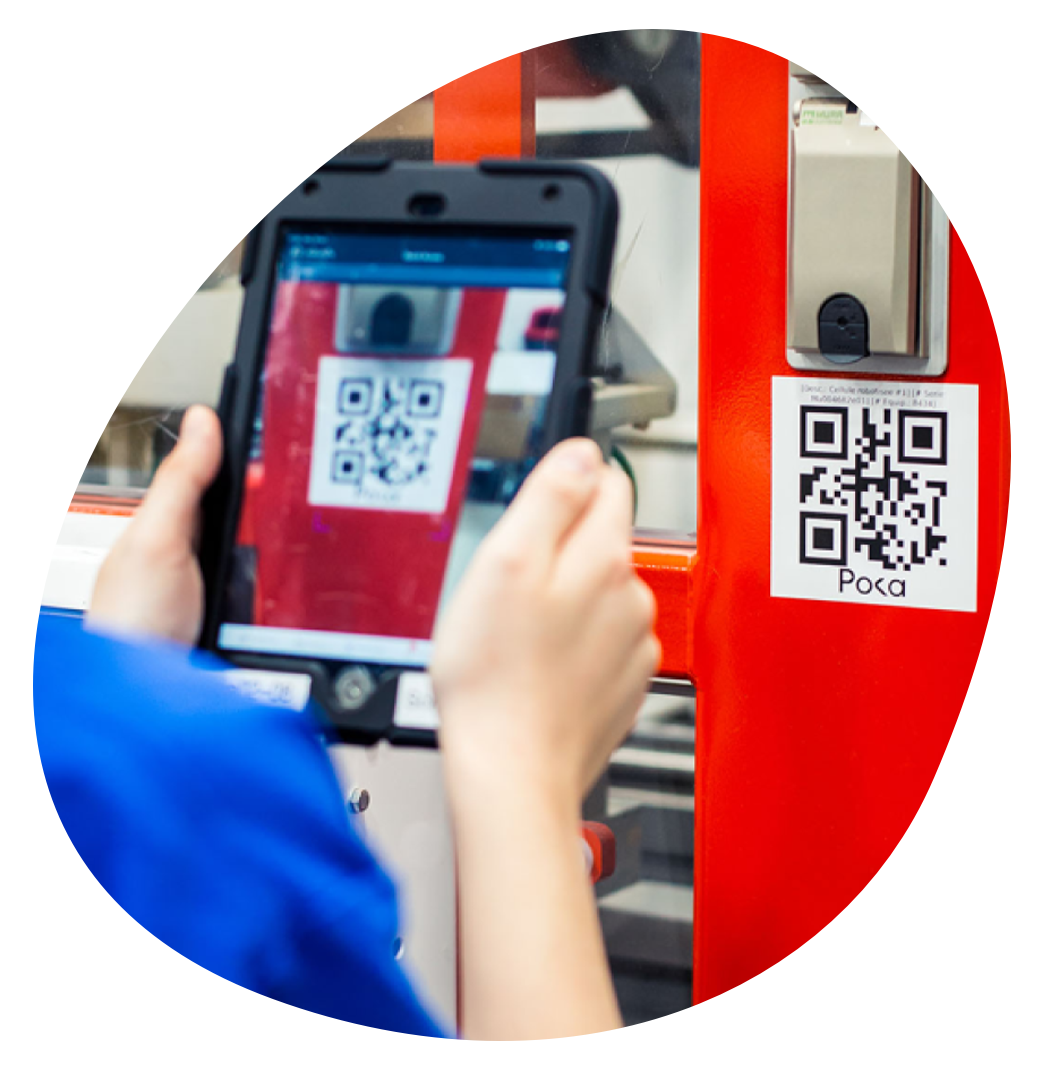 Many Poka customers start by uploading their existing content in PDF format into Poka so that operators can easily access the content at their workstations. They use a tablet to scan a QR code on their equipment or workstation to instantly view all relevant instructions, trouble-shoots and updates for their equipment.
After the basics are uploaded, they then gradually add video micro-lessons, exams and other activities over time to create a more comprehensive training curriculum.
7) Learn more
In the coming days I will post more articles explaining and illustrating how Poka helps support these business priorities. In the meantime, check out this 8-minute demo video to see how Poka works.