Manufacturing companies often look to use existing equipment when creating new products. They mix and match equipment to develop new capacity and save money. Consequently, high-speed production lines are not always designed according to best-in-class Total Productive Maintenance (TPM) principles.
Even current lines that were initially well designed may shift over time away from good design and optimal operation as they fail to keep pace with changes in final product Bill of Materials (BOM) or production patterns.
This article outlines how to identify the root causes (RCA) of line problems and then how to reduce or eliminate them. It describes a continuous DMAIC step-by-step approach to help: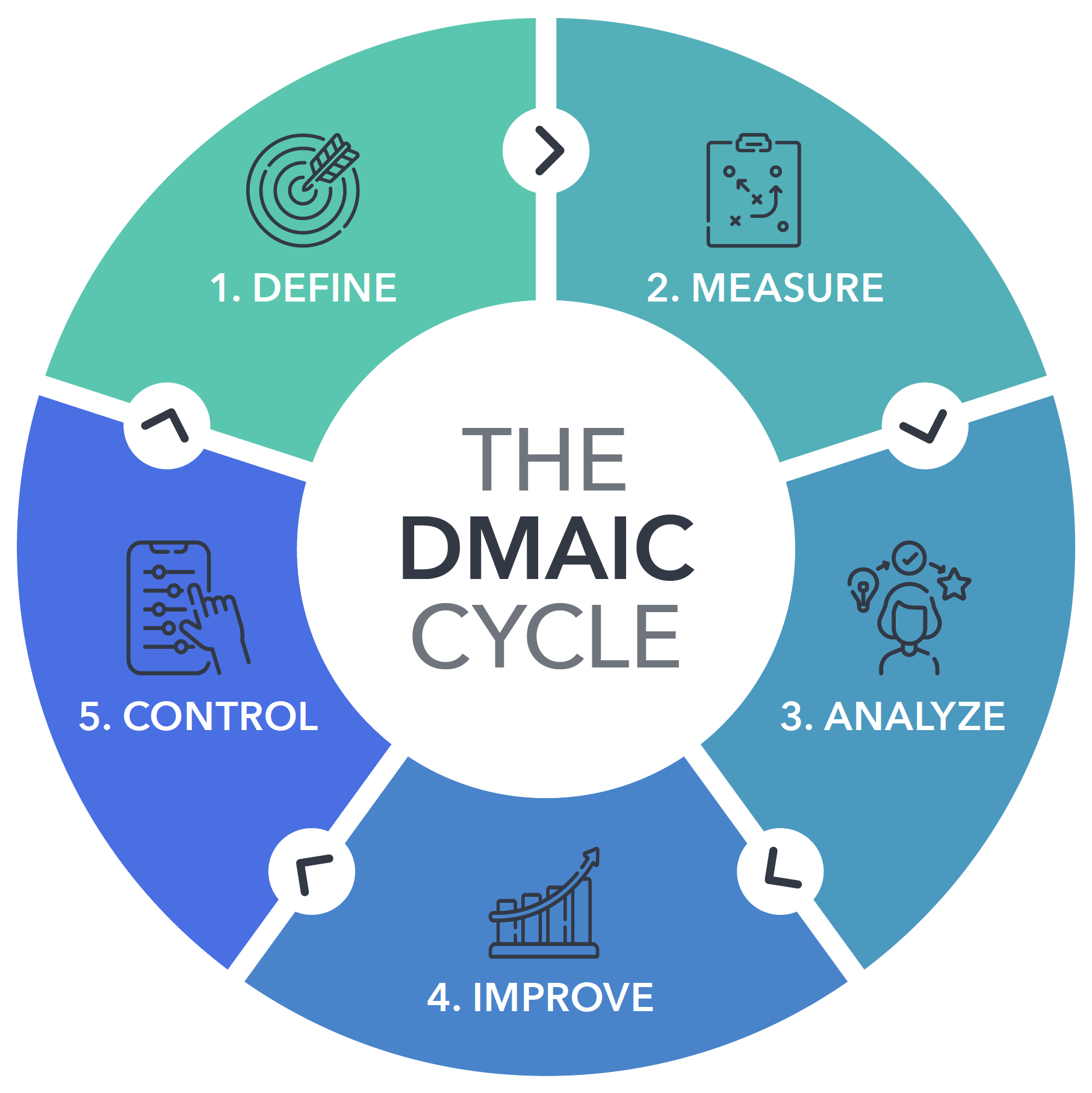 Define and Measure the performance of their lines
Analyze the data

Recognize symptoms of poor line performance by tracking states, events and counts
Identify where problems occur on their lines

Improve and Control

Focus their efforts to improve efficiency in the right areas
Reduce equipment, product and waste
What is OEE?
OEE, or, Overall Equipment Effectiveness, is a metric that calculates the percentage of planned production time that is genuinely productive. A perfect OEE score (100%) would mean that you are running at full capacity, non-stop and producing only quality products that don't deviate from your standards.
By measuring OEE and understanding your losses, you will understand your production activities deeply. It's the best way to help you identify losses, benchmark progress and improve your equipment and line productivity.
Calculating OEE
As we will discuss in further detail later on, OEE considers all losses, whether stop time loss, speed loss, or quality loss, so it only measures the truly productive manufacturing time. To calculate OEE is simple. All you will need are the following three rates:
Availability - Is the process always running during planned production time?
Performance - Is the process running it is at full capacity?
Quality - Are there any defects?
Once you have these three rates determined, you'll be able to calculate OEE with the following formula:

Whether your OEE score is considered good depends on many factors, including the type and the number of products your line handles—but more on that later.
Principles of a Typical Production Line
A typical production line is made up of different pieces of equipment that perform specific tasks to deliver the final packed product or Stock Keeping Unit (SKU).
These equipment units are linked together by conveyor lines and manual handling processes and are usually controlled by sensors and Programmable Logic Controllers (PLCs). A production line is more than just the sum of its parts. Individual machines need to be correctly specified so that they can work together as part of an efficient overall design.
The graph below illustrates vital considerations of a typical production line:
The "bottleneck" equipment or asset (Asset 2)
The v-shaped nature of production
The buffer capacity (or WIP) provided by accumulators and conveyors

As shown above, over extended periods, the line's speed (Output) cannot exceed the rate of the slowest equipment of the asset. This equipment is called the bottleneck. Each piece of equipment on a line is designed to run at a particular production rate or capacity.
The first stage in good production line design is to decide which machine should be the bottleneck. It's important to maximize the return on investment. The bottleneck asset should be considered based on production speed, quality, cost, etc. It's vital to keep it running as close to its maximum capacity as possible.
To ensure the desired machine is the bottleneck, all other machines must have a higher design speed. The rest of the line should be designed to service the bottleneck machine and to keep it running as constantly as possible. This means the bottleneck equipment should ideally:
Never be starved of feedstock, ie there should always be raw materials waiting to be processed at the input to the bottleneck machine;
Never be blocked due to build-back, ie the processed product from the bottleneck equipment should be taken away fast enough to avoid product building up and blocking the output from the bottleneck machine;
Never be stopped or faulted because of unexpected failure or downtime
This means specifying the design speeds of each equipment in the production line to form a V-shape and building in appropriate buffer capacity. The design speed of the bottleneck machine determines the overall speed of the line, thus setting the line design speed.
If all equipment is running smoothly, then the average throughput of each machine will match the throughput of the bottleneck equipment. With a V-shape, this means that the downstream and upstream equipment are sometimes idle.
Each equipment control system will cause upstream and downstream equipment to idle or be blocked (be switched off) while waiting for the equipment immediately after to clear (upstream) or fill (downstream) the conveyor between them.
The V-shape thus means that upstream machines are designed to have build-back time and downstream machines to have starvation time. The line operators' primary focus should be to increase the actual net rate of the slowest machine (Asset 2) as it contains the line's output.
OEE and DMAIC Methodology
Define
A typical production line is broken down into several pieces of equipment, as shown below. Mapping the process allows information to be structured so it can be turned into actionable information. Mapping information is necessary but not sufficient.
Defining must include normalizing the data structure to understand, identify root-cause and develop troubleshoots on all line equipment. This also falls under the 5S principle, "standardize". Many data points and parameters need to be configured to generate reports and alarms.
The data point requirements range from equipment states such as running, stop, and idle to equipment downtime/DT codes, package unit of measure (UoM), etc. The following picture is the same example of typical packaging equipment.
Normalizing information brings several additional benefits ranging from operator, technicians and maintenance worker training efficiencies to equipment vendor automation, commissioning and integration efficiencies. Production line equipment events typically respect the following data breakdown. Structured equipment data supports root-cause analysis like 5M. As this picture shows, every piece of equipment should use the same state model and group fault codes accordingly.

Line events aggregate all individual equipment and follow a similar state model as the one above for equipment making up the line. The picture below returns information to production planners, production supervisors, and maintenance and cleaning crews.
Remember production schedules are typically planned monthly during sales and operations planning meetings and provide departmental visibility of what will be produced where and when. Line state visibility is an excellent way of optimizing resource utilization.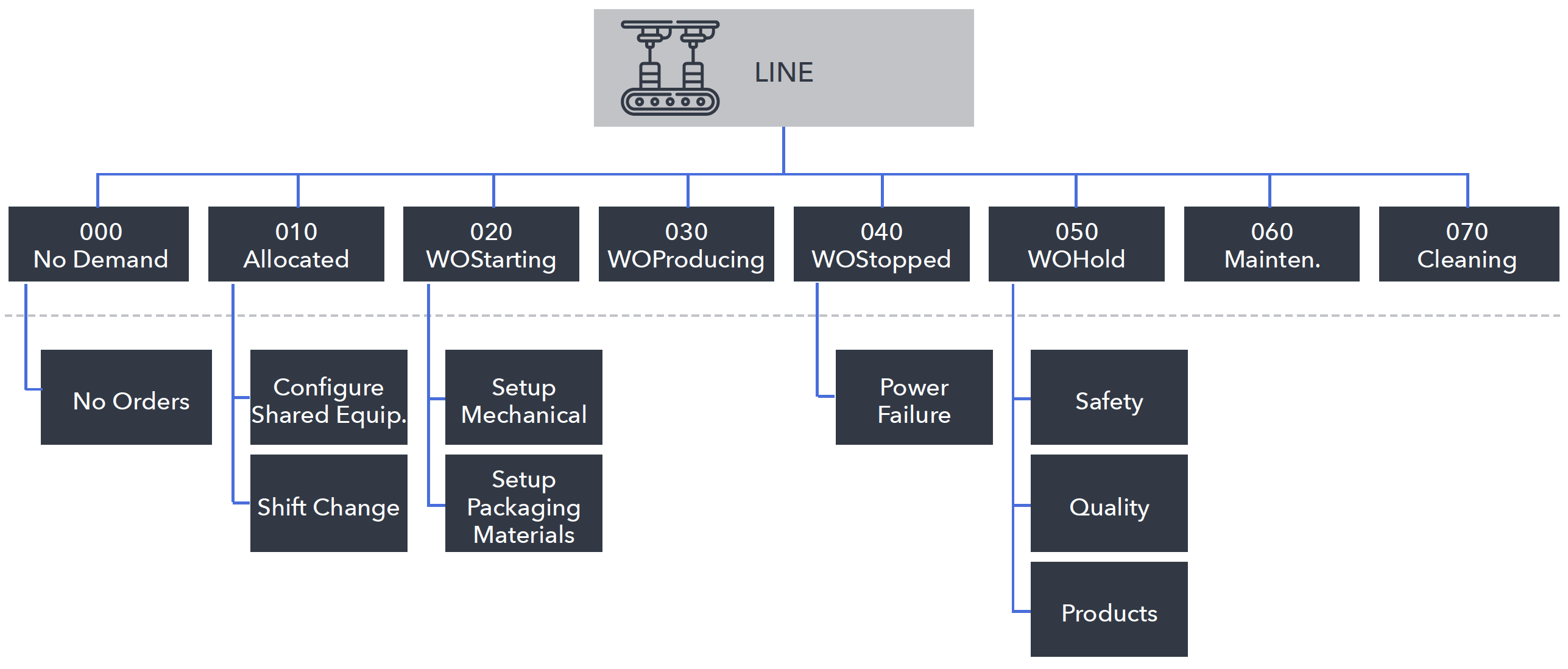 As we indicated earlier, normalized information helps identify the root cause of issues. In a typical Kaizen meeting, stakeholders will look at attaching issues to one of five 5 M RCA categories:
Man-People
Machine-Equipment
Method-Procedure
Material-Product
Measurement-Tool.
Based on the above, the line and associated equipment can be configured, data measured and information structured to identify manufacturing losses.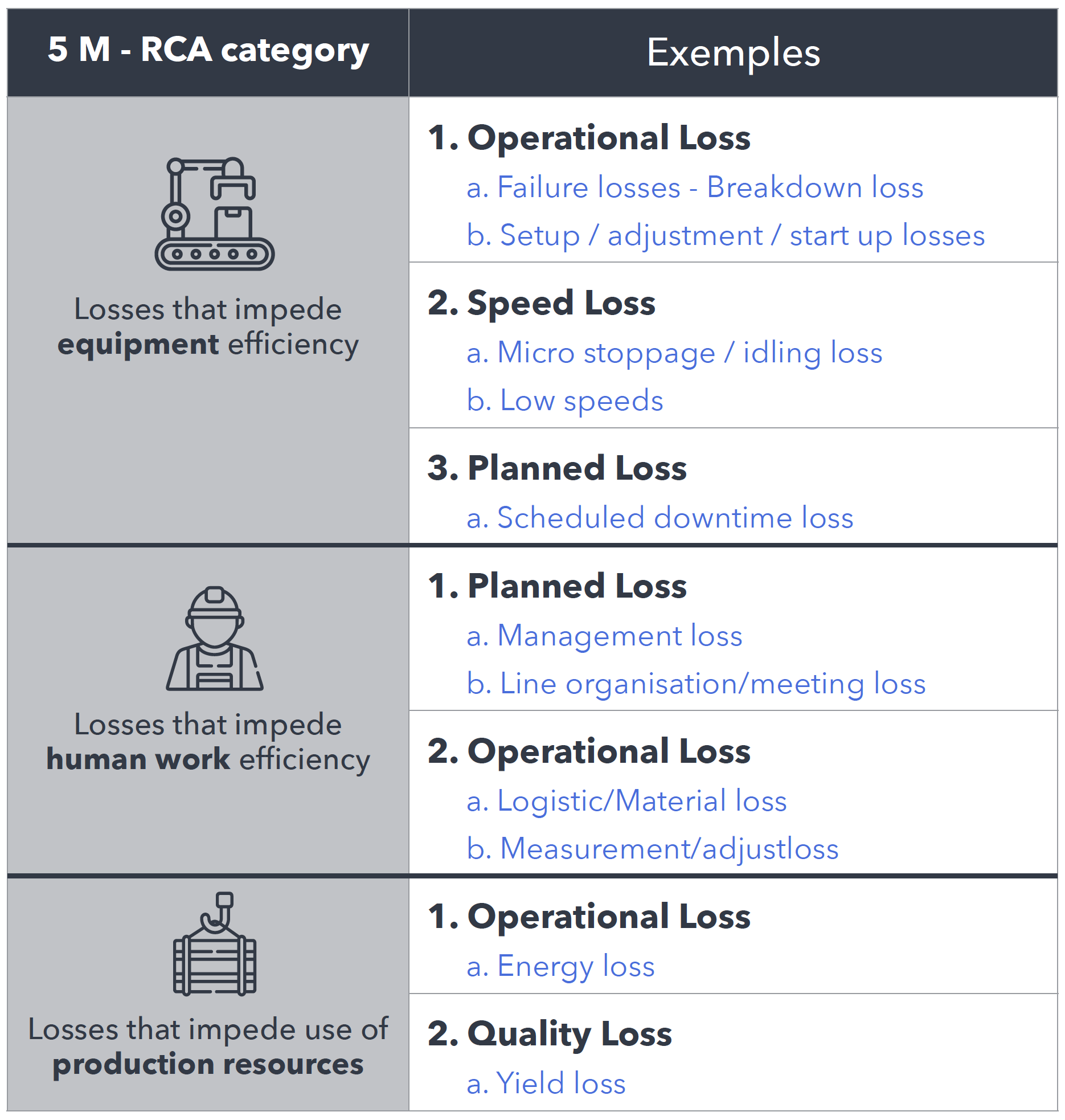 Measure
This section discusses the factors that reduce production line efficiency and shows how to make some simple performance measurements using OEE. These measurements will help flag problems and identify opportunities for improvement. Overall high-speed line performance deteriorates due to one or a combination of the following:
Lost time
Reduced speed
Poor product quality
OEE also allows us to quantify these effects by calculating key performance indicators (Availability, Performance or Quality rates). These indicators can build up a historical record when monitoring changes as part of a continuous improvement process. Measures include, but are not limited to the following.
1 - Equipment Time in State
Equipment State definition is based on industry standards. Equipment has predefined states—the most common ones are running, stopped and idle states. In a world where equipment performance can be impacted by time lost (not running), then it only makes sense these state measurements are necessary to understand how much time is lost.
2 - Equipment Availability and Failure Rate
When time is lost because the equipment is in the stop state, operators, maintenance, and continuous improvement teams will need to find out why the equipment was stopped. This is typically provided through equipment automation (or PLC).
Equipment time lost can be impacted by equipment failures or operational reasons. Segregating equipment time lost is highly important to complete root-cause analysis. This is when data mapping and normalization, like we indicated above, comes in real handy.
The time lost will impact the availability and/or performance rate component of the OEE.
3 - Production Counters for Both Line and Equipment
Counters are needed to measure how the line and the equipment produce many units. When equipment is designed to run at a predetermined rate, it's pretty simple to count how many units should be made per period. So counters are needed to measure OEE's actual performance and quality rate components.
Without counters, the second performance measure or reduced speed cannot be measured. Moreover, different SKUs mean different settings for the line and the equipment making up the line. So when a counter detects a newly produced unit, it should know which SKU the equipment is making to comply with production standards for any given SKU making up daily production schedules.
The third performance deterioration measure, or poor product quality, requires counters to bring the proper SKU context to the measure. To establish the appropriate production SKU, there needs to be a process that identifies the Work Order starting and stopping.
Unit counters also require which unit of measure (UOM) a unit count represents. And finally, to measure the OEE quality rate component, there should also be a unit count to determine if the count is a good or defective unit.
4 - Line Time in State
Managing the line state is trickier than just looking at one specific line equipment. This is caused in part because high-speed production lines can sometimes run product SKU B at one end of the line while running product SKU A at the other end of the line.
Therefore it is essential to know what production is at every equipment making up a production line. This is also true when two lines share common equipment stacking product cases on two different pallets.
Line state can be different in that there might not be production scheduled, or the cleaning crew might not be finished preparing the line for production. In other words, line states can also experience time loss, and that loss must be attributed to the right reason.
At the end of the day, operations' daily performance (adherence plan, perfect order, etc.) is not measured by equipment but at the line level, so understanding line OEE performance is important.
5 - Line Trends
The following picture is a standard tool used to understand actual line performance compared to standards. It is a multi-scenario time-based representation of the production line performance. Line trends can help rapidly determine if the line is producing to standards and will complete its production orders on time or will require additional time (X-axis showing time) and/or resources to meet planned production orders (Y-axis showing unit counts).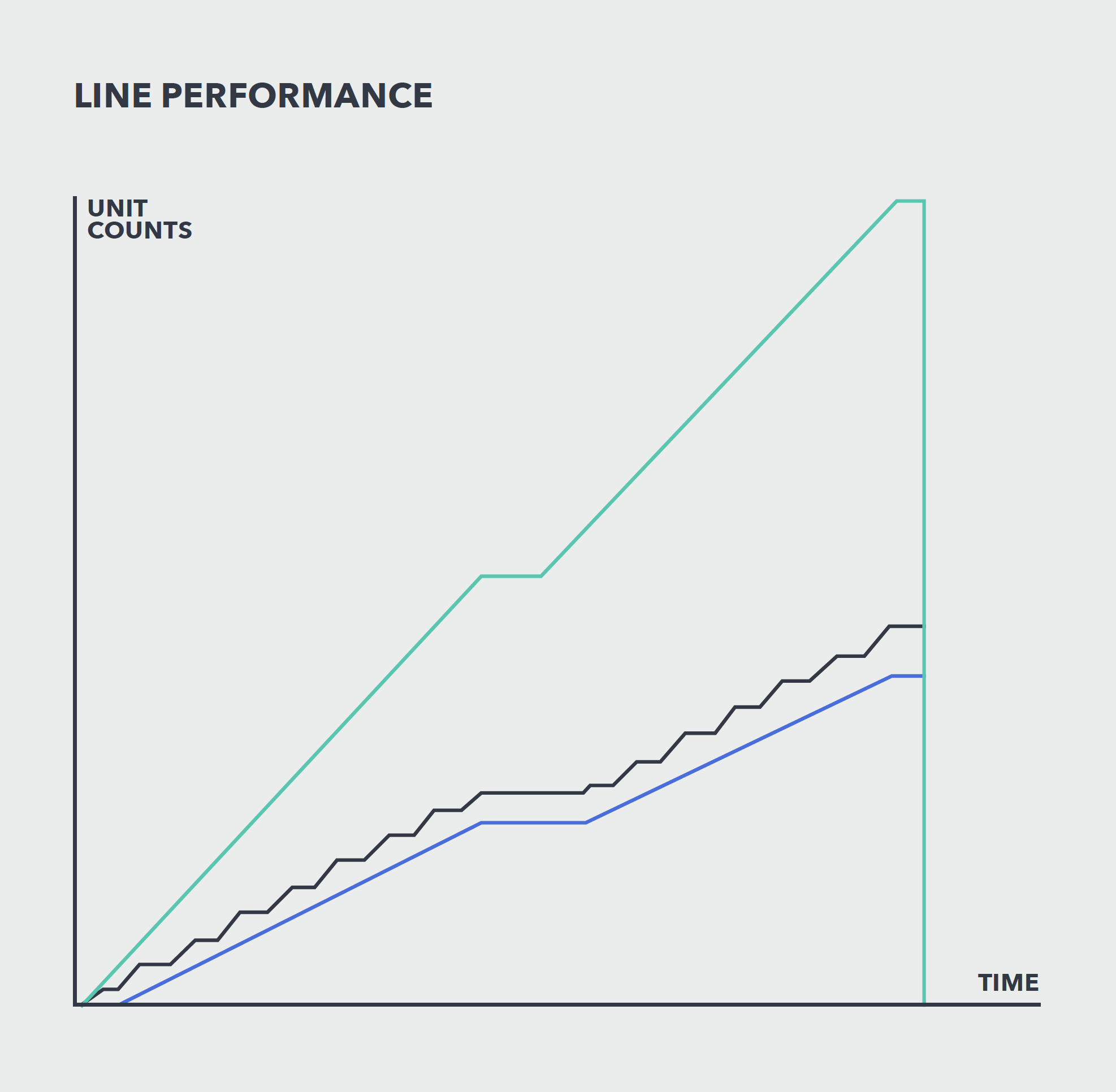 Line trends typically show:
Green: Uninterrupted at 100% Performance rate (configured nominal line rate)
Black: Expected based on line changeovers and bottleneck rate (line rate based on the configured bottleneck equipment)
Blue: Actual line output (actual line counts, good and bad) measured at the last equipment)
6 - Equipment and Line Actual Rate
OEE standard measures are based on what product or SKU the equipment is processing. The OEE composite measure is based on multiplying the three following rates:
Availability rate - the amount of time when the equipment is running over the total available time
Performance rate - the number of units produced over how many should have been produced at design speed rates
Quality rate - how many actual suitable units were produced over the total units produced

7 - Work Order Management and Other Contextual Data
OEE measures equipment of asset performance. Equipment actual performance is based on what products will be produced. The production schedule usually comes from the weekly production schedule delivered to operations.
To provide additional context to analyze line and equipment performance, variables like current shift and worker certification are excellent benchmarks. They provide workers' compliance to standards. Correlating standards compliance with performance is foundational to world-class manufacturing, continuous improvement initiatives, and benchmarking of production facilities.
Analyze
Line losses can come from numerous areas. Each area requires some measurement to pinpoint the root cause for continuous improvement.
External Loss
This planning and supply chain loss indicator isn't directly linked to the line. For example, a line stops running for 1.25 hours because of outside factors such as no demand, meetings, lunch breaks and supply failures from outside the line due to manufacturing problems.
Accounting for lost time caused by factors outside the line ensures that other performance indicators show how a line is performing. The external lost time indicator shows the proportion of the working day, such as the site's opening hours, that the line could have run after subtracting external lost time.
Downtime or Availability loss
This is an operations, maintenance and engineering loss indicator which can be attributed to specific equipment on a line. There is a difference in which downtime gets attributed to equipment availability rate.
For our earlier filler (Asset 2) example, the equipment ran for 1hr 54 minutes, and the remaining time was split between Stopped (1hr44) and Downtime (21min) events. Downtime events were divided as followed:
Code 300 - Operator (16 minutes)
Code 400 - Product (approx 2 minutes)
Code 200 - Safeties downtime events (approx 2 minutes)
The difference between stopped and downtime events is that unknown events that stop the equipment are accounted for in the stopped events. It could be that the equipment is stopped because it's backed up (downstream) or starved (upstream), as suggested in the V-shape section above.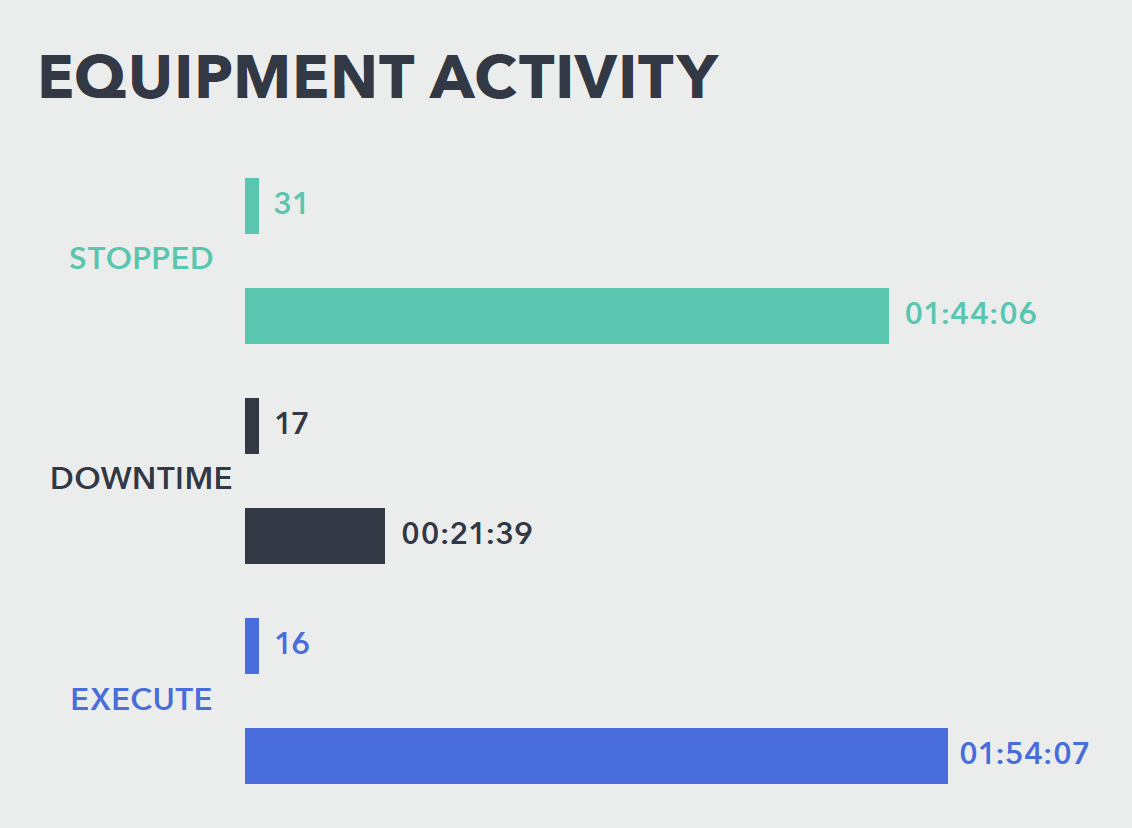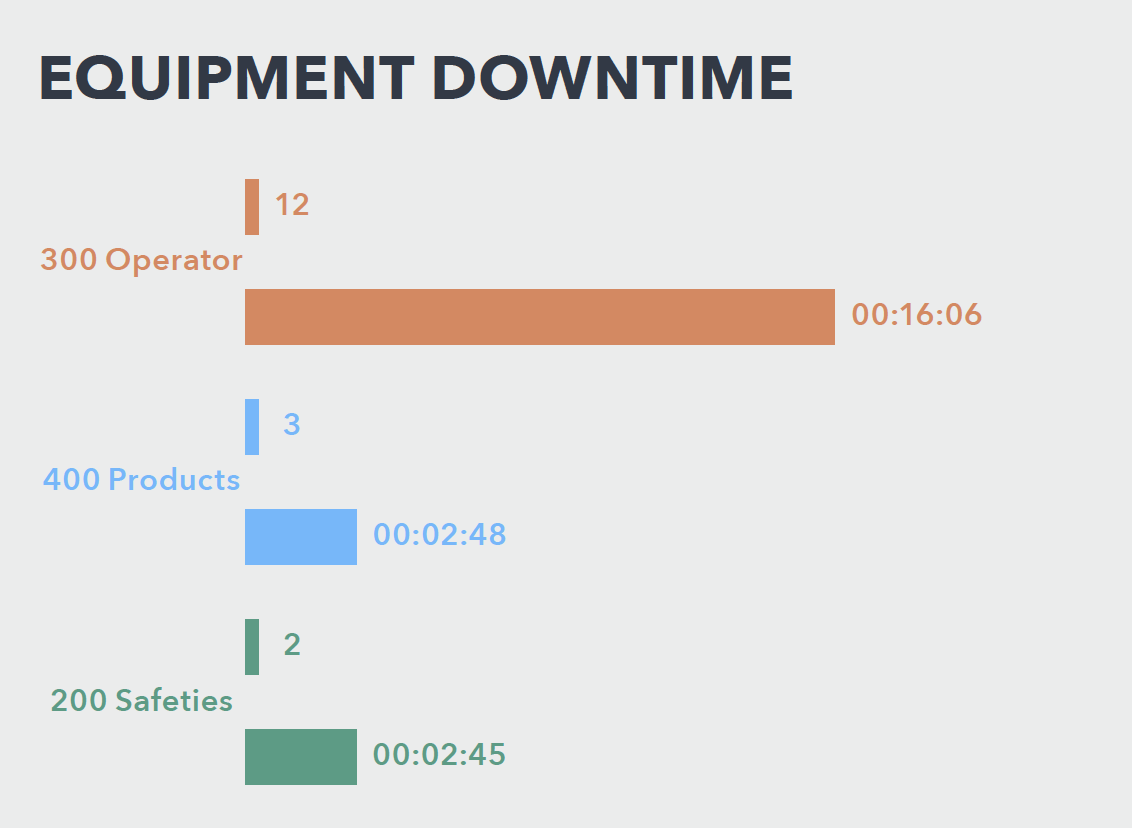 Speed and Performance Loss
This is typically an Operations, Setup or Maintenance loss indicator and includes factors such as micro-stoppages and slow speed.
The bottleneck equipment constraint, Asset 2 in our previous example, is the average rate at which a product comes off the line during normal running (i.e. excluding downtime). This is caused by short or micro-stoppages on individual equipment creating starvation or blockages (build-back).
This indicator shows the impact on the line during periods when the line is working at reduced speed. It shows the average recorded line speed during the run time as a proportion of the line design speed. The run time is the part of the measuring period when the line runs normally, i.e. excluding periods of external lost time or downtime.
The reduced speed indicator provides helpful pointers to several problems and possible solutions. A low value could mean that equipment runs slowly due to mechanical reasons such as a worn-out bearing or a burnt-out motor winding.
Other possible causes include material reasons such as the consistency of the product being packed or the thickness of the packaging material or control and line balancing reasons like the control system delays over and above the designed build-back and starvation time.
Quality Loss
This quality loss indicator shows the proportion of units coming off the end of the production line during the run time that is within specification and thus saleable, i.e. the proportion that is net production. Most companies measure net production directly through an on-line counter.
Measuring net production typically only involves checking the running totals on counters at the start and the end of the measuring period or selecting a measuring period that coincides with standard production line data points—usually the beginning and end of a production order or shift.
OEE Performance Benchmark
The definition of good overall effectiveness depends on different factors like the production mix. This includes elements such as high product mix or changeovers, worker competencies and training, etc.
On a production line that packs one format of one product of a single brand, high overall line effectiveness can be expected—possibly 80% or more. On the other hand, a production line with numerous brands, sizes, and format changeovers each day, will have a much lower overall line effectiveness—possibly as low as 45%.
Other factors that affect the overall line effectiveness include:
Age of the equipment
Complexity of the line
Degree of difficulty related to the product
Improve
There is a lot of value in presenting pieces of information in different ways depending on who is going to use it. Here are continuous improvement scenarios that have proved to be helpful. Alarms that report an issue can and should be categorized into one of the following categories:
Production
Quality
Performance
Process
System
Depending on the criticality of the alarm, it can also be published to annunciation boards like LED displays, sent via email to users or automatically created in collaborative connected worker environments. Different worker categories will want to see what data is relevant to them and require immediate follow-ups.
Operations Category
Frontline Supervisors and Maintenance Team
Predefined reports at the beginning of their workday that includes essential information regarding the last shift brings a lot of value. These pieces of information often have the top 3 or 5 reasons the line stopped. This helps avoid losing time understanding where current issues are located.
Line Operators
Visual indicators of bottlenecks and line equipment performance are handy. They want visibility on the current state of the equipment, if it's stopped, and why. This helps operators fix operational problems without having to call maintenance or technicians.
Line Supervisors
They want information pertaining to linework orders and daily scheduled work. This helps ensure standards and procedures are followed during line changeovers.
Operations Personnel
Easy access to critical information is vital whether it's communicated through annunciation boards or by receiving notifications—they want to be able to quickly react and prioritize issues before they get out of hand.
Production Planners and Industrial Engineers
They want to understand how production variances impact operations. They typically look at trends such as expected performance over actual performance.
They want to have early indicators on customer service level and planned schedule adherence. They can expedite or re-sequence orders by looking at the sequence of work orders being processed.
Maintenance and Technical Category
Quality Technicians
Understanding what and where line rejects are taking place is essential. This can help quality technicians identify and fix sources of waste which are particularly costly on the production line.
Maintenance and Technical Personnel
They need reports analyzing the mean time between failures on specific equipment. Typically they want to understand recurrent failures on particular equipment. This helps increase equipment reliability and process efficiency.
Continuous Improvement Category
Continuous improvement personnel want to centrally manage issues, manage Kaizen boards and track A3 CI work progress. Using workflow and processes that allow different groups to collaborate to improve overall efficiencies and eliminate losses.
Control
This last activity is about making sure losses, whatever they are, are reduced. If the root cause is found, production time should increase, processing speed should match design specifications, and product quality should always meet standards.
Building Connected Workforce to Improve OEE
On a high-speed production line, reliable performance requires a digital tool to support each production team member with actionable information. Modern connected worker solutions need to provide each department with the ability to perform the following:
Operations
Keep the line producing and prioritize work activities
Produce to standards
Develop worker autonomy
Capture event data when and where they occur
Maintenance, Engineering and Continuous Improvement
Keep equipment available for production
Identify root-cause of equipment stoppages and support continuous improvement initiatives
Quality
Support new product introduction
Increase product first pass yield
Ensure regulatory compliance
Health, Safety & Environment (HSE)
Ensure workers are trained and certified to operate production equipment
Information Technology (IT) and Operational Technology (OT)
Prepare standardized technology and solutions
Leverage existing infrastructure investments
Management, Planning and Supply Chain
Manage variances caused by delays and back-ups, missed deliveries, customer service levels and operating costs
Identify historical line performance and support continuous improvement
Increase flexibility needed to meet customer demands
Prepare budgets and manage overall capital expenditures
Support supply chain initiatives
Getting The Most Out of Equipment
Manufacturing companies around the world spend considerable capital on equipment. The product feature race means never-ending equipment sophistication and automation, which is good. What is not so good is that capital-intensive equipment must work hard to provide the necessary return on the capital invested.
Workers need training and tools to run and sustain equipment production rates and product quality. Overall Equipment Effectiveness brings standards to raising equipment efficiency. OEE is also part of Total Production Maintenance, which is part of the foundation for improvements to the entire production process.
Are you looking to start your lean journey and increase your OEE? Have a look at Poka's comprehensive connected worker platform to get started the right way—book a demo today.