Earlier today at Bosch Connected World, Antoine Bisson and I were both humbled and proud to accept the Open Bosch Award for best start-up collaboration. Out of 85 eligible global applicants, Poka was one of two companies recognized for its "exceptional mutual benefit, best practice character, and business impact on Bosch's partnerships."
As a true manufacturing leader, Bosch recognizes that innovation through collaboration is key to their corporate success and future. That's precisely what Poka embodies, and what attracted Bosch to Poka in the first place.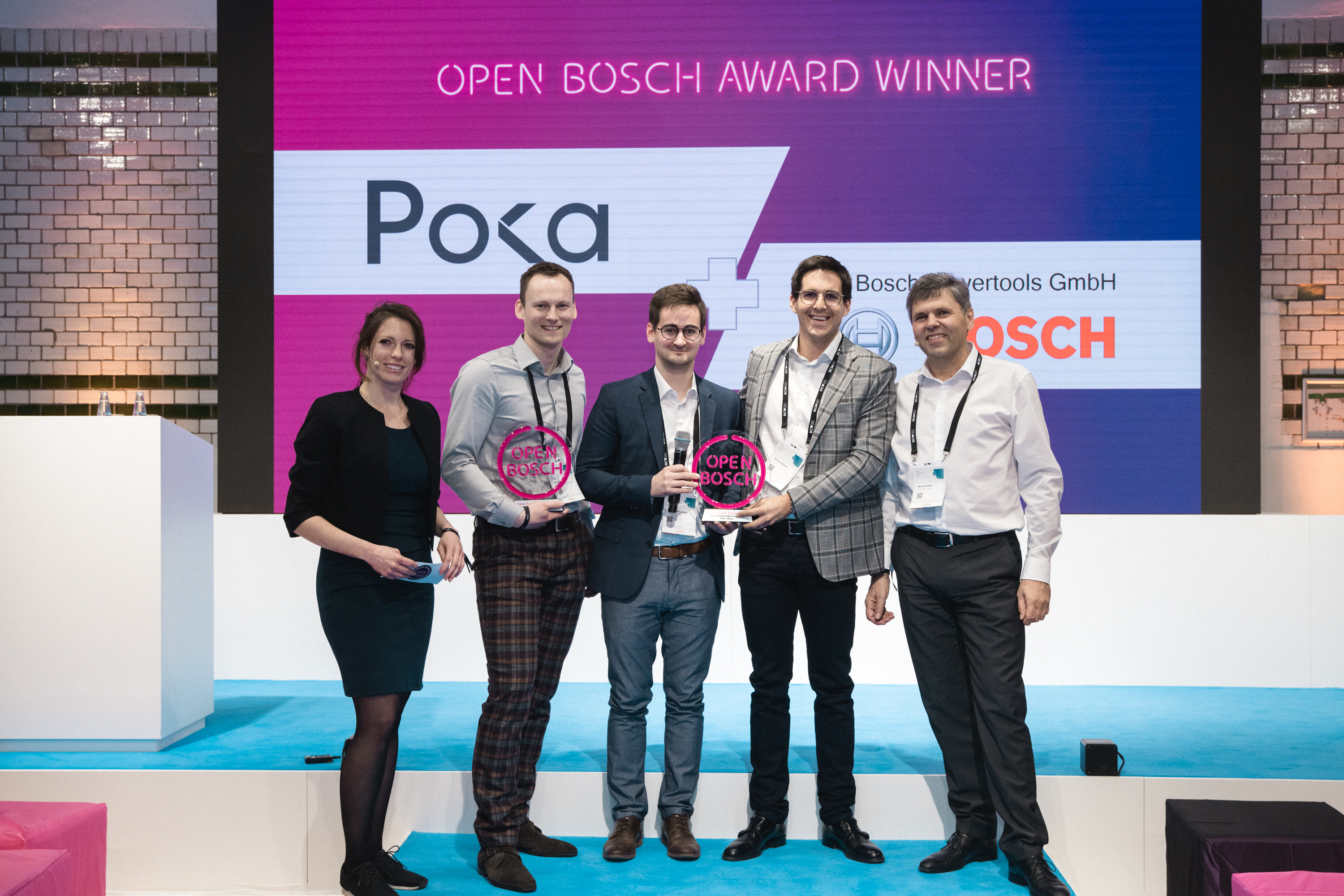 Our partnership began in 2018 when Robert Bosch Venture Capital invested in Poka's Series A funding. Since then, our team has grown but remained focused on our mission to transform the way factory workers learn, communicate and collaborate with one another by keeping them digitally connected to one another and the rest of operations.
Our focus and hard work is paying off, both for Poka in receiving the Open Bosch Award, and more importantly for our customers, including Bosch. In 2019, operators and engineers at a Bosch Power Tools plant in Malaysia began using iPads with the Poka app on the factory floor to trouble-shoot and solve problems together in real-time. This has enabled the team to improve their productivity by 8% in the first six-months of piloting Poka. They're now in the process of rolling out our solution to 21 other Power Tools sites to gain further efficiencies across their global operations.
Other manufacturing giants who are using Poka are seeing equally impressive results. By digitally connecting their workers and giving them instant access to the information and people they need directly at their workstations, they have:
Shaved 40% off their training costs and on-the-job shadowing time (Danone)
Decreased waste by 12.5% (Westrock)
Increased worker productivity by 4% (Barry Callebaut)
Given these results, it's no surprise that manufacturers have come to rely on Poka in their daily operations. But be assured - we won't rest on our laurels! In the coming months and years, we will continue to deliver innovative solutions to some of the most persistent problems facing production leaders and factory workers so that we surpass our customers' expectations.
So, a great big thank you to our colleagues at Bosch for honoring us with this prestigious award. We look forward to our continued partnership and mutual success.