All operations leaders know the importance of investing in Industry 4.0 and digital transformation. But the challenge is where to start and what to prioritize. With so many tools on the market and a fast pace of change, it's difficult to decide on timing and the direction of a digital strategy. 
To gain clear guidance, it's important to go back to the basics and make firm priority decisions based on your business operations strategy. 
Every year, Gartner publishes a report that we believe outlines the most important technologies and capabilities for manufacturing executives to consider in their strategic operations roadmaps.
Download Copy of the Full Report
The Hype Cycle for Manufacturing Operations Strategy, 2020 covers a range of technology categories including IoT, smart factories, digital twin and machine learning according to their maturity and adoption. The report provides recommendations for when and how to adopt each technology to best capitalize on potential benefits, while minimizing risk.
In just a year, "connected worker" has quickly accelerated to the "peak of inflated expectations". The forecast for when it will become mainstream has gone from 5 years to 2 years with a market penetration of 5-20%.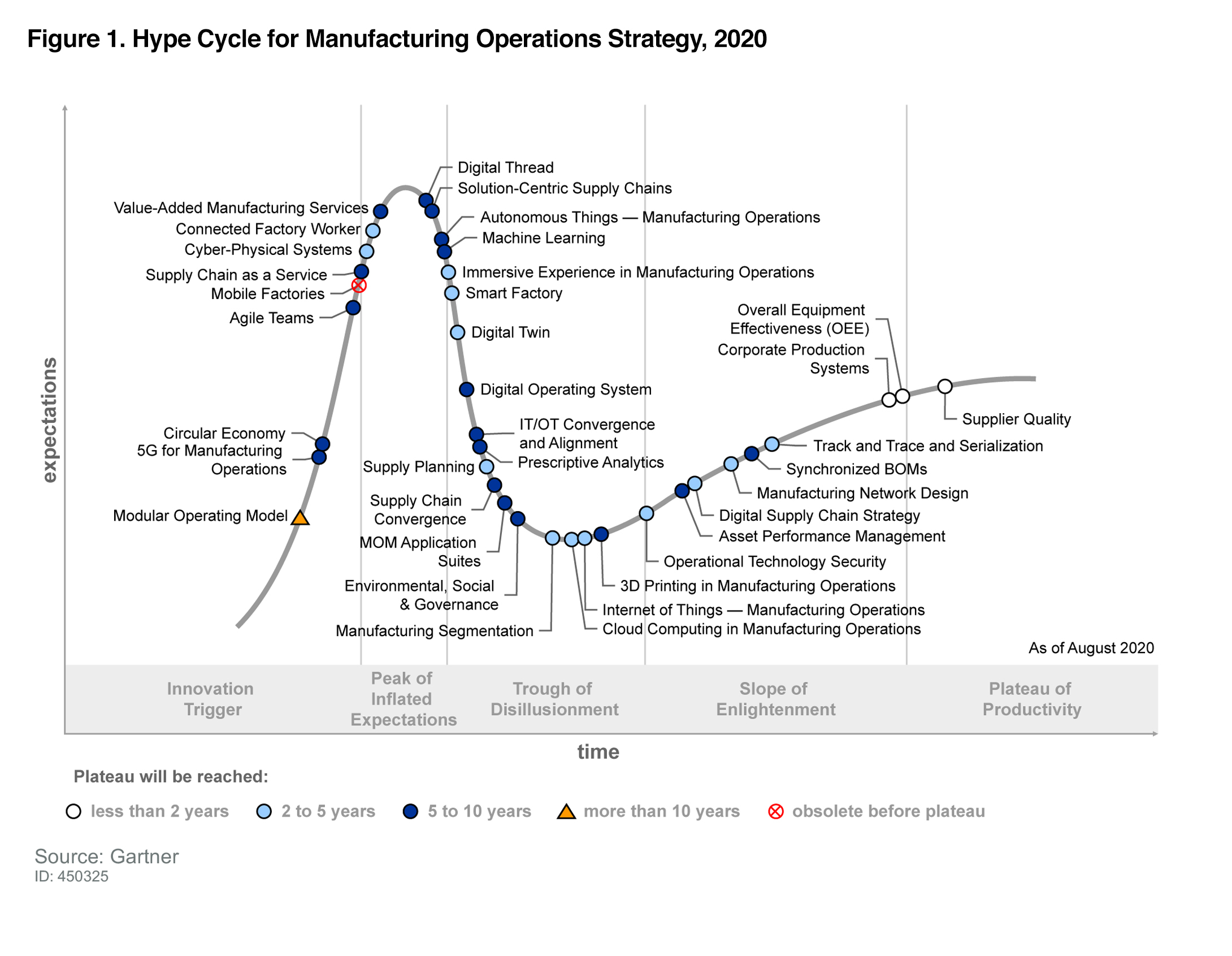 What is the Connected Worker?
According to Gartner, "Connected factory workers are capable of using various digital tools and data management techniques to improve and integrate their interactions with both physical and virtual surroundings. They are able to make faster and better decisions that enable and optimize a process or set of processes that they participate in."
Under the umbrella of "connected worker" is a broad category of technology solutions including augmented reality and virtual reality. From Poka's perspective, most companies mentioned in Gartner's report in this category support specific and limited connected worker use cases. Our belief is that to be a true connected worker app, a solution needs to provide a complete spectrum of tools, such as knowledge, insight, and training, so that workers can become autonomous, engaged and empowered.
Why is the adoption of the Connected Worker accelerating?
Instead of making humans redundant, automation and digitization are addressing the concerns of knowledge and skills erosion in the manufacturing industry. In particular, the pandemic has highlighted the importance of retaining and harvesting knowledge from workers in both physical and virtual environments. 
To succeed, factory workers need to be equipped with knowledge, versatility, problem solving, autonomy. It's been years since we've connected our white collar workers by connecting our machines. Now, it's time to connect our factory floor workers. 
Poka listed as a Sample Connected Worker vendor
For the second year in a row, Poka was listed as one of the sample vendors in the connected worker category. From the start at Poka, we've recognized the importance of digitally connecting the factory floor. We've designed our app specifically for manufacturers to connect workers and teams across shifts, departments and plants which leads to better visibility and faster problem-solving. 
Gartner, Hype Cycle for Manufacturing Operations Strategy, 2020, August 2020
Gartner does not endorse any vendor, product or service depicted in its research publications, and does not advise technology users to select only those vendors with the highest ratings or other designation. Gartner research publications consist of the opinions of Gartner's research organization and should not be construed as statements of fact. Gartner disclaims all warranties, expressed or implied, with respect to this research, including any warranties of merchantability or fitness for a particular purpose.