As technology continues to progress, the future of work, especially in manufacturing, will require a different skills profile than what we have today. Industry 4.0 was already making production more complex and reducing the need for routine tasks. Now, COVID-19 has accelerated the need for companies to look at the skills required by their workforce to remain competitive.
With increasing automation, management needs to address the skills gap through employee training and capability-building efforts which must become a pillar of their digital strategy.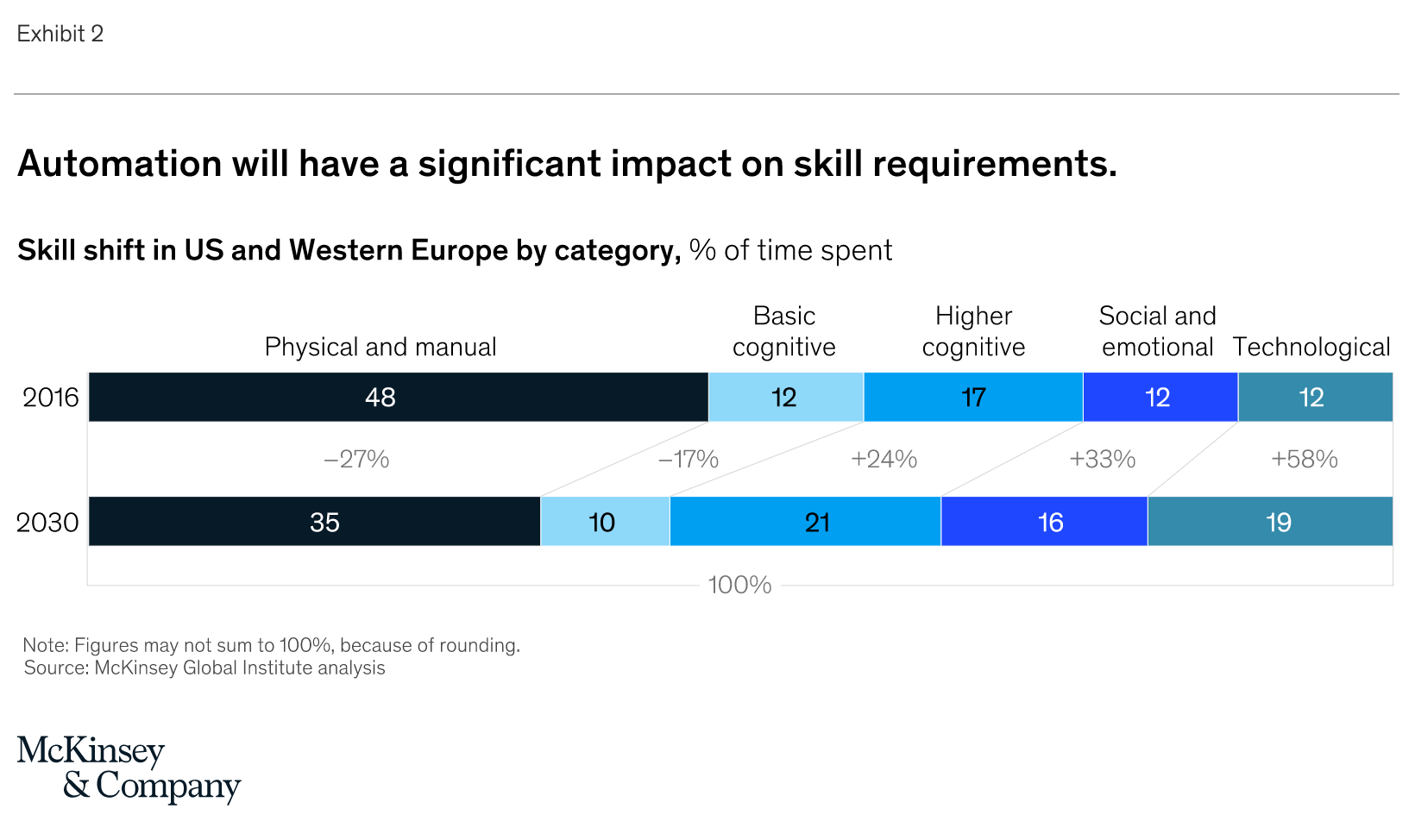 A recent McKinsey article challenges manufacturers to consider their efforts and strategies to prepare for the future of work. These aren't easy questions to answer as 56% of CXOs shared that they lack an understanding of how automation will impact skills requirements and that they don't have the tools to reskill workers.  
As a leading connected worker and training app provider, Poka is designed for the factory floor to effectively facilitate training, learning, and address the common skills gap challenges.
In this article, we answer several questions posed in the McKinsey article, from our unique first-hand perspective working with companies to close that gap.
1) How will your digital transformation ensure that your people are equipped to meet future skills demands?
The first step is to digitally connect frontline workers since the future worker needs to be versatile and a problem solver. This leads to empowering your workforce with more autonomy, and the ability to collaborate. This ultimately encourages a culture of continuous learning which extends beyond formal training events to performance support.
According to a study from the 70:20:10 Institute, 96% of workplace learning is informal and only 4% is formal. With Poka, your company can shift from one-time training events to continuous, on-the-job learning.
2) Is your reskilling program evolving to make effective use of new technologies and approaches to learning?
Poka makes it easier for your entire workforce to continuously develop new skills and learn from one another. You can create completely digital training programs which include training manuals, work instructions, SOPs, and exams. This eliminates the need for one-time training events which have a tendency to overload workers with too much information. Instead, factory workers can learn at their own pace at their workstation. By doing so, Nutricia N.V, a division of Danone, reduced shadowing time and trainer related costs by 40%.
Traditionally, manufacturers keep critical training content in long form written text which is harder to consume, understand and retain. The answer is micro learning — any brief, targeted one point lesson that usually spans around 3-6 minutes. Micro learning supports on-the-job learning and gives workers the ability to self-pace their development.
For management, Poka's digital skills matrix gives real-time visibility into workforce competencies and gaps so you can better plan future training. The matrix is automatically updated as workers complete skills, saving management time and ensuring records are up to date and accurate.
As companies continue to navigate through the COVID-19 pandemic, worker safety is more important than ever. With Poka, factory workers can do training at a distance to ensure their safety by reducing in-person classes and shadowing.
3) What is your organization offering existing and potential employees to ensure that it can attract and retain the talent it needs?
The generation entering the workforce today are digital natives and more than ever, seek purpose and community in their place of work. That's why it's important for companies to replace manual, outdated processes with  modern, digital tools that not only increase efficiency but also engage workers in a sense of community. Existing and potential employees need to be assured that they aren't isolated in their role — unable to collaborate with associates.
With a tool like Poka, workers can easily communicate and collaborate with their peers, experts and management. This promotes a collective knowledge culture since workers have the best insight on the daily operations and are encouraged to share their knowledge to help make improvements and solve problems. Workers will also gain more visibility into their own skills and how they can improve their experience at work everyday.
To learn more about how Poka addresses the skills gap, download our E-book: Skills Management and Development Re-Invented for the Factory Floor.