In the age of industry 4.0 smart factories are no longer science fiction, they are a reality. Machines capable of communicating with one another and other systems throughout the organization are critical to manufacturing success. Equally important is a well-trained and skilled workforce capable of operating the equipment and trouble-shooting problems when they occur.

But as the demand for highly skilled operators increases, the number of available workers is steadily declining due to a retiring workforce, a lack of interest in working in the manufacturing industry by younger generations, and ongoing employee turnover. This makes it even more challenging for manufacturers to fill the skills gap needed to maintain daily operations, let alone keep up with the latest technology advances for the smart factory.

That's why ensuring both new-hires and current factory floor workers are quickly trained to operate multiple machines, workstations and product lines – both existing and future, while maintaining continuous visibility into their skills development, is more important than ever.
Skills Assessment
To exacerbate the problem, many manufacturers are still using manual and outdated solutions to address skills development and management. According to a recent survey from Industry Week, 78% of manufacturers rely on supervisors to assess the skill level of operators, while 48% cite number of years on the job.

---
Question: How are you currently assessing the skills of your operators?
Base = All respondents (n=425). Multiple answers allowed.
This is problematic on two fronts. First, years on the job is not always an accurate measure of an employee's ability to work according to standard because people may have received inconsistent training and exposure to tasks over the same period of time, and developed at different rates. The only way to truly assess whether they have developed all the required and up-to-date skills is to first document the standard way of working and then test their knowledge and evaluate their performance.

Second, relying solely on the judgement of supervisors can lead to inconsistent skills evaluation unless a formal and standardized method is used across the entire workforce and operations. Without that, there is no way to know with any certainty whether operators have been well trained, acquired the same experience, and that their skills are up to date to support the latest SOPs and smart factory enhancements. And it goes without saying that inconsistent training leads to inconsistent performance, higher rates of accidents and employee dissatisfaction and turnover.
Skill Tracking
Once operators' skills have been properly assessed, management and human resources then need to continuously monitor the development of their workforce to identify current and future skills gaps, and take corrective action to ensure there is no disruption to production due to lack of qualified or available resources.

The problem, however, is that many manufacturers are tracking skills using outdated methods that don't provide easy and real-time visibility into the most up-to-date information. In fact, 54% of manufacturers are using Excel to track skills, while 49% are still using paper and 6% a whiteboard, according to Industry Week's research.

---
Question: How are you currently tracking the skills of your operators?
Base = All respondents (n=419). Multiple answers allowed.

 

This means that one individual, often in learning and development or in production, has to manually maintain a skills matrix. Not only does this administrative burden taken hours of work effort per week, it also introduces the potential for human error which is a particular concern for any mandatory certification.

Further, when skills are tracked using these manual methods, there often is a time delay between when an operator has completed their training and the skills matrix is updated. So, production may not have the most up-to-date information when reviewing the skills of individuals and developing talent management strategies and programs.

Last, if the skills matrix isn't shared with operators, which is often the case, they don't have visibility into their current development, let alone have a clear roadmap of what skills they are missing and need to work on next. This can contribute to miscommunication, lower employee work satisfaction, and higher turnover rates.
Smart Skills Management For The Smart Factory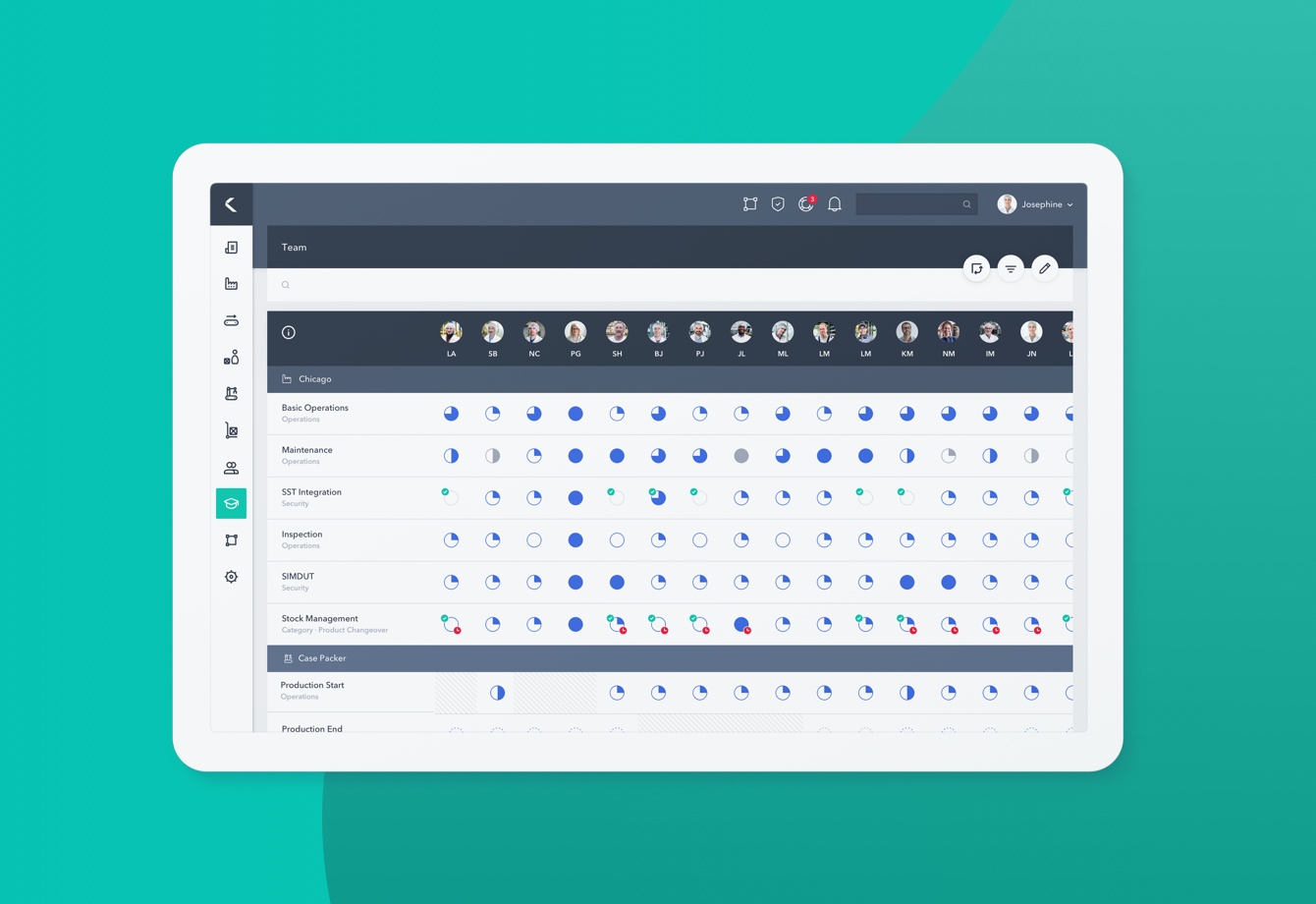 ---
Smart Skills Management for the Smart Factory
Increasingly, today's smart factories are assessing and tracking skills digitally using a more holistic approach with technologies, like Poka. Designed specifically for the factory floor, this training, communications and skills management application gives manufacturers real-time visibility and control of their workforce's development. The software app enables management and HR to quickly and easily:
Assign skills to operators based on role and location
Create a multi-step training program for all required skills
Train operators using just-in-time videos, instructions and shadowing
Evaluate operator skills via exams and document their supervisor's endorsement
Create a skills matrix and track pending and completed training by operator
Automatically push out notifications and reminders to operators to complete training