At the start of 2020, we knew it was going to be a critical growth year for us as a young SaaS company. To prepare for that, we developed plans to continue building our team across both offices in Montréal and Québec City. We were a company that highly valued our time in the office since it effectively created a sense of community and promoted collaboration between teams — this meant that working remotely was a rare exception. Additionally, our customer-facing strategies were very much built around in-person events, onboarding and implementations.
Then, the global pandemic hit and threw a wrench in our original plans. Like everyone else, we were forced to quickly adapt and develop response strategies despite not knowing the full impact COVID-19 would have on our company.
Our response strategy was based on supporting our team members, our customers, and finally the business, in that order. Looking back on the past year, we think this focus has paid off and we're happy to share some highlights.
The First 3-4 Months into the Pandemic
Our People
While we navigated the initial months of the pandemic, our top priority was to ensure the health and safety of our employees and their families. We also decided to slow down our hiring plan to prevent COVID-related layoffs. As an agile and flexible team, we successfully transitioned to working from home and having virtual meetings such as daily scrums and social happy hours every Friday.
Our Customers

For our user community, operations didn't stop since many were essential businesses. Frontline workers continued to show up to work every day to keep our supply chain secure, even if that meant pivoting their businesses to meet new demands. Because of this, we made sure our team was communicating to our customers about our business continuity plans which included a pivot to 100% remote onboarding.
Poka became an essential part of our user community's physical distancing response plans by providing an alternative to on-the-job shadowing, in-person meetings, and paper documents. In the early months of the pandemic, we saw a 600% increase in the use of work instructions as a result of increased workforce volatility which required rapid upskilling of workers to cover for absent colleagues.
"Employees can't even have contact between shifts. The digital factory feed is very helpful to support shift changeovers.''

-   Poka Coordinator, Global Food company, Poland
Our Business
The relevance and importance of the Poka offering was underscored as a result of the new constraints introduced by the pandemic. Unlike many other businesses, we were fortunate that we didn't have to pivot our offering or to build a new solution for the market. Instead, our business plans for 2020 evolved to focus more on the growth of our existing customers rather than new customer acquisition. Not only were new projects and initiatives on hold for the most part during the early days of the crisis, we wanted to ensure that our customers were fully supported and prepared in their expansion efforts.
During this time, we added Schneider Electric as a new strategic investor which was a testament to the increased urgency of connected worker solutions due to COVID-19. This partnership has helped accelerate our support for a fast-growing, global customer base.
The New Normal: 4-12 Months into the Pandemic
Our People
By September 2020, we had become very comfortable with working from home but we knew that we had to continue to find ways to support our team during these trying times. We signed up for Dialogue, a virtual healthcare service, that offers easy online access to primary care physicians and mental health practitioners for all Poka employees and their families.
Our company has many young families that have found this service invaluable including myself. In November, I was able to avoid a trip to the doctors when one of my 14-month old twins woke up with a puffy right eye and I wanted to make sure it wasn't an allergic reaction. I just had to answer a few questions and then I was connected with a doctor on a video call 10 minutes later for a virtual treatment. A truly simple and seamless experience!
At this time, our hiring plan ramped back up. Since remote work became the new normal, we were able to expand our candidate pool outside of Montréal and Québec City. We have also developed a successful employee onboarding program that's fully virtual which includes:
 Welcome Session with HR Team
Poka Training with Product Education Team
Virtual lunch and 5@7 (happy hour) for new employees
Meet the Founders
Frequent Check-ups
To keep our team engaged, we had to get creative with our remote team activities. We hosted a range of fun virtual events such as:
Quizzes
Bingo
Beer tasting
Baby showers
Escape Room
Mixology Class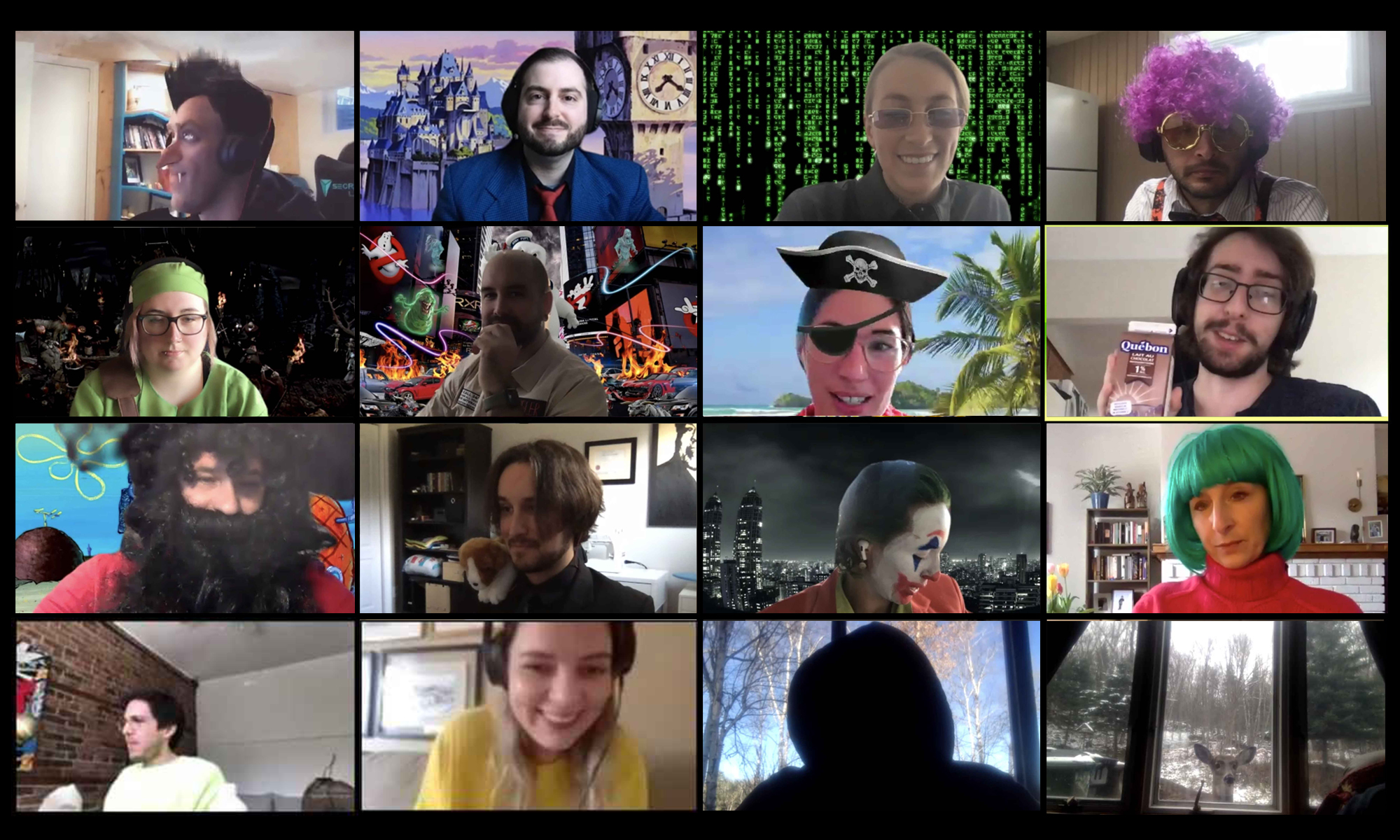 Poka's Halloween Costume Contest
Our Customers and Our Business
For projects that were put on hold at the start of COVID, we saw that they started to resume during this time. We also saw that digital transformation initiatives began to become more and more important across manufacturing organizations. According to an LNS survey, 43% of companies have increased commitments to industrial transformation programs since the pandemic.
Today
One year later, we learned many lessons and discovered silver linings during the pandemic such as:
Our Team is Amazingly Resilient and Adaptable
During these uncertain times, our team has become even more open to change and have contributed creative solutions to stay productive and engaged. Even with the world on hold, our employees' ambitions and growth were not. To make sure everyone develops well remotely, our team leads and managers have prioritized checking in and providing support for their team.
Work from Home is Here to Stay
We have found amazing levels of focus, work ethic and productivity. From the two internal surveys we conducted, our team has been highly satisfied with working from home.
We must admit that we miss the 5@7 at the office though!
We Can Still Build a World-Class Team Remotely
In terms of expanding our team, we learned that we could still effectively hire, welcome and onboard employees remotely. It has also enabled us to broaden our pool of candidates. Now, we continue to look for talent across Canada.
When it comes to the hiring process, we have a transparent approach and a ''you get what you see'' attitude. We feel extremely proud when new employees tell us that their expectations met the reality of working at Poka and how much better it is (and this happens a lot!).
Building a world-class team is about finding the right people that believe in our product and want to contribute to build a bigger and better company. We look for people who are better than us and who can uplift us. At Poka, our ego does not exist and we believe that new employees have a lot to teach us. We value adding fresh eyes and people who see things differently.
Agility is a Top Priority for Manufacturers
The pandemic has highlighted that workforce skills, autonomy, and empowerment is needed now more than ever. According to Deloitte's "2021 manufacturing industry outlook" report, they recommend that manufacturing organizations commit to increasing agility in operations by investing in digital transformation initiatives. This growing urgency indicates that the future of connected worker technology looks bright.
Final Thoughts
We're extremely thankful for the hard work, support and resilience from the entire Poka community. We look forward to what the future brings!
{{cta('80d9add2-fa31-4c46-a4fc-e6d71d317e3f')}}