According to a McKinsey report, the three factors that are transforming the manufacturing landscape are an aging workforce, regionalization, and data proliferation. These factors are changing the make-up of the manufacturing labour force and how work gets done.
Aging Workforce


With a growing number of the manufacturing workforce reaching age 55 or older, one of the biggest concerns has been "brain drain". Before the aging workforce retires, it is critical for manufacturers to capture their knowledge so that it can be passed on to the next generation of employees.

Regionalization


In recent years, traditional offshore factory zones have become less attractive because of rising transportation costs and labour costs. As a result, many manufacturers have begun to relocate their factories so that they're closer to the customer in developed markets or shifting to different regions. With factory plants dispersed, manufacturers will need new ways to share information and learnings across geographical boundaries.

Data Proliferation


As machine connectivity has massively grown in the past decade, factories now have an extensive amount of new and enriched data. Many manufacturers face the challenge of helping their workers maximize the use of the data to solve problems and to make better decisions.
These factors are creating a manufacturing workforce that is more spread out, less experienced and more overwhelmed by data with untapped potential. Now more than ever, manufacturers need tools to help their workers collaborate and stay connected. Digital collaboration tools, like Poka, will play a critical role in "enabling workers to tap into the collective knowledge of the enterprise, solve problems with experts remotely, and turn internet of things (IoT) data from the shop floor into lasting value."
Integrating digital collaboration into workflows
In McKinsey's report, they share an overview of the potential value of digital collaboration and the opportunity for broadening the scope, across roles and volume, for various processes.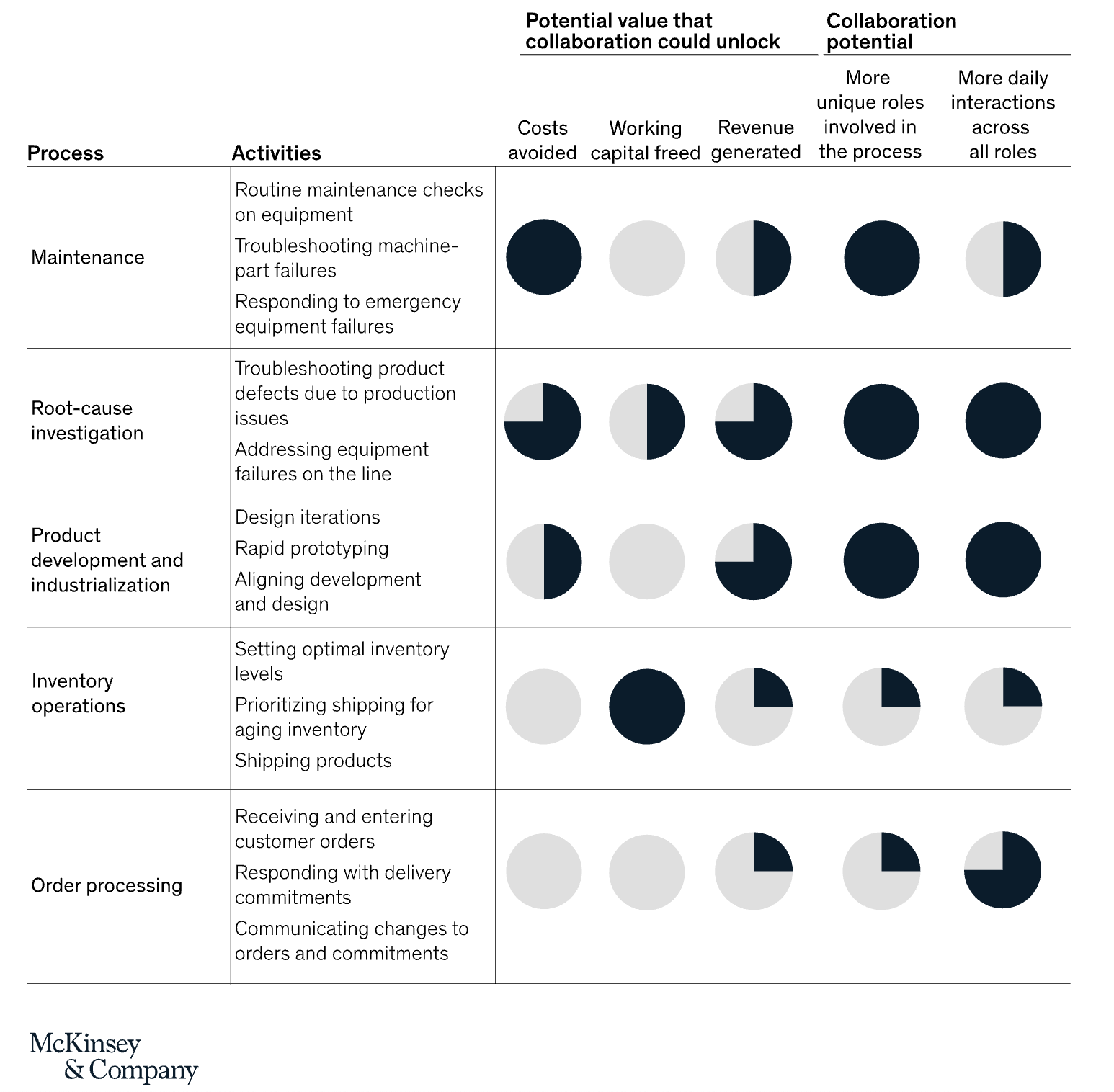 Here at Poka, our user community has proven the value of digital collaboration in three of these areas: root-cause investigation, maintenance, and inventory operations. But we also would highlight another critical process that can benefit from digital collaboration - knowledge sharing. Let's take a closer look at how leading manufacturers are using Poka to improve their workflows:
Process: Maintenance

A Bosch Power Tools plant needed to streamline collaboration between production and maintenance. Previously, they were using a mainstream messaging platform but were looking for a replacement that met the company's security standards and could support photos and videos. They decided to implement Poka and after just the first 6 months, the team reported an impressive 8% direct productivity improvement and a 54% improvement in MTTR (mean time to react).

We were thrilled when this project was recognized at the Bosch Connected World event in Berlin in February, Poka received the Open Bosch award for innovation out of 85 finalists.

Process: Root-cause Investigation

For Riviera, a specialty dairy producer in Canada, they faced challenges with capturing insight needed for root-cause investigations. Machine data from MES' provide information on the performance and productivity while operators are the one with insight around the context of the problem. Manufacturers need a way to quickly capture this insight so that it is easy to analyze and detect trends.

They implemented Poka as part of an initiative to reduce fruit waste on a yogurt production line by creating short micro-lesson videos on the standard way to set-up equipment and how to make product changeovers. Additionally, they instructed workers to post on the Factory Feed whenever there were deviations in CCP checks and to include an equipment tag. This ensured issues did not go unaddressed and gave performance engineers and quality technicians a goldmine of insight to use in root cause investigation.

Process: Inventory Operations

At one of the largest American packaging companies, they were experiencing difficulties with the way raw material defects were communicated and actioned. When the shipping department or production noticed an issue with raw material, a supervisor would have to phone or email the quality and inventory team so a claim could be made and replacement material made available. This often took 72 hours to resolve. Additionally, claims would be more difficult to support without photos of the defects.

Now with Poka, workers can attach a photo of the defect in a post on the Factory Feed and all the necessary stakeholders will be informed in real-time. The company says that the previous 72 hour process has now shrunk to 5 hours on average.

Process: Knowledge-sharing


Missing from the list of activities and processes in McKinsey's analysis is knowledge-sharing and communication of new best practices that are ideally constantly evolving. By moving towards a digital way of knowledge-sharing, companies can capture the knowledge of the aging workforce to prevent "brain-drain".

By using our Factory Feed, team members across shifts and sites can collaborate and contribute their suggestions to solve problems. Once a solution is found, it can be turned into a troubleshooting solution for the future which saves 50% of the time and effort it takes to create training content.

Poka also makes it easier to distribute training material. Instead of relying on in-person meetings to introduce new training or work instructions, managers can automatically assign new training content and skills to workers digitally and track their progress. With training content available digitally, workers can learn at their own pace and are empowered to take ownership of their learning.
It's clear that digital collaboration tools help manufacturers achieve a significant competitive advantage. It provides the opportunity to unlock productivity boosts of 20 to 30 percent as predicted by McKinsey.
Up until now, collaboration tools have been limited to email, chat and text messages. These tools are often disconnected from actual information flows related to business processes which results in inefficient communication that decreases worker productivity.
Manufacturers need to think about how collaboration and communication can be used as part of a comprehensive connected worker app that helps manage and grow operational knowledge continuously: 1) identifying problems 2) collaborating and troubleshooting 3) escalating and solving problems 4) capturing new best practices 5) training workers.
Learn here how Poka encourages collaboration and communication across the factory floor