In response to the ongoing coronavirus pandemic, manufacturers have had to quickly adjust production operations to the changing environment. The crisis has forced leaders to rethink their traditional approaches to make room for a digital-first mindset that focuses on automation, digitalization and innovation.
The impact of COVID-19 on manufacturers will be felt for quite a long time to come, which means companies need to focus both on the immediate response to ensure business continuity and on improving resilience for the future.
According to the World Economic Forum's report, manufacturers need to look to Industry 4.0 technologies to build agility and flexibility. This is the best time for manufacturers to reassess their technological gaps and move forward with a digital transformation plan.
The report states, "The agility enabled by such technologies has allowed early adopters to see the benefits of their investments as they have pivoted more quickly and smoothly during the disruptions created by COVID-19. Such examples of resilience and adaptability are likely to lead to an acceleration of the adoption of advanced manufacturing technologies and processes as companies look to adjust to the emerging 'new normal'."
To succeed in the future of manufacturing, the World Economic Forum recommends these next steps:
Ensure worker safety: Leveraging technology will play a key role in keeping workers safe by facilitating physical distancing, containing the spread of the virus and minimizing the chance of infection.
Shift production:To protect supply chains and ensure business continuity, many companies have had to ramp up or shift their production to new products essential for the global response to the pandemic. By using technology, manufacturers can respond faster to changing market needs and constraints in supply chains.
Minimize remote work disruptions:Because of the crisis, manufacturers have been forced to shut down non-essential production and to keep non-essential workers remote. Technology can help with this transition so that operations can continue to run smoothly and collaboration between workers can still happen.
Here at Poka, our connected worker app helps manufacturers on their digital journey to future-proof their business. Let's take a look at how Poka supports the factory floor with the World Economic Forum's next steps:
Ensure worker safety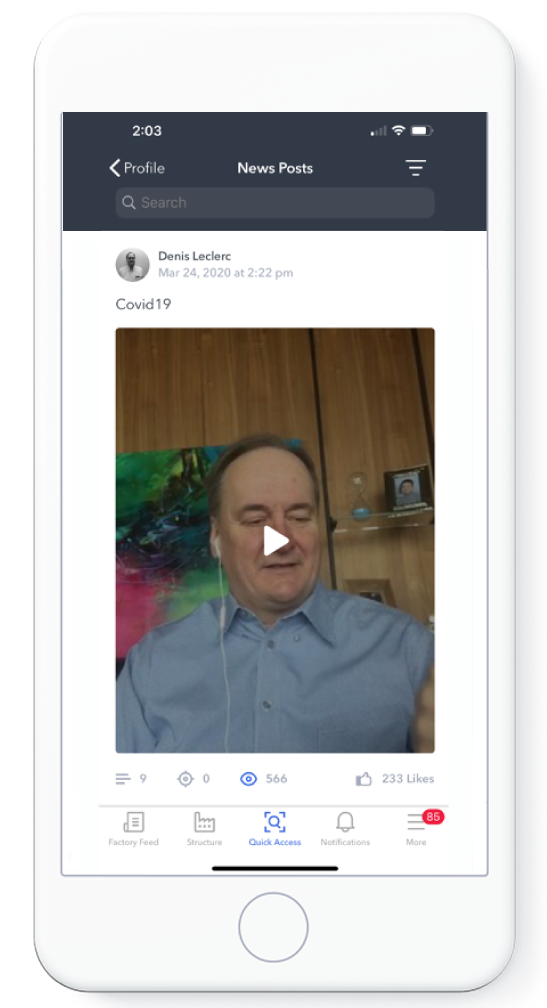 The first step to ensure worker safety is to make sure critical information and communication is flowing. Manufacturers can achieve this with Poka which supports digital communication and collaboration.
Through our Factory Feed, management can share regular updates and details of their response plan to the rapidly changing situation across production lines, shifts, and plants. This can also include reminders and guidelines for safety protocols, such as hand washing.
Another way Poka keeps workers safe is by reducing the number of in-person meetings and interactions. Instead of face-to-face shift changeover meetings and daily huddles, managers and workers can share that information digitally.
Shift Production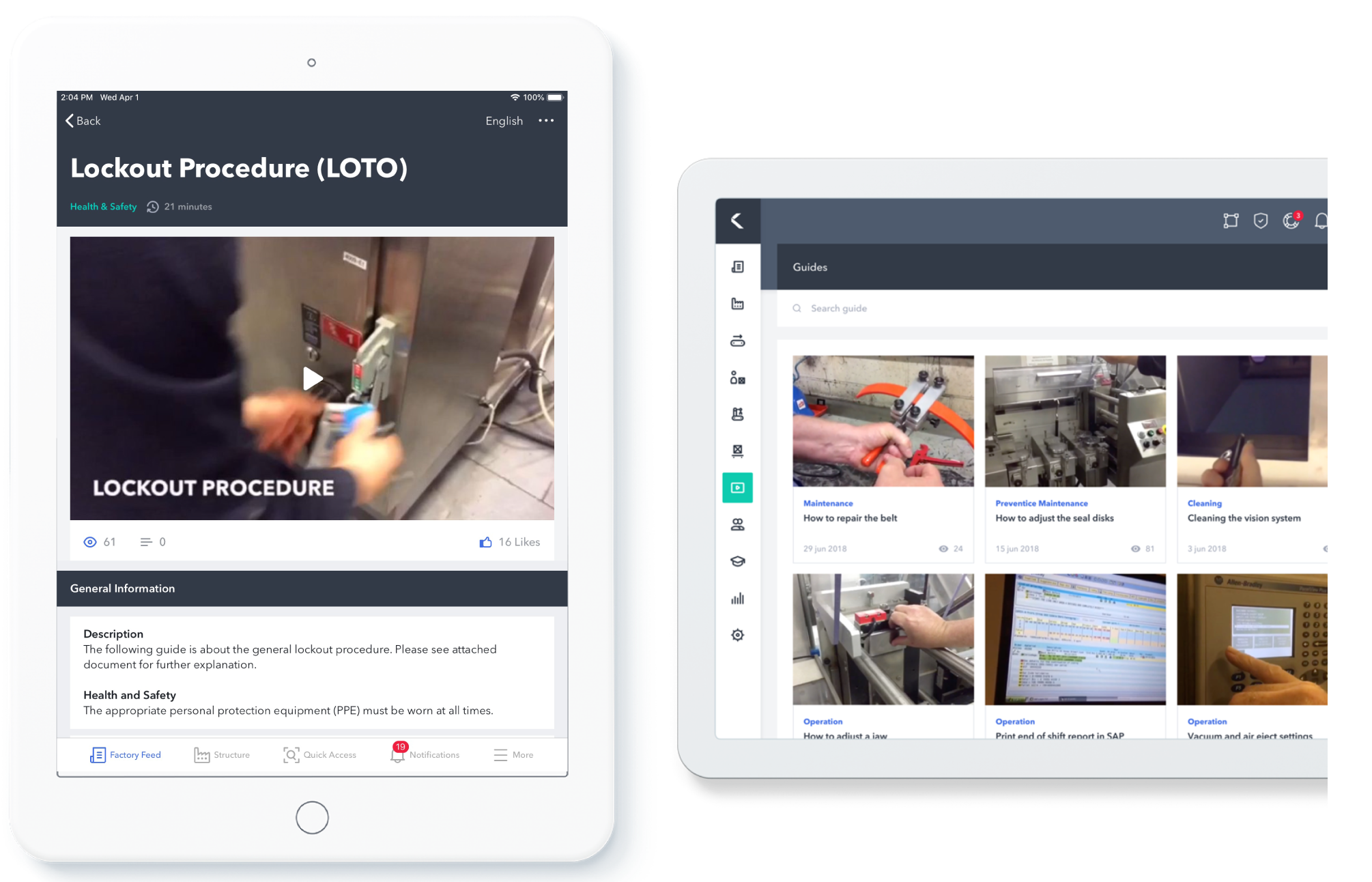 For manufacturers to guarantee business continuity, they may need to scale up and shift their production based on changing market needs. We've heard of car manufacturers retooling production to produce ventilators in a matter of weeks. This requires their entire workforce to be quickly retrained on new operations, products and procedures. Manufacturers can no longer depend on traditional training approaches, such as shadowing, classroom learning, and written content. It will cost too much time and effort to deliver and consume training content in the traditional way.
Poka offers an innovative training approach which enables digital access to work instructions and training content — allowing workers to learn anywhere and more autonomously. Rather than depending on lengthy written SOPs, workers can rapidly take on new tasks by watching video micro-lessons.
According to one WestRock plant controller, "The video support allows us to eliminate a lot of confusion, loss of time and above all delays. Producing a training guide now takes us half the time than a paper version."
Minimize remote work disruptions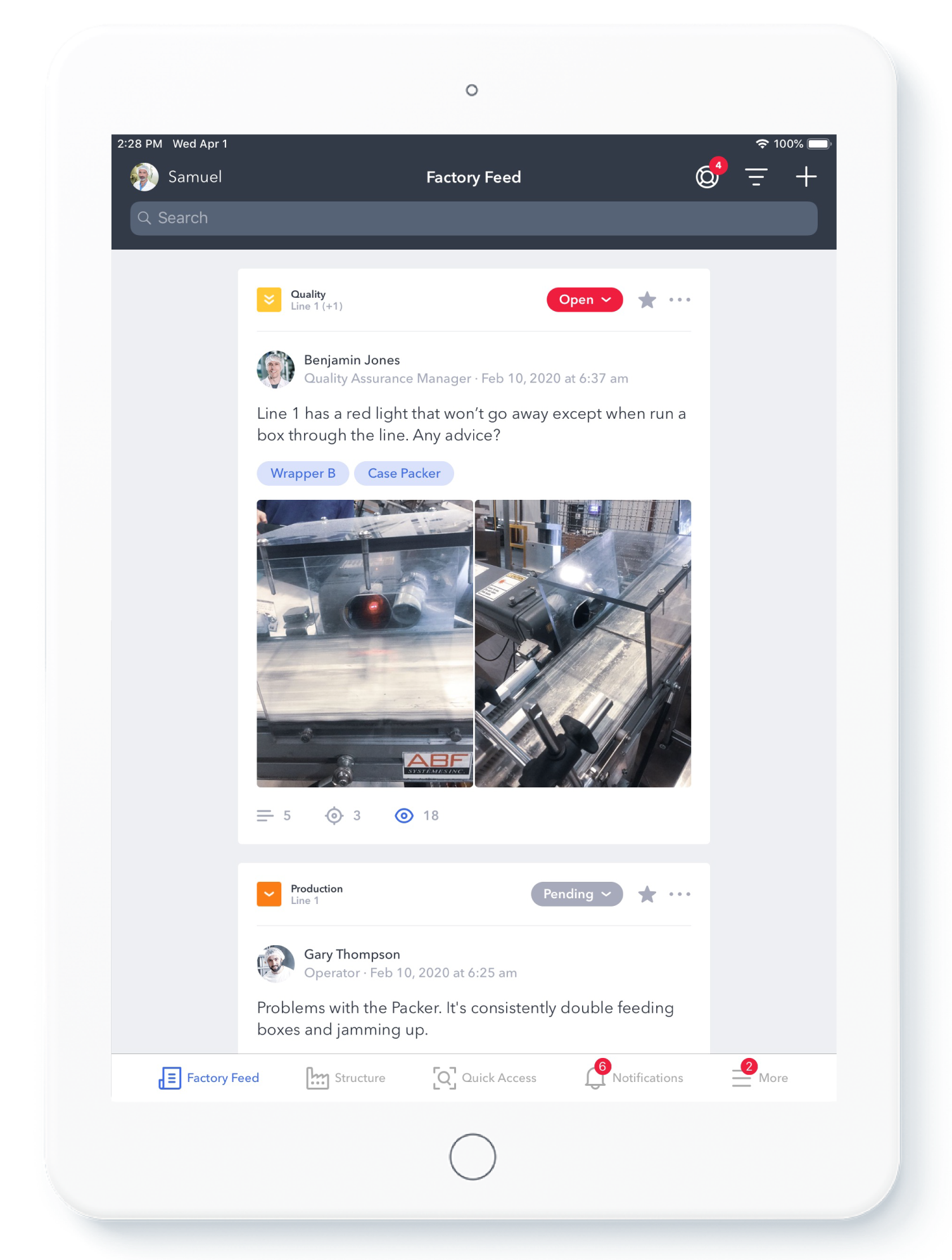 To meet physical distancing requirements, manufacturers need to limit the number of employees on the production floor as much as possible. This means limited support staff on the factory floor and management teams on rotation.
But even while working from home is in place, it's critical for managers and experts to continue to oversee what's happening across the workplace. This can be achieved through Poka's Factory Feed which lets both managers and workers contribute posts to troubleshoot, escalate and manage issues at a distance.
Frontline workers can attach videos to their call for help so experts can easily understand the problem and provide a solution. Once an issue is resolved, it can be transformed into a troubleshooting solution in the knowledge base for the future. Despite working remotely, Poka promotes a community by empowering workers to collaborate and communicate more efficiently than before.
Poka prepares manufacturers for the future
The health crisis has proved that manufacturing companies need to accelerate the adoption of modern approaches and strategies to future-proof their organization. With Poka, manufacturers can digitally connect frontline workers in support of a more autonomous, agile and resilient workforce.
Learn more about how Poka ensures production continuity during COVID.