In his excellent 'Operations Rules' textbook, Dr. Simchi-Levi introduces the idea of flexibility as a key enabler across all operations processes; the supply chain network, production processes and product design.  
Regarding operational excellence (OPEX) in manufacturing, the Toyota Production System (TPS) embraces Dr. Simchi-Levi's analysis flexibility. When one applies and operationalizes its fundamental principles, it can be summarized to waste elimination, emphasis on continuous improvement and investment in people and teamwork.  
The following benchmarks bring perspective to its many benefits and show how much TPS was dominant in the automotive industry. Here are examples from the mid-1980s highlighting the difference in production between Toyota and General Motors.

 

GM, USA

Toyota, JPN

 Assembly hours per car

31

16

 Assembly defects per 100 cars

130

45

 Assembly space per car (sqr-ft/car/yr)

8.1

4.8

 Inventories of parts (average)

2 wks

2 hrs

Source : Womack, Jones and Roos.  The machine that changed the world (New York: Harper Perennial, 1990)
A company's operational excellence strategy should be a deliberate, well-thought program from TPS and its principles. Regarding lean manufacturing and logistics, one should not use a 'pick-and-choose' approach to its multiple concepts like choosing from a toolbox. Instead, it should use a programmatic approach (like a system).  
Think about it like building a house. You can't put up the structure before the foundation is completed. The idea here follows the same idea that you can't short-circuit your way to operational excellence.

Pouring Concrete for the Foundation
From academia, we know that the TPS foundation is typically based on standard work, 5S and levelled production. Standard work is there to ensure 'reproducibility.' Just like Olympians train and practice to meet Olympic standards, manufacturing processes and the workers that make them operate in a very similar way.
Workers must be trained on standards to meet OPEX's world-class standards.
So the first thing you need to do is find those standards, whether from Quality for regulatory compliance, Health and Safety or Industrial Engineering for methods—the frontline worker must be trained, and proficiency levels must be determined to embark on the operational excellence journey.
Once standards are identified, sorted and grouped, you train your employees and measure their performance. If possible, you should perform worker training where work is being done at the workcell or production area. It makes learning so much more relevant and meaningful to workers.
Some companies will also measure the time it takes for new employees to actually start producing or manufacturing—this is also referred to as 'Time-to-Competency .'Once workers are 'certified,' they can get work done. The following breakdown of standard work categories for a workcell:
Overview

Basic Operations
Safety
Quality

Prepare

Cleanliness Inspections
Assembly and Setup

Produce and Test

Start-Up Operations
Production Data
Troubleshooting
Production Stops and Shutdowns
Changeovers
Clean Inspect Lubricate (CIL)

Maintain and Clean

Tear Down and Clean
Preventive
Corrective
Framing and Building Your Structure
Also, from a different body of knowledge, one can find the structure (or pillars) to include the following; Just-in-Time (JIT), Continuous Improvement and Jidoka. This is how these concepts apply to a specific workcell or production area: 
Jidoka makes problems or abnormalities visible (in-line quality where equipment stops working when an error occurs) for single product operations; 
Continuous improvement focuses on waste reduction and worker collaboration; 
JIT addresses multi-product flexibility—right amount, right time and the right amount.
These last three activities are a lot to take on, so make sure you can digitize them because if you go manual, it won't be sustainable, and workers will likely revert to the 'old way' of working.
Throughout your OPEX journey, you must go from single product manufacturing to multi-product manufacturing to complex cell manufacturing, reflecting the crawl-walk-run approach. Let's take a minute to unpack this house-building project.
Crawl
It involves optimized working using 5S, 'reproducibility' using standard work as mentioned above, and balanced designed workcell-based processes. This article won't cover the latter as it requires industrial engineering and process design work.
The first two, standard work and 5S, are also arguably easier to implement.
Walk
Walking includes workcell equipment availability using TPM and Jidoka. TPM concepts are the following: 
Autonomous Maintenance
Focused Improvement
Planned Maintenance
Quality Maintenance
Early Management
Education and Training
Safety, Health and Environment
Office TPM (doesn't relate directly to factory work)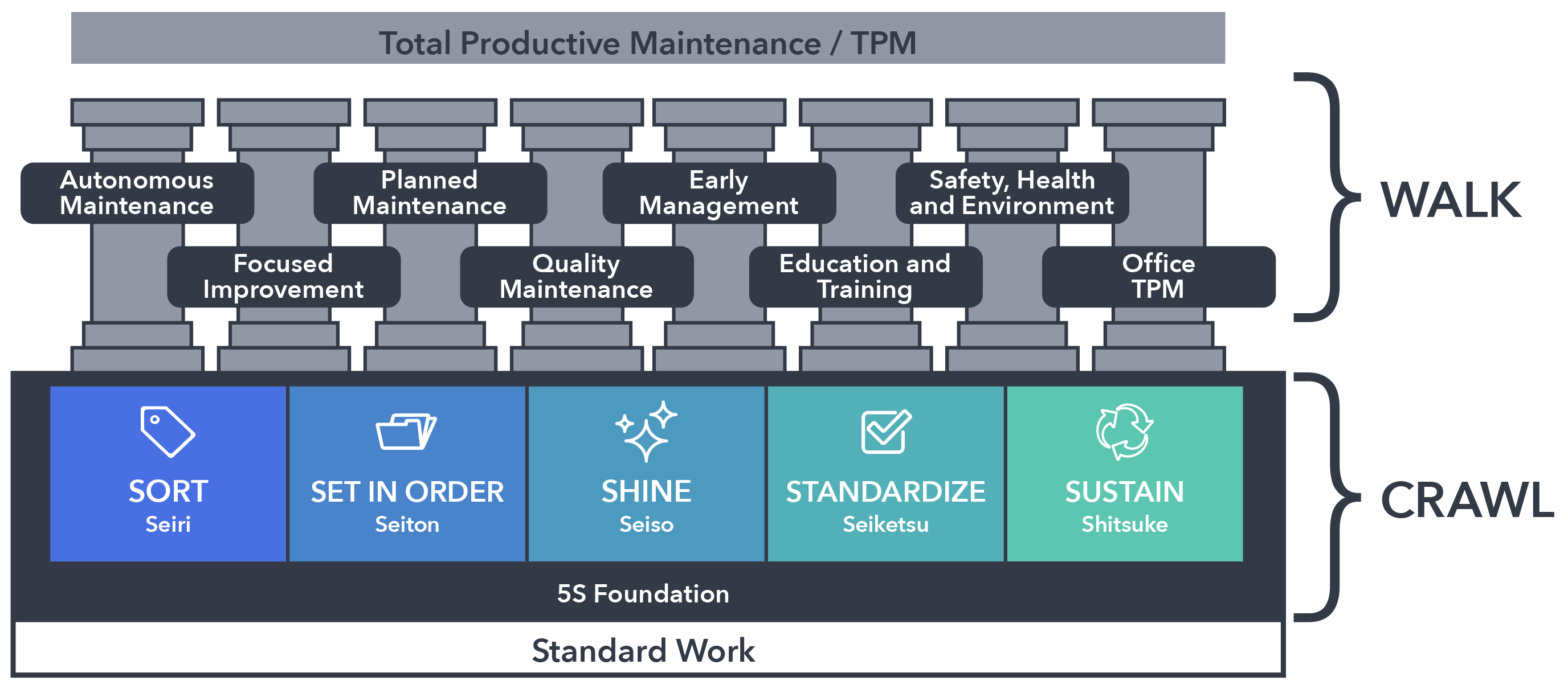 Run
Running includes faster changeovers for workcell flexibility using Single Minute Exchange for Die (SMED) and production leveling (Heijunka). It will allow JIT customer demand pull triggers across multiple workcells and integrated logistics.
Running also requires daily management activities across different departments. As workers execute their daily production schedule, procedures, checklists and data entry is fully functional to provide the necessary records to support the business.
Setting the Roof
For your Operational Excellence initiative, the roof (or the outcome you will reach) will manifest itself in things like high employee morale, better product quality, low cost, shorter lead times, high inventory turnover and better worker safety.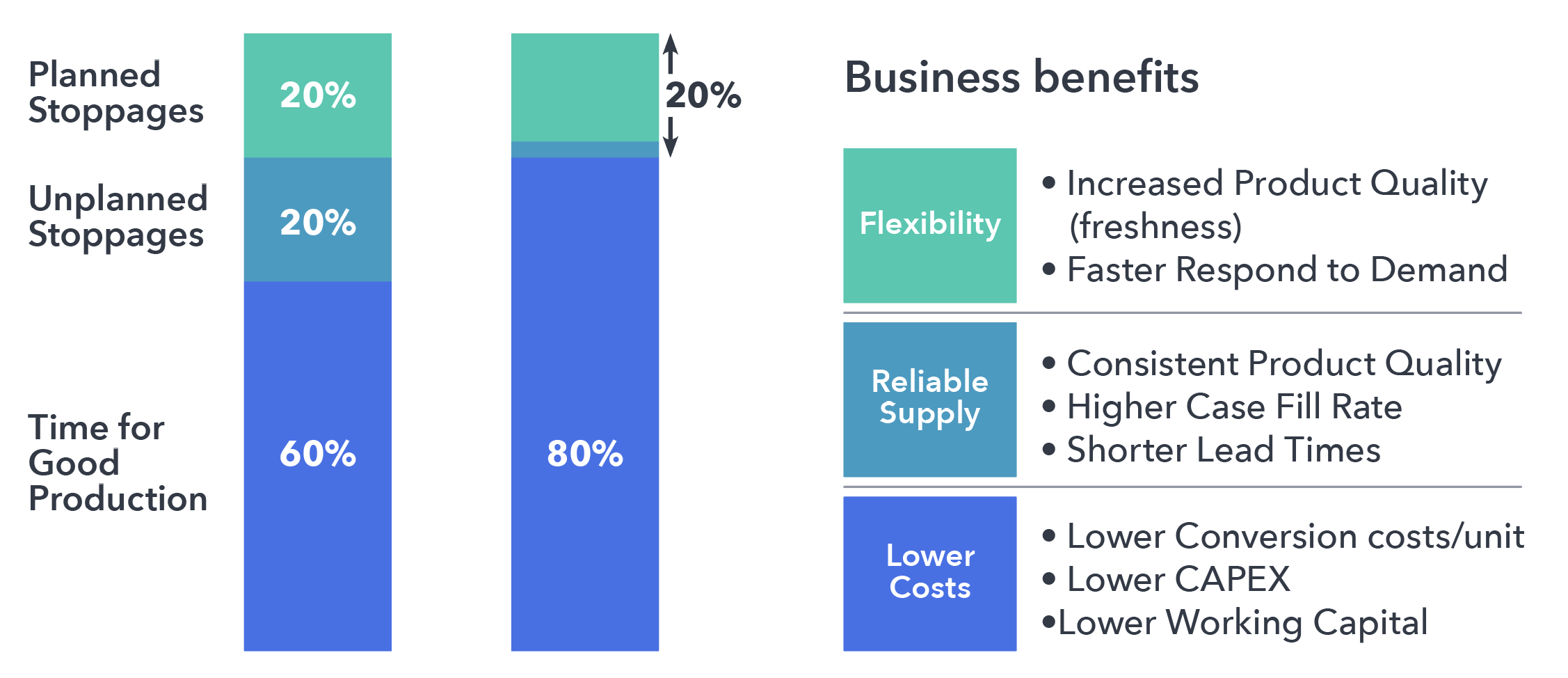 This picture is a good summary of the outcome from in the Fast Consumer Moving Goods (FMCG) industry. As we stated at the beginning of this blog, flexibility in your supply chain is a key competitive advantage. This is especially true where independent demand forecasting is needed (typically in packaging in FMCG).
Leveraging Technology to Accelerate Growth
While connected worker platforms have made it on people's radar since the pandemic, manufacturers like Mars, Danone, Bosch, Tyson Foods and Barry Callebaut have been using this type of technology for several years now to empower their workers. 
Recognizing that a highly-skilled workforce is needed to operate their increasingly more complex equipment and that workers hold a wealth of knowledge and experience, these manufacturers have fundamentally changed the role of their frontline workers. 
By making it faster and easier for them to access information and communicate and collaborate with one another, workers have become more knowledgeable, productive, agile, engaged and proactive in coming up with solutions to problems and ideas for operational excellence.
Connected worker apps are a critical component of manufacturers' industrial transformation (IX) strategy and how that's driving operational excellence and a host of other improvements. This includes a 50% reduction in training time, an 8% direct productivity gain, and 12.5% reduction in waste.
Transforming the Worker Experience
A few years ago, Mars recognized that they needed to do something different to build and maintain a skilled workforce that would carry them into the future and that a connected worker app was critical to their success.
"We saw that we had a great learning opportunity with a number of people retiring and new people coming into our factory," says Avin Krishnan, Factory Director at Mars' Veckel plant. "We wanted a way to future-proof how our associates learn about our culture and standards and how they can have a better experience at work every day." 
Digitally connecting all frontline workers improves their experience by making it faster and easier for everyone to communicate, collaborate and learn from one another, a goal that Tyson Foods also share.
"Bringing a connected worker app into the organization allows us to overcome some of the most significant challenges that we have at Tyson Foods with regards to sharing our best practices and factory knowledge," says Adriana Graham, Senior Director of Information Technology at Tyson Foods.
Moreover, an improved worker experience leads to great efficiency, as explained by Gartner Research in their recent Innovation Insight for the Connected Factory Worker report:
"It's a new approach to industrial efficiency. It's as much a technology construct that changes how factory workers access information and knowledge to do their jobs differently, as it is a change management exercise that is rooted in workforce development, behavior shifts and integrated continuous improvement."
Now let's look at three concrete examples of how workers use a connected worker app in their daily jobs: training and skills development, working to standard, and troubleshooting problems. 
Accelerating Training and Skills Development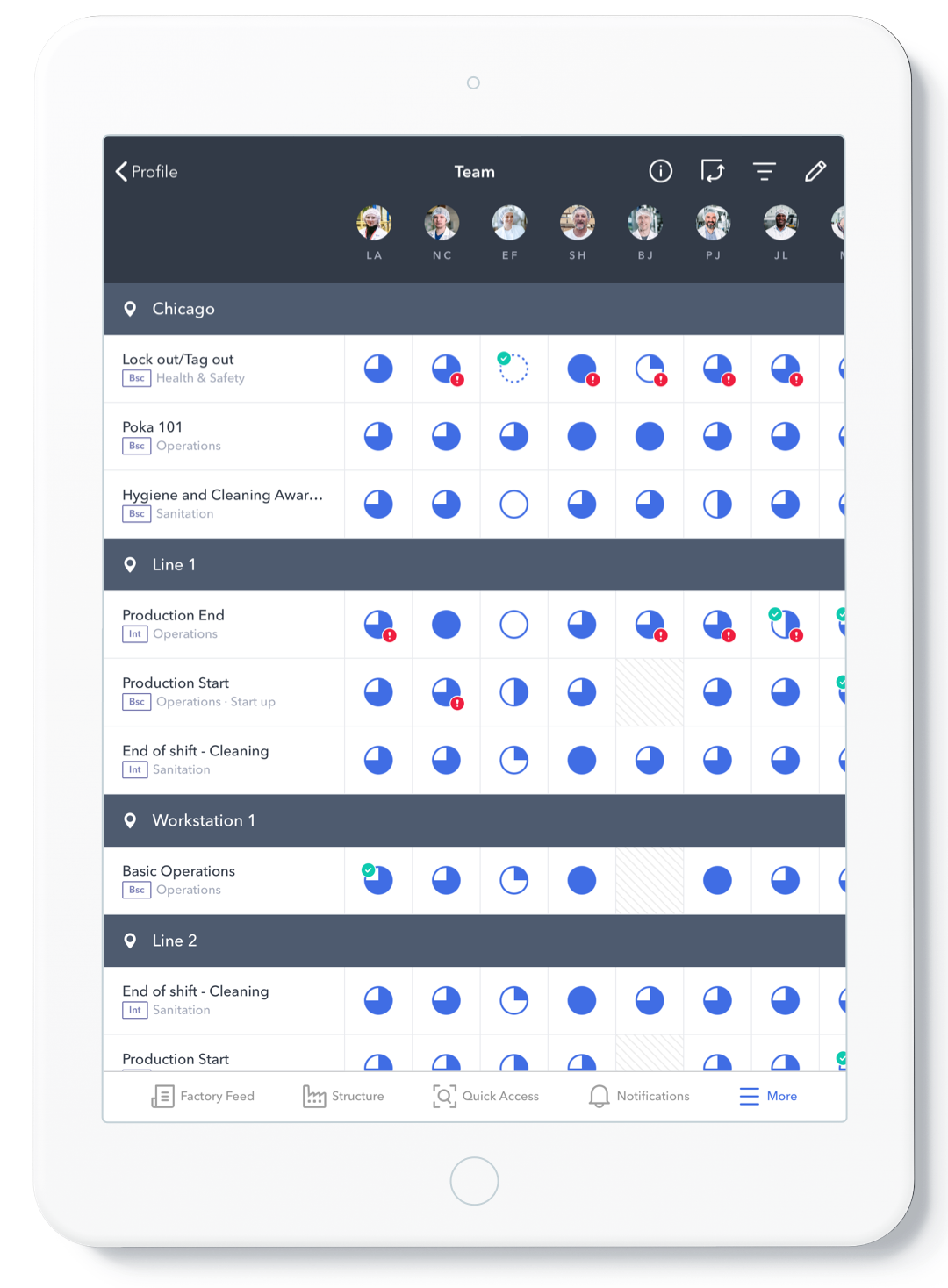 Developing the skills needed to operate complex equipment takes time, requiring workers to be trained on basic tasks when first onboarded and then later upskilled to take on more advanced tasks. 
However, training is very disruptive, taking trainees and trainers away from their jobs. That's why manufacturers like the specialized nutrition division of Danone and Barry Callebaut have introduced digital, self-paced training as part of their connected worker app.
These manufacturers have reduced their reliance on formal classroom training events and on-the-floor shadowing. Instead, operators watch video micro-lessons on a tablet at their own pace. When done, they complete an online exam practice in front of a more senior operator or supervisor until they demonstrate that they've mastered the skill.
Further, because the digital lessons are always available to operators at their stations, they don't need to learn all skills at once. They learn "just in time" as the need arises and skill is required.
"Operators take the lead in their own learning," explains Jorn Vroegh, Learning & Development Coordinator at Danone. "They learn when they need to, the right way, and without constantly taking other operators away from their work."
By moving to digital training and skills development, Danone decreased the time and cost of shadowing by 40%, while Barry Callebaut saw a 50% reduction in compliance training time.
"Our expectations have been exceeded in every respect," says John Schouten, Director of Global Operational Excellence at Barry Callebaut. "Overall, we were able to increase productivity by 4%, which is a great success in an already very efficient factory."
Moreover, the benefits of using video micro-lessons extend beyond training. They also make it easier and clearer for operators to follow work instructions and troubleshooting tips.
Making It Easier to Follow Work Standards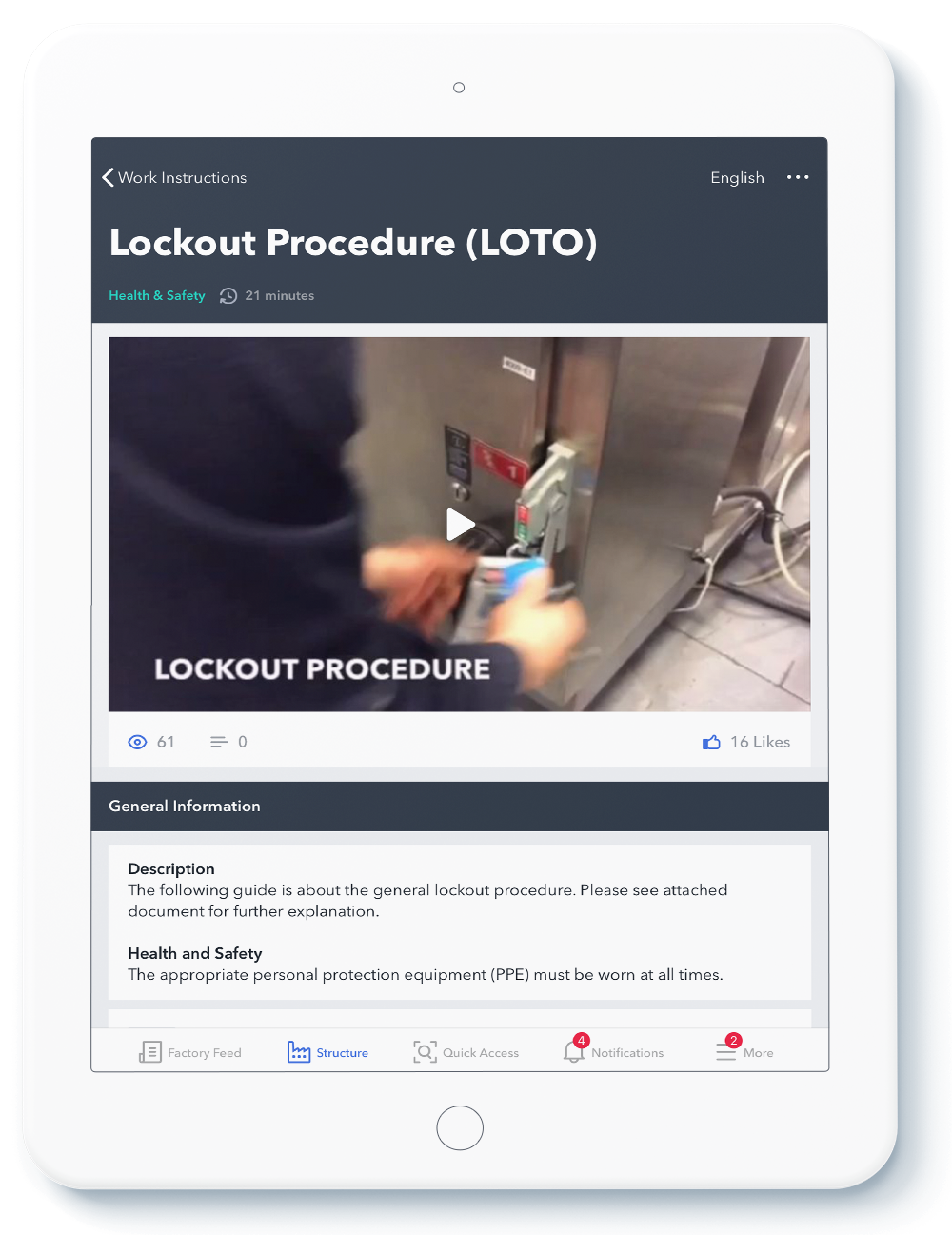 Consulting SOPs and equipment manuals can be time-consuming, especially if workers are forced to sift through hundreds of pages to find the necessary information.
As a result, these critical documents are rarely accessed. That's why Riviera, a specialty dairy producer, and Leclerc, a leading food manufacturer in Canada, enable their workers to access digital versions of these documents directly at their stations.
Workers use a tablet to scan a QR Code on their equipment to pinpoint the precise work instructions and checklists they need instantly. The visual instructions combined with a step-by-step checklist make it faster and easier for operators to follow the proper procedures.
Connecting workers in this way has led to a 5.9% reduction in equipment downtime at Leclerc and a 9% reduction in waste at Riviera.
Making it easier for operators to follow proper procedures and troubleshoot problems on their own reduces the need for equipment experts to be involved and leads to faster problem resolution. But, when they can't, the same connected worker app helps workers collaboratively solve problems at a distance.
Faster Collaborative Problem-Solving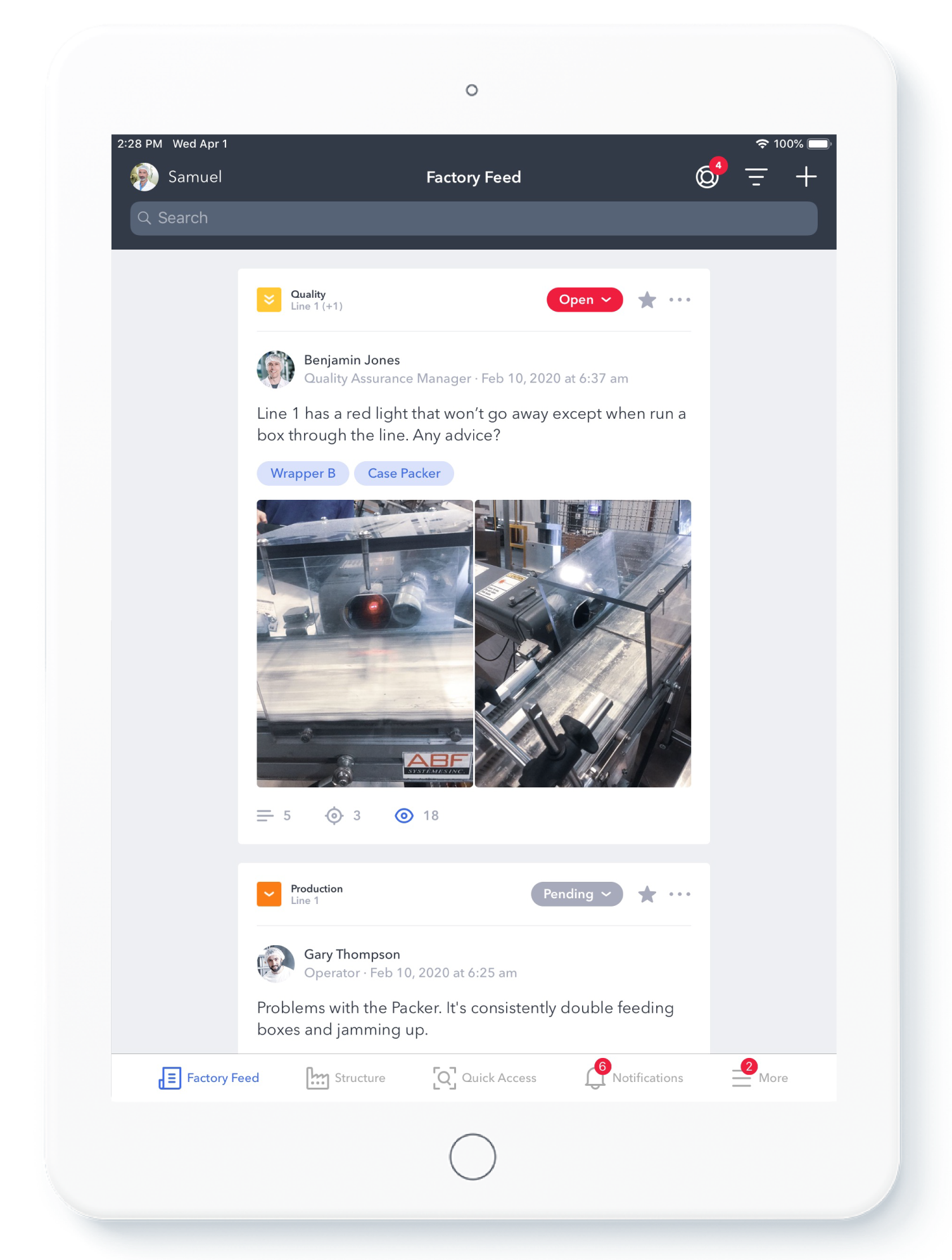 Minimizing equipment downtime is integral to driving manufacturing excellence and requires a collaborative effort between operators, maintenance and process and equipment experts. 
However, experts aren't always on-site to respond to a call for help, especially during night shifts and weekends. That's why operators at Bosch, Barry Callebaut, and C.H. Guenther, a privately owned food manufacturer in the US,  use the digital communications feed in their connected worker app to escalate and troubleshoot issues.  
Instead of ringing the Andon bell and waiting for a supervisor or maintenance technician to come to the rescue, operators use their connected worker app to post a call for help. This includes a photo or video of the problem taken using their workstation's tablet. All experts and workers assigned to that equipment are automatically notified; anyone can respond if they have a solution.
They then can post a comment, photo or video of how to solve the problem in the feed. All content captured as part of the call-for-help can be easily saved in a knowledge base as a troubleshooting tip and instantly shared across their plants. Streamlining how production and maintenance communicate and collaborate to solve problems has resulted in an 8% direct productivity gain at Bosch. 
At C.H. Guenther, digitally connecting frontline workers have changed the manufacturer's expectations for its 3,800-employee workforce. 
"We want 3,800 problem-solvers," says Rick Crook, Sr. Director, Operations & Global GPS Leader at C.H. Guenther. "We want everyone in our company to solve food, safety, quality, or our operations problems."
The expectation for workers to be actively engaged and contribute to solving problems and continuous improvement is echoed at Barry Callebaut.
"People are not here just to work, but also to think," says Johan de Langhe, Global CI Champion at Barry Callebaut. "They use the communication and collaboration tools (of our connected worker app) to share their experience and insights, improve problem-solving, and eliminate gaps in standards and execution." 
Empowering Workers on Your Quest for Operational Excellence
It's vital to ensure your organization is ready and enabled to succeed in your operational excellence journey. Adopt a crawl-walk-run approach to implementing your different initiatives. Doing things one step at a time will allow your plant to adapt and utilize these new ways of working correctly.
Leveraging technology in the process is necessary for the modern era of Industry 4.0. Empower frontline workers to be more knowledgeable, productive, agile, engaged and proactive in supporting operational excellence. In short, a highly skilled workforce is more important than ever for delivering the highest quality products to customers at the best cost. 
Thankfully, a new class of connected worker apps enables manufacturers to transform their factory floor quickly, so they can thrive for many years. To learn more about Poka and discover what the day in the life of a connected factory worker looks like, watch our product video.
Gartner does not endorse any vendor, product or service depicted in its research publications, and does not advise technology users to select only those vendors with the highest ratings or other designation. Gartner research publications consist of the opinions of Gartner's research organization and should not be construed as statements of fact. Gartner disclaims all warranties, expressed or implied, with respect to this research, including any warranties of merchantability or fitness for a particular purpose.