Many manufacturers have previously only focused on integrating Industry 4.0 technologies that had a direct impact on efficiency, cutting costs, and maximizing profit - upgrading and connecting equipment.
However, those who are thriving in this era are taking a more holistic approach. They understand that digital transformation applied to all areas of business, most notably, talent development, is key.
According to Deloitte's "The Fourth Industrial Revolution" report, a growing number of business executives are embracing the importance of talent development and lifelong learning which includes self-paced learning, continuing education and ongoing professional development.
This year, 74% of executives stated that it would be their top investment priority which is a significant increase from 43% of last year. Additionally, 80% of executives said they have either created or are creating a culture of lifelong learning.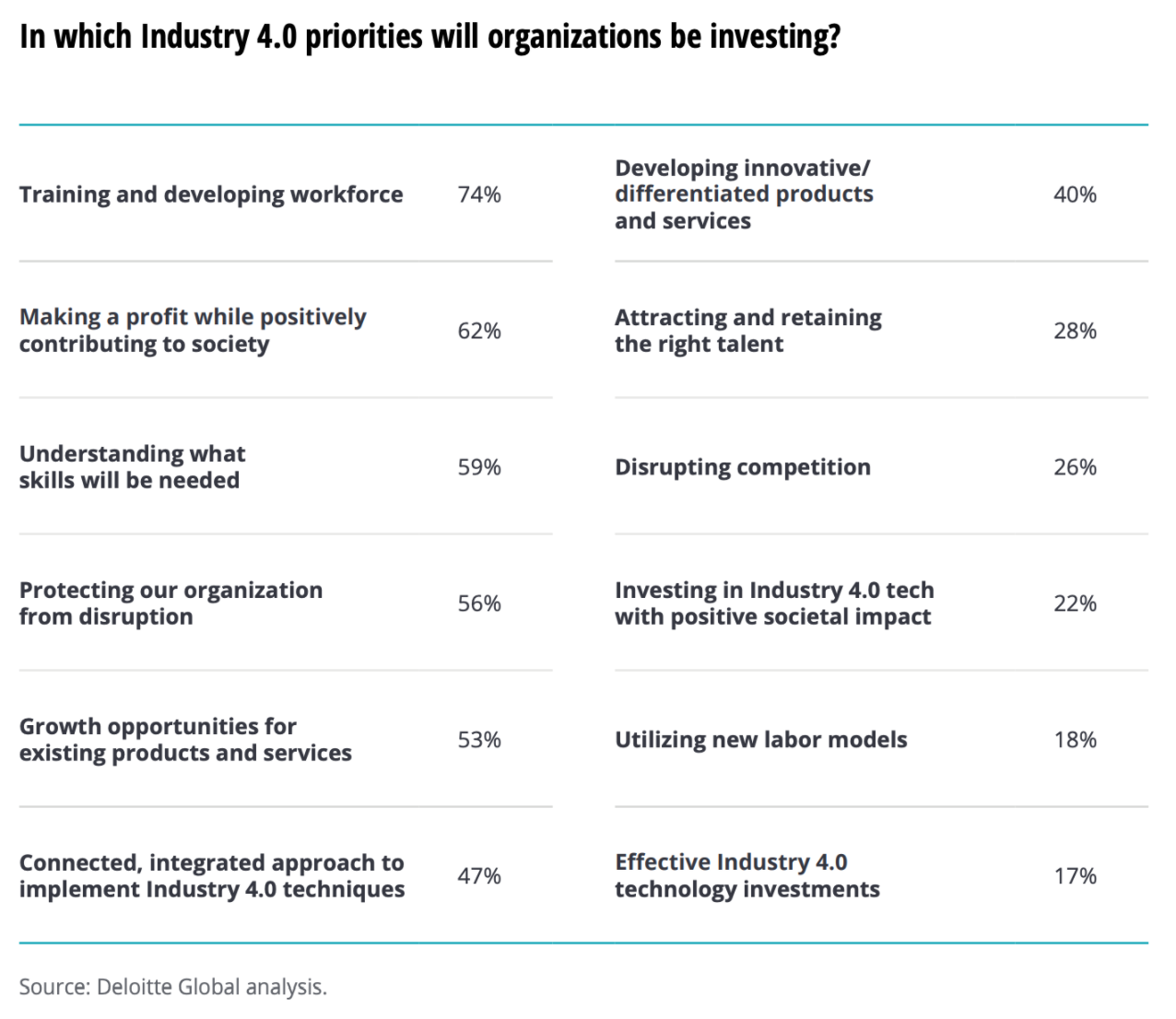 Although these statistics highlight that executives want to prioritize talent development, many companies face challenges in doing so, with only 21% making progress in training and developing their workforce for the future.
The good news is there are solutions, like Poka, which offer an innovative approach to factory skills development so that manufacturers can move forward with these priorities. Let's take a look at how Poka prepares manufacturers for success in the Industry 4.0 environment.
1. Enables digital access to training content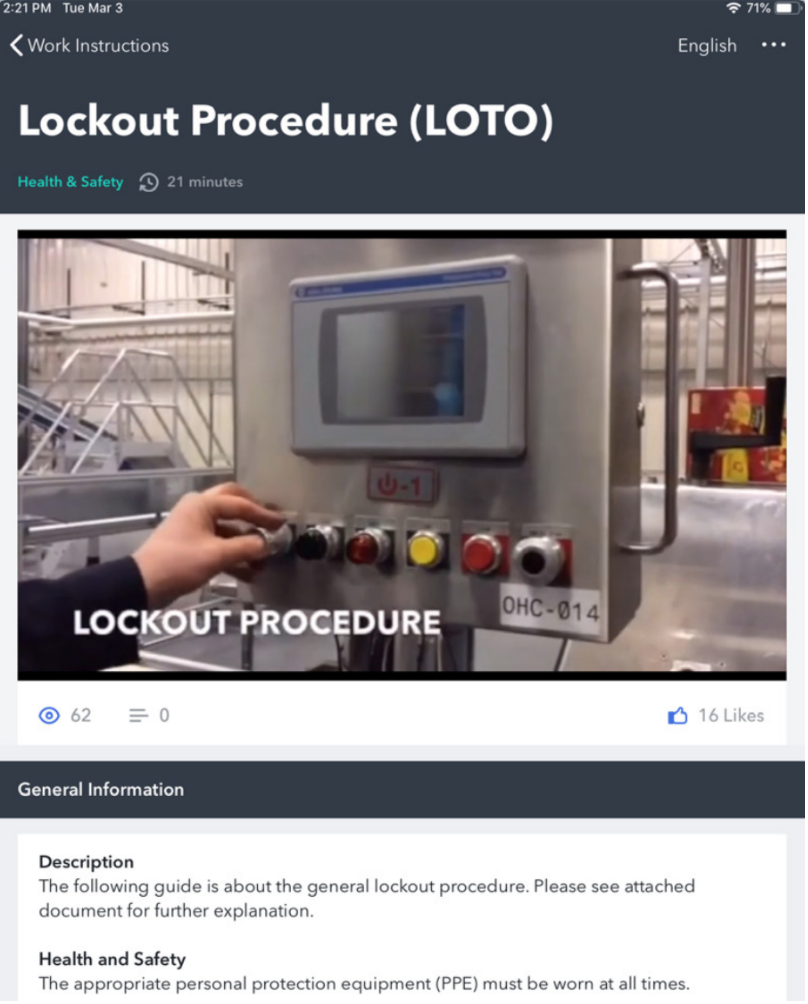 Manufacturers can make training and skills development available to workers directly on the production floor. With mobile devices, they can quickly access work instructions and SOPs with the scan of a QR code. Because the digital training content is always available, workers can learn at their own pace and as the need arises, instead of learning everything at once.
Lengthy written SOPs do not support the need for immediate access to information in a production environment. Manufacturers can transform their procedures and training content from long-form text to short video micro-lessons. This improves retention and is more convenient for workers who may not have extended periods of uninterrupted work time.
"Video micro-lessons are quicker and easier to understand than reading text. Text can be easily misinterpreted, whereas there is no ambiguity with videos," explains the Operations Support Coordinator at Riviera, a Canadian producer of premium dairy products.
2. Engages workers with their own skills development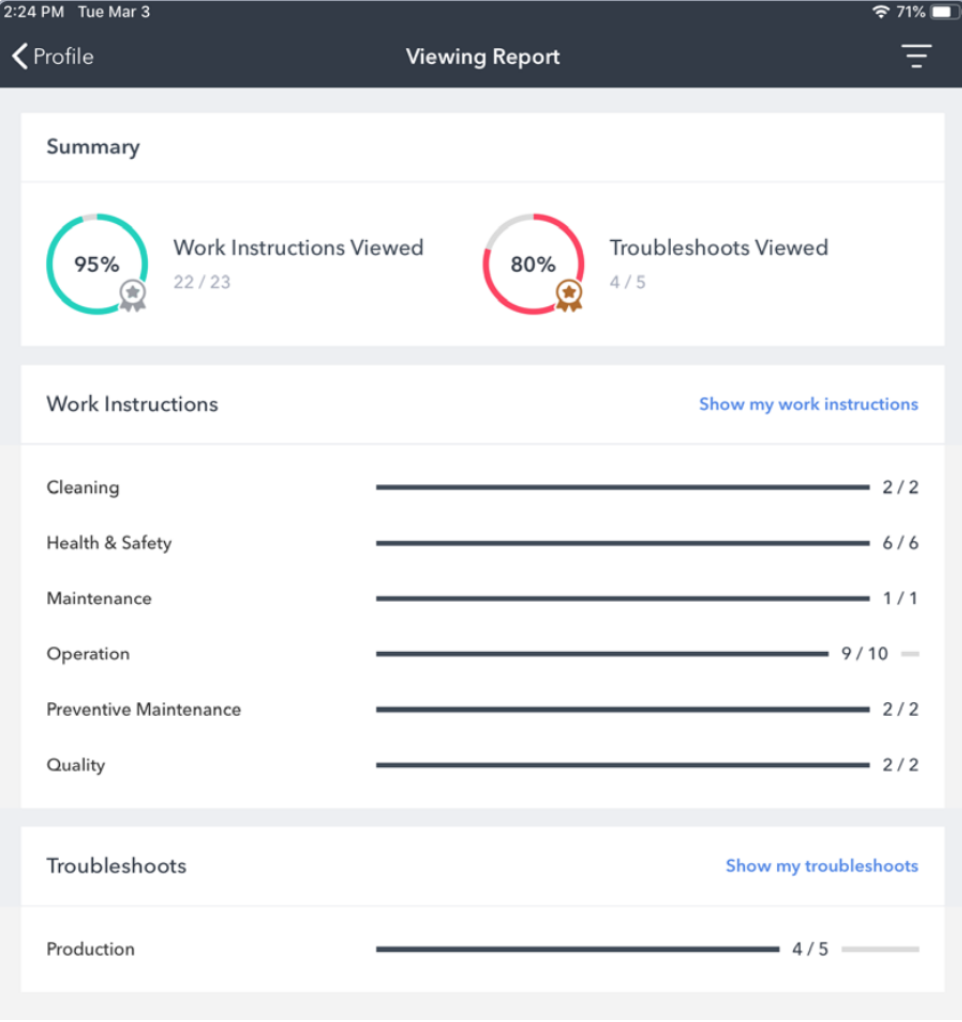 When learning plans are available digitally, on the factory floor, workers become more engaged with their own skills development. Additionally, workers have quick access to their profile page that provides real-time visibility into all their skills and assignments directly at their workstations. When new skills are added or work instructions updated, they are automatically notified which ensures that they are also up-to-date with their training.
"Because employees can see their own skills matrix and monitor their progress, they will be motivated to improve," explains an HR manager at an electrical installations company.
3. Captures collective knowledge
Traditionally, factory skills are learned through shadowing which pulls a senior operator away from production for the training period - a cost to the business. In addition, since there is often a lot of information being covered, there can be gaps and inconsistencies between each training event.
Training can be standardized and optimized by capturing the standard way to perform tasks on video. A worker can then review videos on their own, shortening the period during which they need to be paired with a trainee. New hires will have less pressure to learn everything during the shadowing period as well, knowing they can find the answer themselves in Poka as they need.
Aside from learning through training, manufacturers can support a culture of lifelong learning by digitally connecting workers so they can communicate, collaborate and share information with one another. 
Poka supports collaborative problem solving through the Factory Feed where issues can be posted in real-time so that anyone can contribute their idea to solve a problem. Once a solution is documented, it can be quickly transformed into a best practice in the knowledge base for others to learn from. In doing so, manufacturers can capture tribal knowledge and make it available to all workers which is especially important as the workforce ages and enters retirement.
In short, Poka allows manufacturers to easily focus on talent development and lifelong learning by digitally transforming the factory floor. As a result, manufacturers will be better prepared to succeed in the Industry 4.0 era.
Learn more about how 'factory-first' technology can help by reading our e-book "5 Tips to Turn Training into Continuous Learning on the Factory Floor".