For many years, digital transformation projects in manufacturing have focussed on machines - using data from smart connected assets to improve core operational areas. But the current labor crisis and need for operational agility have brought us to a fork in the road. Connected Worker solutions are now regarded as the key to managing the priority People Pillar - building an engaged, empowered and versatile workforce through training delivery, operational knowledge management and collaboration.
Definition of a Connected Factory Worker
A connected worker has digital access to all the information, tools and knowledge needed to perform tasks safely and consistently to standard - ultimately driving improvements in safety, quality and productivity. The connected factory worker is more engaged, versatile and empowered to solve problems autonomously.
The concept of digitally connecting production workers with their environment has been evolving for years. In the early days, this connectivity was little more than a human-machine interface (HMI) giving workers the ability to adjust production settings and control machine systems. But the nature of industrial work has evolved and we've seen a steady progression in the adoption of Connected Worker technologies.
The Connected Worker Journey
| | | | |
| --- | --- | --- | --- |
| Disconnected | Connected to Machines | Connected to People | Connected to Insights |
| Workers are siloed and tasks are manual - leaving workers on their own, or reliant on team leads to solve problems, make decisions and improve operations. | Automation has freed up workers to oversee a broader scope of production. They are able to control and monitor machine systems, and perform simple data entry. | Workers are connected to each other - across the entire value stream, bridging shifts and departments. This unlocks a multi-directional flow of data, information and collaboration. | Context-specific data and insight are available at the time and point of need - empowering and prescribing workers to take autonomous action. |
Human-machine interaction is a start but has limited value. The next stage of progression in the Connected Worker journey sees production staff given access to similar productivity and communication tools used by office workers and salaried employees - but purpose-built for the factory floor. Using mobile devices, Connected Factory Workers can easily access digital work instructions, complete checklists, share knowledge and important production updates, and collaborate to solve problems. With this puzzle piece in place, there is an opportunity for unprecedented visibility and collective operational knowledge. 
Companies that have been investing in their connected workforce for some time now are progressing to advanced use cases. Using the rich data and insights from across the Smart Connected Factory, they're predicting issues and ensuring workers take action faster - even preventatively. This could involve automatically assigning a centerline check when a Critical Control Point indicator is out of specification or automatically recommending a troubleshooting video when a specific issue is detected.
The goal of this movement is not simply to connect workers with machines and their peers, but to invest in the people who are part of the overall production system. Today, learning and development for manufacturing are equal parts process improvement and skills evolution. It's no longer a binary choice between business improvement objectives. Connected Worker technology is part of an agile production system, growing people capabilities while helping track continuous improvements and performance achievements for the enterprise's operating system.
Connected Workforce Characteristics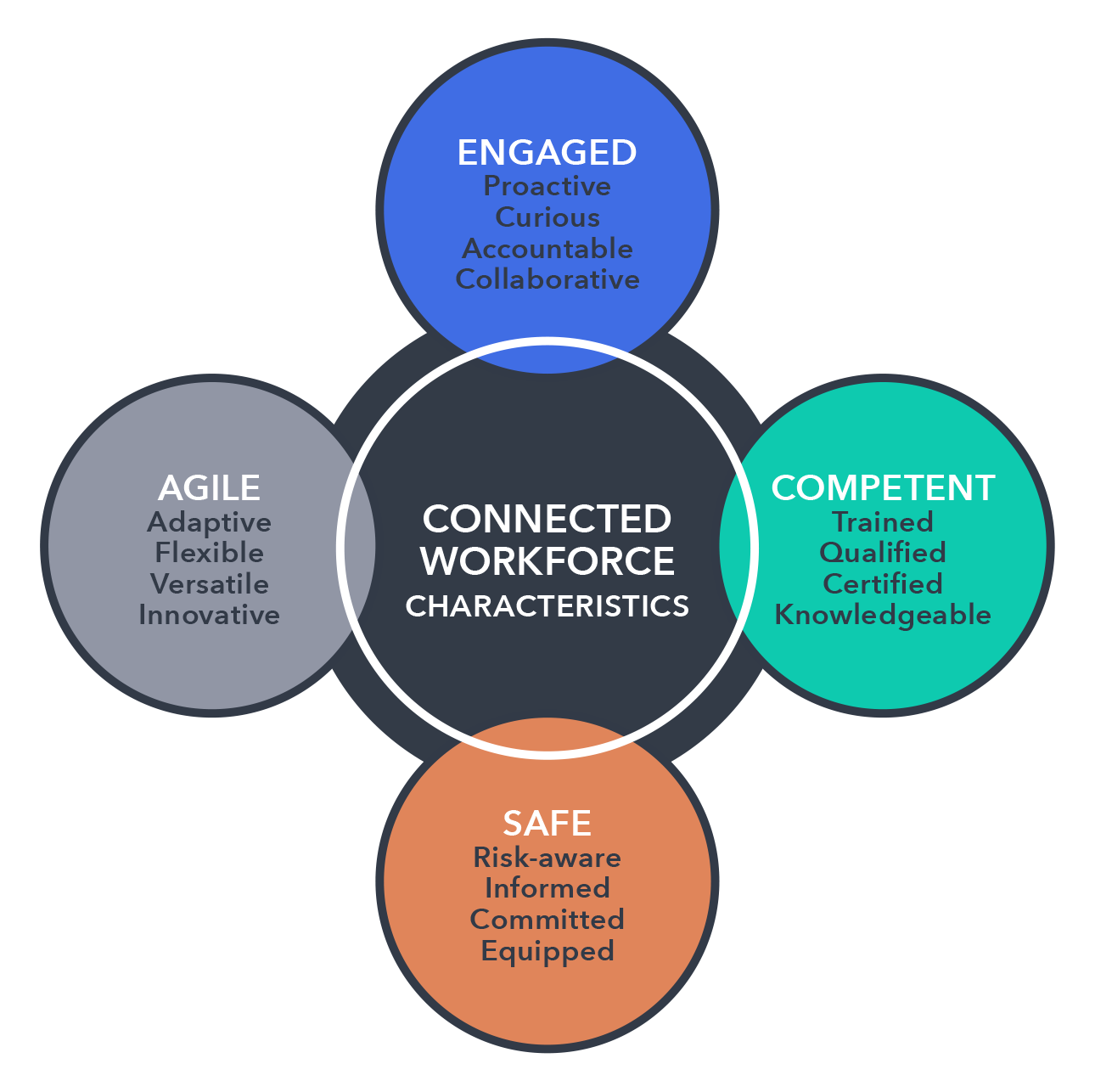 Source: LNS Research
Esteemed Industrial Transformation analyst firm LNS Research puts it well, stating that the overarching goal of the Connected Worker was broader: a "frontline workforce that's more engaged, proactive, and empowered with data-driven insights to make faster, better decisions."
What Goes Into A Connected Worker Solution?
A Connected Factory Worker is integrated with the digital and physical manufacturing environment through a mobile device or workstation. The solution brings together communication, learning and development, and daily management capabilities into a single platform to drive manufacturing excellence. Both workers and leadership can access information collected from across the organization to gain insight and guidance to improve decision-making at every stage of the value chain. 

The Connected Worker emerged as a recognized technology solution category in 2019 when it entered Gartner's Hype Cycle for Manufacturing Operations Strategy. The market has rapidly matured since then. In fact, LNS Research surveys reveal that over a third of industrial companies have already implemented Connected Worker technologies.
Connected Factory Worker Framework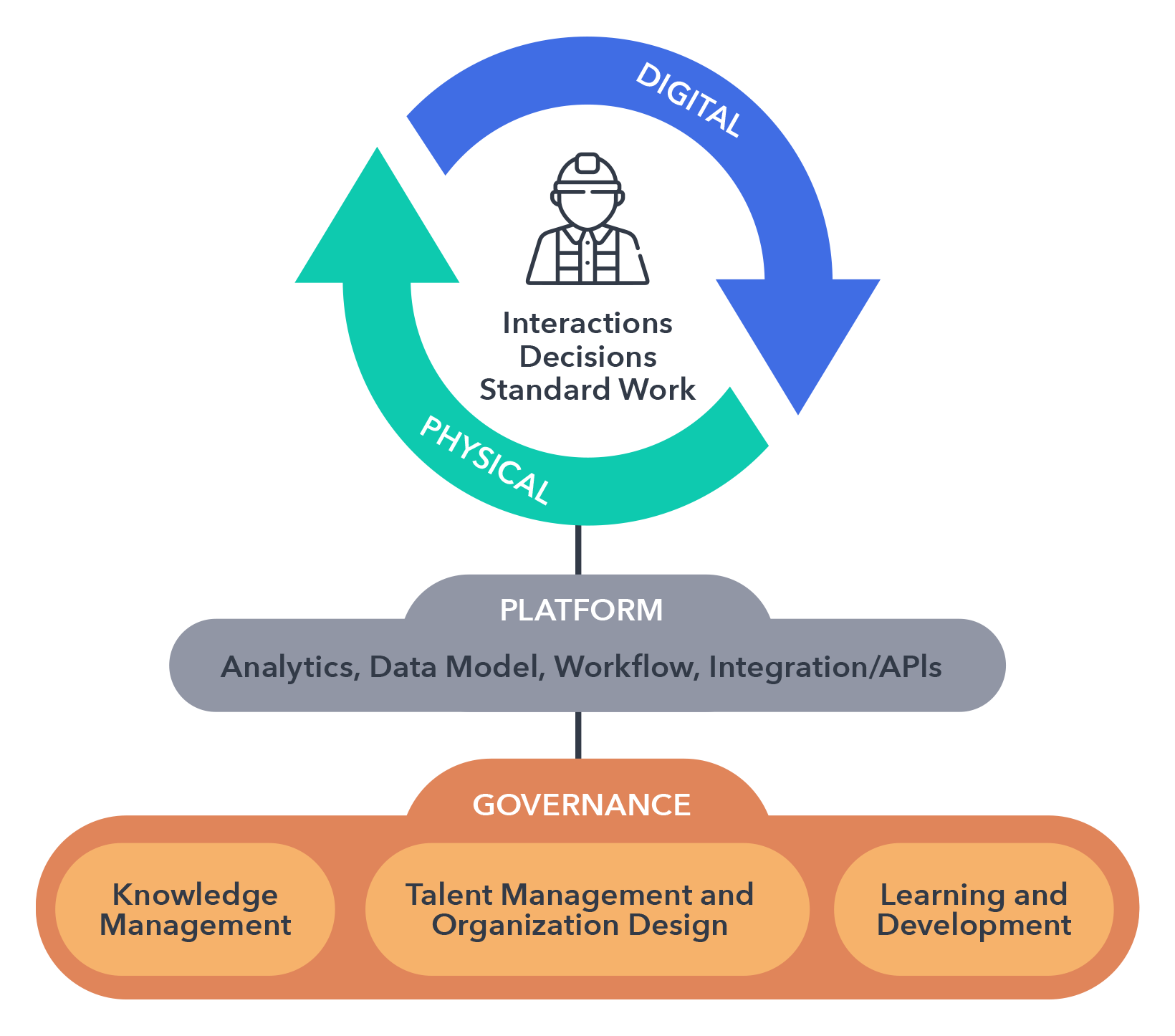 Source: Gartner
You might see a number of different "apps" included under the umbrella of Connected Worker - AR, mobility, EHS solutions. But to be truly effective, a Connected Worker solution needs to be a one-stop place for workers to get everything they need to do their jobs. This isn't just another productivity or communication app to add to the list of factory floor tools. It directly impacts the bottom line. High-margin manufacturers are more likely to have implemented Connected Factory Worker solutions than low margin ones, hinting at just one of the reasons you should include Connected Worker as part of your digital transformation strategy.
Many types of networking technology can be used as the Connected Worker interface, but Poka prefers to play it simple with a cloud-based app designed for ease of use by frontline workers, accessed from a workstation or iOS device. Using a tablet, users reap the benefits of QR code scanning, photos, video, and digital signatures. 
Even though we call this a "Connected Worker" application, it's important to keep in mind that the benefit of a factory floor tool like this is shared across all levels.
Core features for frontline workers
Perform standard tasks - access standard work instructions for any equipment with a QR code, and complete digital forms and checklists. 
Collaborate and share knowledge - using the factory feed, users can share news and critical updates, or respond and collaborate on posts. 
Escalate and resolve issues - a virtual SOS that alerts the right people and kickstarts the problem-solving process. 
Capture best practices and troubleshooting - shoot a short video of a new fix and quickly convert it into a tutorial for the factory's knowledge base.
Continuous learning - bring together all your training resources so workers can access micro video lessons as they learn in context.
Core features for management
Issues Management Kanban board - Track the status of open issues from detection to resolution, centralizing updates and feedback all in one place. 
Skills matrix - Track learning and evaluation for all team members in a skimmable grid format, making onboarding, certification and shift management a breeze. 
Task assignment and inspection - Assign tasks and forms across shifts or locations. 
Enforce standards - Ensure standards are being followed and deviations quickly identified.
Gather insight - By tracking daily developments by department, your entire operation can discover bottlenecks and opportunities for improvement that may not appear on paper.
Conclusion
The People Pillar is facing a new set of challenges, distinct from those posed by the pandemic. The first is that skills and knowledge are slowly eroding as a generation of workers retires. Skilled salary workers in support roles are more often working remotely, no longer as accessible to onsite workers as they once were. And lastly, frontline worker roles are expected to undergo even further automation. More human-machine interaction will demand that the next generation of workers must have expanded skills to operate increasingly complex technologies and processes in an agile production environment. The Connected Factory Worker enables a new way of working: one that connects machines, people, knowledge, and insights. 
Connected Worker does more than preserve knowledge and help expand skills. The concept is founded on the belief that frontline workers have the deepest understanding of what can lead to gains in speed, efficiency, or productivity. It helps turn their knowledge, creativity, and experience directly into process improvements. Ultimately, innovation arises when workers are given the opportunity to share their insights.