What is Total Productive Maintenance?
Total Productive Maintenance (TPM) is a Japanese Lean Manufacturing system dating back to the mid-twentieth century. Under TPM, maintenance and production personnel work together to improve asset reliability, maximize overall equipment effectiveness (OEE), ensure product quality as efficiently and cost-effectively as possible.
Because of its focus on the machine, practitioners can sometimes lose sight of the worker's role in TPM. The Japan Institute of Plant Maintenance emphasizes:
"Total Productive Maintenance focuses on equipment and people and is a maintenance technique which improves productivity to achieve zero losses and reinforces production foundations."

The Benefits of TPM
Through the TPM methodology, manufacturing organizations can gain a range of benefits including:
Less unplanned maintenance
Less downtime
Safer working environment
Lower production costs 
Measurable results (higher OEE)
The Eight Pillars of TPM
TPM is built on 8 pillars that focus on achieving zero breakdowns, zero accidents, and zero errors through specific activities and tasks.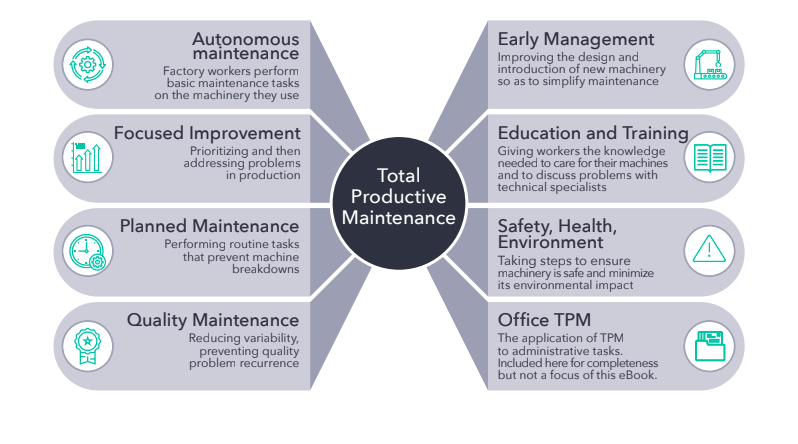 Pillar 1 - Autonomous Maintenance
Autonomous maintenance means training factory workers to perform basic maintenance tasks on the machinery they use. 
The goals of autonomous maintenance are:
Empower and train operators to maintain equipment that prevents deterioration
Let Maintenance team members spend more time on value-added activities and technical repairs
The first step of this TPM pillar involves ensuring operators have the skills to master their equipment. This training is traditionally delivered in a classroom setting and covers:
Identifying abnormalities
Correcting abnormalities
Setting optimal equipment conditions
Sustaining optimal equipment conditions
Unfortunately, this type of training takes workers away from their jobs, stopping production, which may require overtime to catch up. The alternative is to deliver this training content closer to the point of use. That's right, on the factory floor and in front of the equipment where the information will be applied.
Pillar 2 - Focused Improvement
Focused improvement is based on the Japanese term "kaizen," which translates to "change for good." 
The goals of focused improvement are:
Prioritizing the most critical losses and eliminating them
Practicing zero losses in every activity
Using tools eliminating losses extensively
The goal of TPM and this pillar, in particular, is the elimination of losses tied to equipment. Often categorized as the Six Big Losses, the most common causes of equipment-based productivity issues are:
Planned stops
Unplanned stops
Minor stoppages
Reduced speeds
Process defects
Startup rejects
All successful continuous improvement programs have at least two things in common: well-defined standards and the ability to manage deviations effectively.
Although standards exist in most production environments, it can be difficult to ensure
they are understood uniformly and applied consistently. This variability often begins when
new workers shadow experienced colleagues during their onboarding.
The alternative is to use video-based work instructions. This is a proven and effective way of
eliminating inconsistencies and ensuring workers are taught uniformly.
Pillar 3 - Planned Maintenance
Planned maintenance involves analyzing failure rates and historical downtime and managing maintenance tasks based on the data.
The goal of planned maintenance is:
To have trouble-free machinery by becoming proactive versus reactive
Planned or effective maintenance helps companies reduce maintenance costs and extend equipment life by avoiding breakdowns and unplanned emergency maintenance. Reducing variability and addressing the causes of customer complaints improves quality performance and reduces waste.
Pillar 4 - Quality Maintenance
Quality maintenance focuses on design error detection and prevention into production processes—it entails centerlining and root cause analysis (RCA).
The goal of quality maintenance is:
Develop a systematic way to eliminate quality concerns
There are countless potential losses tied to machine settings in production environments running a high volume of product SKUs and where machines have dozens of adjustable points.
It's therefore quite surprising that equipment parameters are often not documented, or if they are, they exist in the notebook of a senior operator or mechanic. As product or shift changeovers happen, machine settings are adjusted, even from one worker to the next, resulting in variability that is difficult, if not impossible, to trace.
Therefore, it's essential to consolidate information about critical equipment and make it easily accessible. Which will allow workers to periodically check machine values against the targets throughout their shift to ensure they are operating to standard.
Pillar 5 - Early Management
This pillar refers to leveraging all the knowledge acquired through TPM and improving new equipment design.
The goals of early management are:
Implement new products and processes with vertical start-up
Ensure new machines reach optimal performance sooner 
New equipment is an opportunity to improve maintenance effectiveness. By considering worker needs during selection, commissioning and installation, it's often possible to make maintenance easier to perform. It's also a chance to capture a comprehensive set of information about the machine and train workers on how it works.
Many production machines have minor problems or irritations known only to those who work on them every day. If these issues are captured over time, they can inform the design of new equipment, making it easier to maintain. For example, placing gauges in a different position might help check fluid levels, or screws holding filters in place could be replaced with clamps.
Pillar 6 - Education and Training
Knowledge is king. It is vital to fill all knowledge gaps to achieve your TPM goals. You need to ensure everyone is on the same page with the TPM process by adequately training all plant employees from top to bottom.
The goals of education and training are:
Developing multi-skilled employees who are engaged and empowered
Share how TPM benefits workers and the company
For TPM to succeed, this pillar requires a shift in approach from formal, one-time training events (shadowing and classrooms) towards continuous learning and "always-on" performance support. The most effective form of education and training happens at the time and place of need. In manufacturing, that means on the factory floor and in micro or single-point lesson format.
Pillar 7 - Safety, Health, and Environment
The title makes this section pretty self-explanatory—it refers to maintaining a safe and healthy working environment where employees can perform their daily tasks. 
The goals of safety, health and environment are:
Ensuring provides all employees with a safe working environment
Eliminating all harmful conditions
To achieve the goals of the seventh TPM pillar, workers need proper safety skills. Leveraging digital work instructions and training programs can better ensure workers master critical skills like Lock Out Tag Out, Hazard Material Handling, Confined Space and more. Providing easy access to these instructions and accompanying checklists at the machine helps reinforce safety.
The certification and reporting requirements in this area are understandably stringent. Skills must be refreshed periodically, and Learning and Development teams must keep training records for compliance.
Pillar 8 - Office TPM
TPM isn't just for your factory floor workers; it's a philosophy that should also extend to the administrative tasks that support manufacturing. A strong TPM program only works if the entire operation adheres to it.
The goal of office TPM is:
Making sure production is supported through improved administrative operations
Administrative operations refer to order processing, procurement, scheduling, etc. They are often what kickstarts the manufacturing process, so it is vital to ensure that things are running optimally. If materials aren't coming on time, production can't create your products, and you lose income due to downtime.
The Challenges with Implementing TPM
The benefits of TPM sound great on paper, but they often aren't realized for several years because it is challenging and heavy to implement TPM. In addition, according to Ed Hartmann, founder and President of the International TPM Institute, every second TPM implementation fails. 
TPM is challenging because it is more than just a maintenance policy, processes or tools. It requires a cultural and philosophical change from top management to operators. 
Here's a list of the common challenges with TPM implementation: 
Driving company culture change
Sharing knowledge and providing training
Increasing costs related to man and method issues
Luckily, in the era of industrial digital transformation, there are digital tools available to help you connect and empower frontline workers to address many of these challenges and achieve TPM success.
Drive Your TPM Initiatives by Connecting your Workforce
Connected Worker solutions can be the driver and enabler for your TPM initiatives by reducing the heaviness of implementation and addressing everyday challenges. Without digital support, you risk losing momentum and reaching a ceiling with your TPM efforts. 
A Connected Worker is digitally connected and empowered to learn continuously, collaborate to solve problems and share knowledge from the factory floor in real-time. Further, connected workers have the information and insights they need to manage (not just operate) their equipment effectively. With this understanding of a connected factory worker, it is clear how TPM and digital transformation strategies can and should align.
Take a look at how a connected worker platform can provide support across TPM pillars in the infographic below.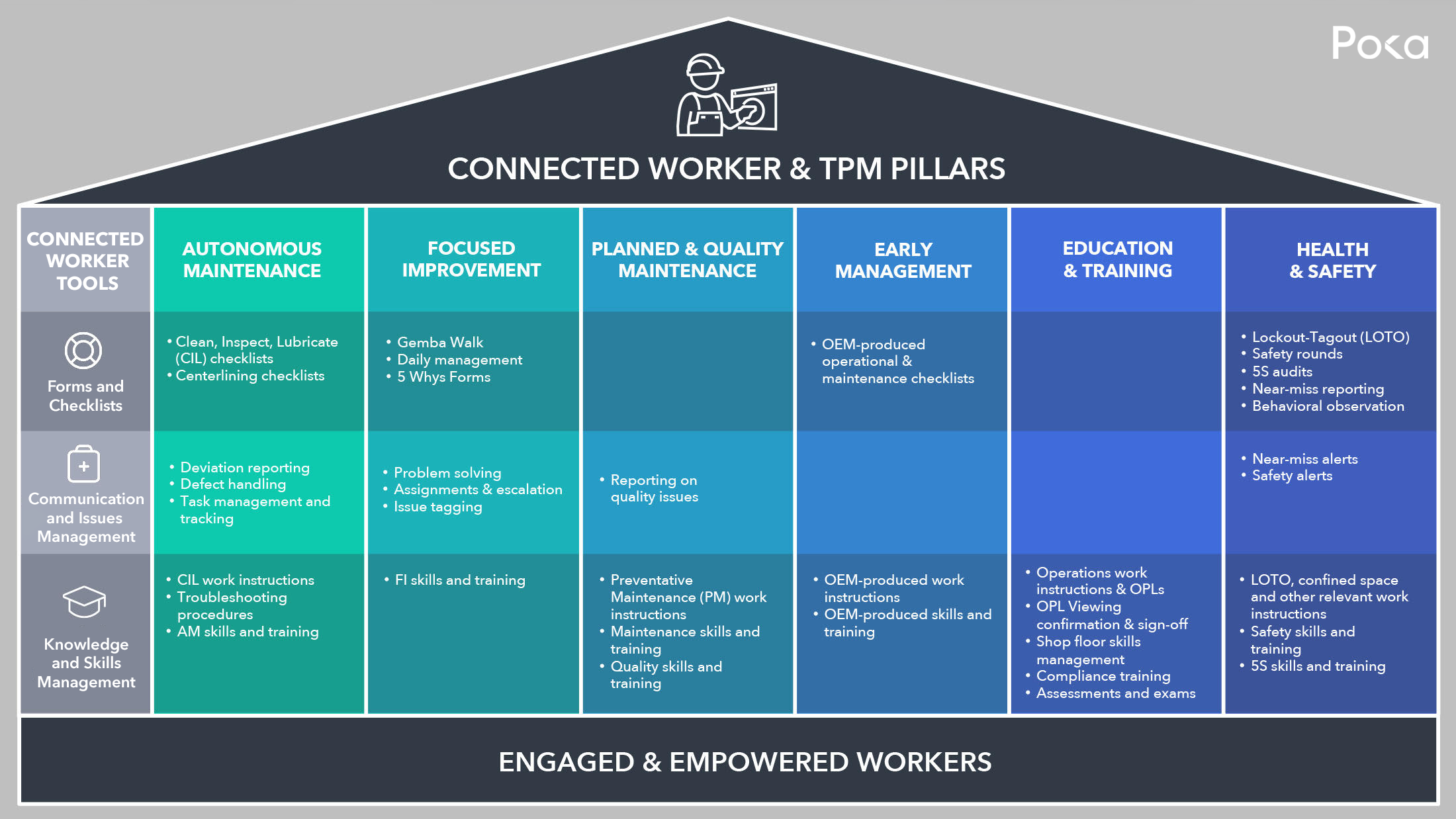 By using a Connected Worker tool in support of your TPM initiatives, you will be able to: 
Simplify your TPM practice as a whole
Improve your organization's speed, agility, and responsiveness to the current and future environment
Increase productivity
Time to implement TPM at your plant—the right way
TPM,  when implemented effectively, has been highly successful in raising OEE, reducing costs, extending equipment life and raising employee engagement. However, without using modern technology, implementation could prove itself to be a massive headache, and the results you pull out of it are limited.
To learn more on how Poka can make your TPM dreams come true, watch our product demo.